Behind the Scenes: A Hollywood Producer's Lush Newport Garden
Eveherdee house — owned by "America's Funniest Home Videos" producer, Vin Di Bona — is ready for its close-up.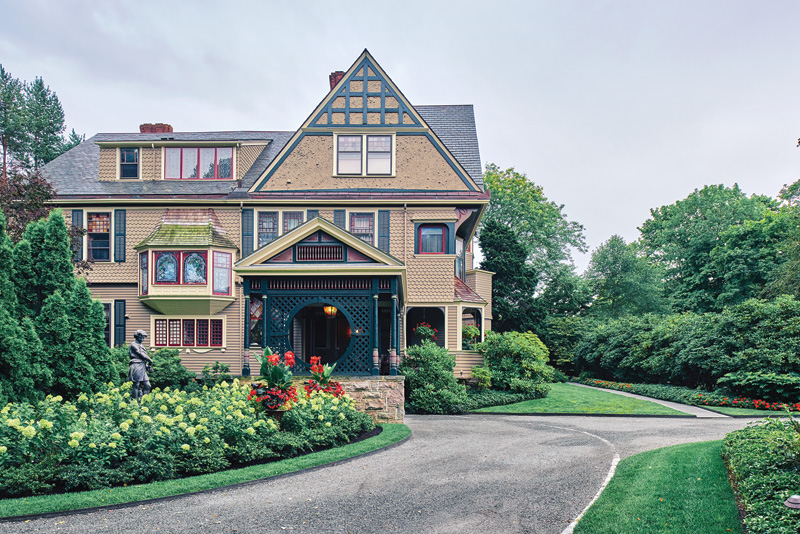 The circle in front of the Eveherdee house in Newport reveals the season as accurately as any calendar. The first days of spring are announced with a flush of bright red from 1,500 tulips breaking through the warming soil. Then, in early summer, red turns to purple as 100 globe alliums come to life. In a dramatic return to crimson, 150 cannas signal the final days of summer.
"It's a progression," says Hali Beckman, the landscape architect who has made sure that circle blooms on command since she was hired seventeen years ago by the owner, Hollywood producer Vin DiBona. Last summer, when blight affected the cannas, Beckman substituted containers of hydrangeas. Keeping the circle colorful and lively is as much for DiBona, who splits time between Los Angeles and Newport, as it is for the rest of the neighborhood, Beckman says.
"Vin is very civically minded and wants everyone to enjoy each stage of the flowers," she says.
When DiBona bought the 1895 Queen Anne-style home almost two decades ago, it had been broken up into condo units with much of the front yard used for a sloped parking lot. While contractors worked inside to turn it back into a residence where DiBona's mother, Jean, could live full-time and where Vin could visit regularly, Beckman was brought on to transform the grounds. She approached the design much like an architect would tackle an interior, breaking it up so each area has a distinct look and feel.
"One of the elements of landscape design that I like is not having everything laid out so you know what's there. I like the process of investigating what's around the corner," she says.
She worked hard to both preserve and resurrect as many elements of the Frederick Law Olmstead-designed grounds as possible.
For starters, that meant creating an entrance befitting the home's Victorian history and its new owner, who frequently has friends and family visit from Los Angeles.
Eight fifteen-foot arborvitaes were brought in and Beckman came up with a design for a circular drive.
"They give visitors that sense of 'You've arrived' — that zing when they first drive in."
As it turns out, her inclination toward a grand entrance was spot on. Several years after DiBona moved in, an old photograph of the home was discovered and, lo and behold, a circular drive was part of the original design.
Once the front of the house was completed, Beckman turned her attention to the rest of the property, which was little more than a sloped lawn. One of the main features she added was a brick walkway along the house's east side. Over it stand a series of custom wooden arches that get sequentially smaller. Alongside the path, a row of pines planted by Olmstead provides shade.
The plant-lined allee guides you through the garden, says Beckman.
"It's like different rooms off of a hallway. You could investigate a particular spot and have a feeling of a destination that wasn't always the same."
Each turn off the brick hallway comes with its own visual reward. Take, for example, the opening that suggests what the grounds might have looked like under Olmstead's direction. There, original stone steps lead the way under Victorian-era rose arbors and down the sloping lawn past clusters of century-old boxwoods. The path travels to a large clearing bordered by ancient beeches. Lit up at night, the massive trees are a backdrop for summer parties and the perfect spot for a game of hide-and-go-seek for DiBona's three grandchildren when they visit from L.A.
Several birdhouses are visible from the clearing. When DiBona first moved in, there were hundreds of birdhouses on the property. Most were too decrepit to keep, so little by little he's rebuilding the collection.
The beech tree clearing is the most-used area on the property, but to see the true soul of Beckman's design, visitors must walk the full length of the allee. At the end, behind the stone wall, Beckman's handiwork unfolds down the hill with a rush of Secret Garden nostalgia. Filling the upper half of that hidden sliver of lawn is a perennial garden laid out in a classic circular shape. Surrounding a regal stone sculpture affectionately nicknamed Miss Twiggy are beds of roses, dahlias, campanulas, phlox, iris and sedum that bloom all season long.
An opening in the hedges leads to the garden's lower half. The centerpiece there is a waterfall that cascades down native stone and splits around a Hawthorne tree before coming to an end in a six-by-nine-foot pond painted gray with a bluestone coping. Shade and moisture-loving ferns, azaleas and clethra spill out over the stone.
There's almost always something to work on in the garden. More recently, Beckman has tended to the gardens of the adjacent carriage house. She's filled the small plot of land with hostas, ferns, Solomon's seal, ilex crenata and other greenery sure to thrive under the decades-old grove of cryptomeria.
And, a few years ago, Beckman oversaw the installation of a flower-bordered walkway along the west side of the house that gave DiBona's mother, Jean, access to an elevator to take her up to her living quarters. It was one of many projects Beckman completed over the years with Jean in mind, including the purple alliums in the front circle — "she loved purple and gasped when she walked outside and saw them" — and making sure there were plenty of pots filled with flowers for her each summer.
The efforts of Beckman, who has grown close to the DiBonas over the years, did not go unnoticed. When Jean died in December 2015, her obituary noted that, "Perhaps her greatest joy was Eveherdee…with its lush Frederick Olmsted gardens, peaceful cascading water feature and English rose-covered path."
Says Beckman, "There are always things you would do differently, but it's very gratifying. For me, the bottom line is does it function, does it meet their needs and is it something they can be proud of?"
Another line in Jean's obituary laid that question to rest.
"Jean would often be seen seated, reading and enjoying the beautiful array of ferns on her open porch on a summer's day and listening to the sound of her great-grandchildren's laughter, as they visited from Los Angeles, making her day that much brighter."
GET THE LOOK
Whether your garden is a single bed or Eveherdee-size, here are some tips from Beckman for designing like a pro.
ACCESSORIZE
Features such as benches, statuary and fire pits help organize the space and create a sightline, so be mindful of quantity and placement. When in doubt, keep it simple.
STYLE YOUR STONE
When adding a patio or path, choose paving material with a color, size and texture that will complement the space. Plantings will soften the lines of stone features, while pots can define them further.
COORDINATE PLANTS
Consider their color, size, shape, texture and form and how those elements work together. Use bright colors in active areas and subdued tones in entries and quieter spaces.
PLANT IN LAYERS
Start with trees and fill in with shrubs, perennials and, lastly, ground cover.