Ethnic Eats
Not up for Italian? The Hill is becoming a hot spot for its non-pasta options. Grab a table here for delicious and authentic international cuisine.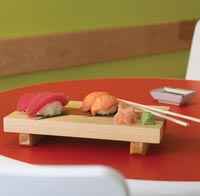 INDIA Bombay Club
145 Dean Street, 401-273-6363, bombayclubri.com
An Indian restaurant may seem out of place in Providence's Little Italy, but what is Italian food if not pasta and gravy? And what is Indian food if not basmati rice or doughy naan soaked in gravy? Bombay Club has some of the city's best Delhi-inspired fare, including a tangy chicken-laden version of papri chaat (almost an entree-sized portion for $3.75) and aam wala (with sweet and spicy mango). Leftover sauce always gets brought home because it's bad manners to lick your plate in public.
JAMAICA Tina's Caribbean
223 Atwells Avenue, 401-490-4625
tinasjamaican.faithweb.com
Here's what's good at Tina's: everything. This small, no-frills restaurant offers truly homestyle cooking. Tina, who's married to local pastor Nevil Rowe, extends her service to the community by offering food to homeless shelters near and far. The restaurant's jerk chicken is a model of both flavor and spice, though it gets competition from curried chicken, red snapper with peppers and onions, classically fried plantains and utterly addictive beef patties ("Jamaican hamburgers").

MEXICO Don Jose Tequilas
351 Atwells Avenue, 401-454-8951, donjoseteq.com
A colorful renovation has made Don Jose Tequilas a top spot for celebratory fare including tamales, flautas and enchiladas, and, of course, margaritas. The bar is cozy enough to sit awhile, but once you settle in with one of the twenty Mexican beers, aged tequilas or chili-laced margaritas, your appetite will likely steer you toward a table to linger over a hot molcajete with slabs of cactus and grilled beef or a large plate of pechuga rellena: chicken stuffed with chorizo, poblano peppers and lots of warm cheese.
CHINA MuMu Cuisine
220 Atwells Avenue, 401-369-7040
MuMu offers Chinese cuisine that's a step above your favorite take-out-only spot. Owners Sophia Cuyegkeng and her son, Henry Mu (of Lot 401 fame), offer tables for two or twenty with plenty of lazy Susans and hot-pot cooking for sharing. Standards like spareribs and spring rolls lay the groundwork for more adventurous fare such as crab and asparagus soup and clams with black bean sauce. Many customers do take out, though the valet parking makes it easy to dine in.
KOREA Café Angelrose
262 Atwells Avenue, 401-351-7706
angelrosesushi.com
Café Angelrose has just added Japanese sushi to its traditional Korean fare. The restaurant itself has room for fewer than twenty diners, but the sushi variety is more than three dozen deep, and the bento boxes are a welcome play on cultural exchange: California rolls and gyoza are paired with Korean specialties such as bulgogi and galbi (cross-cut short ribs marinated in garlic, onion and soy). If you're a bibimbab fan, ask for it even if it's not on the menu.