Enjoying a Neighborly Existence in Edgewood
NYC transplants learn the joy of knowing the people next door.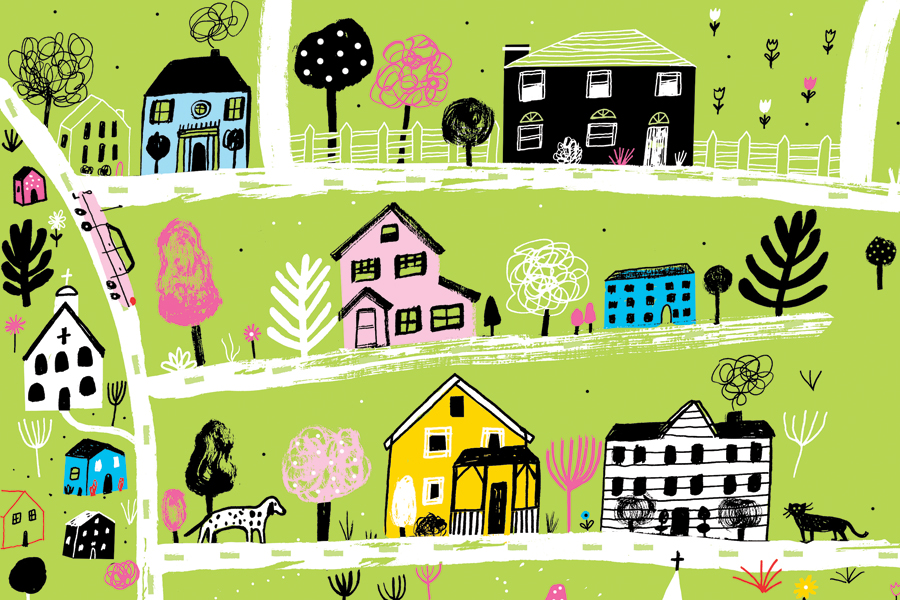 When we fell in love with the house we live in now, we knew very little about the neighborhood. We were moving from Brooklyn, New York, to Rhode Island, and we were pretty sure we wanted to live in the capital city, Providence.
"Let me just show you this one house in Cranston," our realtor suggested.
"But we don't want to live in Cranston," we told him.
"You just need to see this one neighborhood," he insisted. Three miles south of downtown Providence, Edgewood is a lovely area near the water, full of sprawling old Victorian houses with big front porches on wide, tree-lined streets. The house we looked at was halfway up a hill, with views of Narragansett Bay, gorgeous landscaping (the owner was a master gardener) and no repairs necessary. Plus, it was within walking distance of the shops and restaurants of historic Pawtuxet Village. Though priced a bit high for Rhode Island, it seemed downright reasonable to us, coming from Brooklyn, where we'd just sold our small, two-bedroom apartment for not much less than the price being asked for this huge house. We put in an offer the following day.
I'd been in New York City for thirteen years, my husband for fifteen. Within that time, we had collectively lived in eight different apartments in two different boroughs. While we'd gotten to know some of our neighbors over the years, in most cases we all maintained a polite distance. In close quarters, you respect the privacy of those living around you. You pretend you don't hear the next door neighbors' baby crying for half the night, or the couple below you arguing. When you get in the elevator with the couple from upstairs, you nod a polite "hello," and try not to think about the creaking bedsprings and other indications of a fun evening you heard drifting out of their apartment the night before. In these city apartment buildings, there is an unspoken pact to more or less mind one's own business so everyone can peacefully coexist.
Similarly, on the street and in the subway, you learn to avoid making eye contact with strangers. To some degree, I enjoyed the anonymity of big-city life.
And then, when our daughter was nearly two, we moved to Rhode Island. Our first full day in our new house, I was standing out front when the mailman appeared. "Welcome! You're the ones from New York, right? Aren't you a teacher?" Wow. I could see there would be few secrets here. Eddie, the mailman, knew details about us I'm still not sure how he discovered. He soon filled me in on all the neighborhood goings-on.
I learned who had children the same age as my daughter, how many kids lived on the next street over ("You chose the wrong street! That's the one with all the kids!"), which people on our block worked and who was home during the day. I heard all about the nice lady down the street who had surprised our mailman by leaving him money in her will when she died. We discovered that our next-door neighbors and the family across from them had lived here for about fifty years. Eddie loved to talk, and while I'm not quite sure how he ever managed to finish his route, the information certainly came in handy to us, as newcomers.
During our first week in Rhode Island, three different neighbors came by to welcome us, bearing gifts. One had baked blueberry muffins, another made blondies. The third neighbor delivered an entire welcome basket, filled with items unique to Rhode Island: Autocrat coffee syrup (coffee milk, we learned, is the state's official drink), packets of Del's frozen lemonade mix and maps. She also included a list of all the people on the street along with their addresses and phone numbers.
Everyone seemed to know how much we'd paid for our house, and didn't feel the need to try to hide this. "You've raised our property values!" one neighbor told us delightedly. Hmm… glad we could be of assistance.
While most people talk about six degrees of separation, we began to see that in tiny Rhode Island, it's more like two. People told us we needed to meet the couple who lived at the opposite end of the block, because like me, they had gone to Brown. Seems they'd even graduated the same year I had. As it turned out, I hadn't been friends with them while at college, but I had performed in a play senior year of high school with the husband in Massachusetts, where we both grew up.
Later, our daughter's first grade teacher turned out to be the sister of the woman whose house we had bought, a detail that popped up when the teacher sat down to write us a thank you note for a holiday gift and recognized the address. Many similar coincidences unfolded during those first few years that I realize now are classic only-in-Rhode-Island moments.
When the weather is balmy, people on our street emerge to sit on their porches or work in their yards, chatting across the street to one another as they do so. Strangers smile, look you in the eye and say "hello" as they walk past. Children run from house to house, playing in each other's yards. Neighbors give unsolicited (but much appreciated) advice about preschools, which doctors are best and where to find the best clam cakes in the state.
I met a young woman with a child about my daughter's age who invited me to a playgroup she just started. Soon my daughter and I both had friends close by. Ours is the type of neighborhood where people actually ring your doorbell to borrow an egg or a cup of sugar when they realize, in the middle of baking, that they've run out. It is the type of neighborhood where you wouldn't hesitate to call and ask to cook your dinner in a neighbor's oven when yours conks out just as you're about to slide in the roast. It is the type of neighborhood where people come together, in good times and in bad, organizing meal deliveries to families with new babies, and offering to babysit, clean house or grocery shop for families who need help.
One day, it hit me: We'd moved from 2004 New York City to 1950s Rhode Island, and I was okay with that. In fact, I was more than okay with it; I appreciated it. In Edgewood we'd found not just a beautiful home, but a beautiful community — a community we didn't even realize we were looking for, until we stumbled upon it.