Eat Delicious Seaweed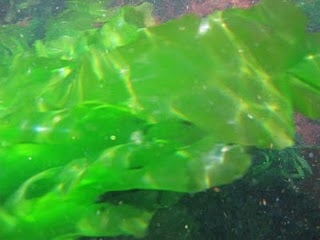 No, I don't like nori wrappers much either. I mean, I pretty much like everything that comes inside them, but the sheets of dried seaweed themselves are pretty meh – as you'll know if you've ever been at a sushi rolling party and decided to try one plain. Dry mouth alert! Time to chug that Sapporo.
Of course I like that sesame-oiled seaweek chukka salad that you can also find at sushi restaurants, but that was as far as my seaweed taste went until I was at the Block Island Farmers Market a couple of years ago and tried some there. It was locally harvested by Jen Lighty, an island resident who's an intrepid snorkler, poet, spear fisher, gardener and, now, forager. She had both laver and rockweed, both roasted in the oven and lightly dressed in sesame or olive oil, salt and pepper. Yum! I immediately fell in love with the laver, thin crinkly leaves that resembled lettuce, only roasted they become crunchy and deeply, although delicately, flavored – they have an umami thing going on.
My daughter, then three years old, took to it, too. So since then, whenever we're lucky enough to get to to Block Island for the weekend, we try to stock up on seaweed. At first it was just the laver, but Jen told me I'd go on to like the rockweed, and she was right. It's crunchier and more assertively flavored than the laver, but I crave it often. It makes me feel good.
I just discovered that Jen has a blog, on which she chronicles her seaweed harvesting and other foraging activities – she knows all about wild asparagus, carrots and sorrel, and since she's also a fine writer, her blog is great reading. Her last post, titled The Office, shows a picture of a remote rock pool near Black Rock Beach and made me seriously question my whole lifestyle and, especially, my actual office.
She occasionally sends me seaweed in the mail, including some, recently, for my birthday. Thanks Jen! If you'd like to contact her through the blog, you won't have to take a trip to Block Island to eat something that's delicious and really, really good for you. Harvested off the south coast of the island, where the waves come up from the Gulf Stream 70 miles away and the stripers and trigger fish swim, it's a little taste of the clean, wild ocean.