Inside East Greenwich's Mysterious Varnum Armory
It presides over a prominent downtown corner, but the armory and its historic collections are relatively unknown.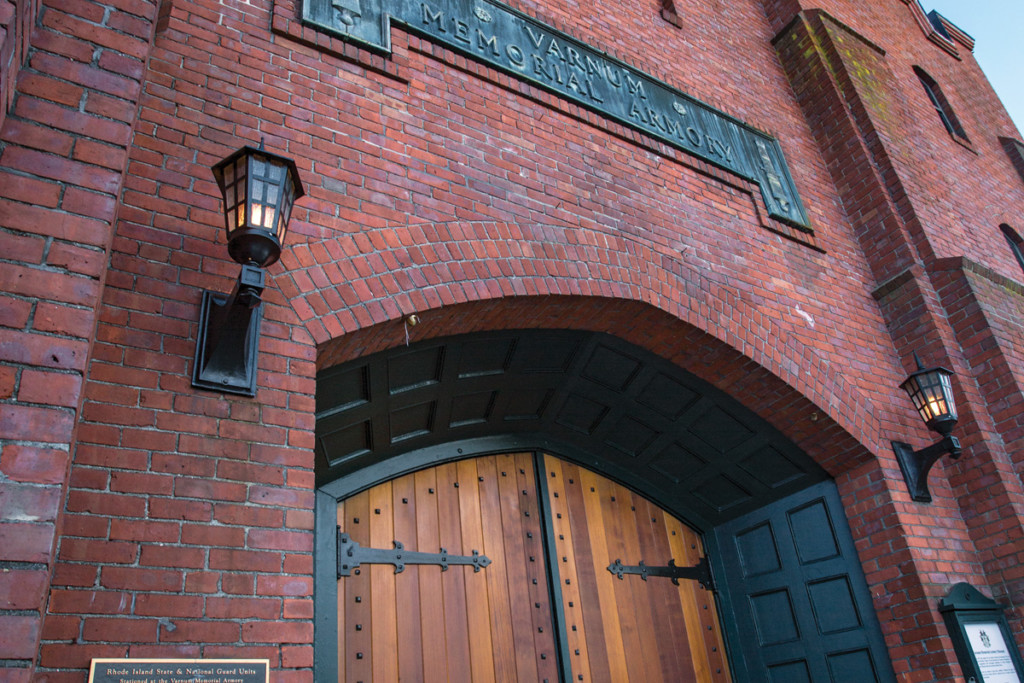 Great Places for Foodies
East Greenwich
Jigger's Diner
This one-time hamburger and hot dog lunch cart originally opened in 1917. Since then, it has been moved, closed down, rebuilt and reopened a few times. But the one thing that has remained consistent throughout its history is its commitment to serving quality diner food. Breakfast is available all day in the blast-from-the-past diner, and with dishes like pumpkin bread French toast and salmon cakes eggs Benedict on the menu, thank goodness for that. Try an ice cream float made with Rhode Island's own Yacht Club Soda or the ultimate Rhody classic: the ice cream cabinet. 145 Main St., East Greenwich, 884-6060, jiggersdiner.com.
Besos Kitchen and Cocktails
This modern eatery in the heart of East Greenwich aptly describes itself as "little but mighty." The restaurant's chic furnishings, locally sourced New American cuisine and craft cocktails make for a perfect upscale dining experience. Indulge in Besos's carefully crafted wine list, featuring biodynamic, organic or sustainably produced wines that will delight any patron's taste buds. 378 Main St., East Greenwich, 398-8855, besoskitchenandcocktails.com.
A Short Drive Away
The Tree House Tavern and Bistro
Eclectic-but-cozy decor along with expertly prepared victuals makes the Tree House a great spot for fine dining. Originally a florist shop, it's expanded into the thriving restaurant it is today. For those just looking to grab a drink, there are a number of specialty cocktails and regional beers available. 1094 Centreville Rd., Warwick, 821-1105, thetreehousetavern.com.
Great Places to Shop
East Greenwich
The French Bulldog Consignment Boutique
In case you haven't heard, vintage is in. Find unique and sophisticated pieces of women's clothing, from apparel to handbags to shoes, all from well-known designers. The French Bulldog stocks its racks with the likes of Dolce and Gabbana, Gucci, Coach, Prada and more. 142 Duke St., East Greenwich, 884-0200, facebook.com/thefrenchbulldog.
Bone Appetit Dog Bakery
Throw your dog a bone and treat him to a good time at this eco-friendly pet store that provides healthy food for both dogs and cats. Bone
Appetit stays updated on dog nutrition and offers supplements and treats that are good for almost every dog at any stage of its life. The shop also plays an active part in the local community, hosting an annual dog parade and dog walks. 102 Main St., East Greenwich, 885-6259, boneappetitdogbakery.com.
The Green Door
Find elegant home accessories with an eclectic twist at the Green Door, which has been around for more than twenty-five years. The owner also offers interior design services and is renowned for her customized silk floral arrangements, wreaths and baskets. Whether you are looking for a wedding gift, baby items or stylish locally made products, you won't be disappointed when you open that green door. 130 Main St., East Greenwich, 885-0510, thegreendoorathome.com.
A Short Drive Away
Apponaug Color and Hobby Shop
The art of model trains has been forgotten in much of the world, but at this hobby shop, it's alive and well. Choose from a variety of scale model trains, buildings and everything else you can imagine (in miniature of course). The folks at the hobby shop are also happy to make repairs to your old trains should they need it. 1364 Greenwich Ave., Warwick, 737-5506, hobbyri.com.
Great Places to Explore
East Greenwich
Greenwich Odeum
First opened in 1926, the Odeum was originally a vaudeville theater that had the capability of showing "picture shows." These movies became the theater's staple in the later twentieth century. Now, it is host to a variety of shows, from live music and movies to comedians and ballet. 59 Main St., East Greenwich, 885-4000, greenwichodeum.com.
Riddle Room
Have you ever wished you could live in an adventure or a murder mystery, even if just for an hour? If yes, then this is the place for you. This escape room gives you a team-based immersive experience where only sixty minutes is allotted to solve interactive puzzles to win the game. Experience a sense of adrenaline as the clock is ticking while you live out each story as if it was true. Put on your detective hat and think outside the box for this fun escape game. 20 Water St., Level 2, East Greenwich, 398-8177, ririddleroom.com.
A Short Drive Away
Goddard Memorial State Park
This popular metropolitan park offers a natural environment with plenty of space to run around and enjoy the great outdoors. The forested areas have trees from all over the world, including sixty-two deciduous and nineteen evergreen species. Visitors can play a round of golf at the nine-hole golf course, see horses at the equestrian show area or have a quiet picnic at one of the 355 picnic tables. Check out the performing arts center where weddings, concerts and other special events take place or at the beach for warm-weather fun. 1095 Ives Rd., Warwick, 884-2010, riparks.com.
A Cup o' Java
Felicia's
Say hello to the coffeehouse that has stood its ground since 1996. If you're on the go, stop by the drive-through to treat yourself to one of the delicious coffee blends. Check out the specialty drinks menu that includes creative concoctions like Egg Nog Latte and Frozen Mango Tango. But if you have a little more time, make sure to step inside the cozy establishment fit for every person, from families to the most sophisticated coffee drinkers. Visit with friends or sit by the fire with a book. 5757 Post Rd., East Greenwich, 886-4141, feliciascoffee.com.
The Nook Coffee House
The Nook is the little corner you'll call home. The metropolitan-inspired coffee shop offers locally roasted beans that are lovingly made into fine coffees. It also has teas, kombucha and bakery delights. If you're looking for a cup of java crafted by purveyors who care about their craft, then you've found your place. The Nook also serves up draft kombucha on tap. Never tried the mysterious drink known as an ancient elixir? Now is a better time than any, so head on over. 307 Main St., East Greenwich, 402-0029, nookcoffeehouse.com.
MainStreet Coffee
Twelve-time Best of Rhode Island winner, this coffeehouse has a comfortable atmosphere and coffee that tastes as good as it smells. Inspired by the cafe-bars of Europe, MainStreet Coffee combines coffee, alcohol and homey meals for a comfy one-stop spot. At Toscana Lounge, attached to the coffee shop, they make a mean espresso martini in more than a dozen forms. 137 Main St., East Greenwich, 885-8787, mainstreet-coffee.com.
Simon Says Cafe and Deli
At this small coffee shop, you're the one giving the orders. Stop in for a quick bite at the deli and try the specialty coffees or tea while you're there. The deli has a wide selection of sandwiches, coffee and pastries. In the mood for breakfast? Grab a breakfast panini with a frozen chai and relish in Simon Says' quaint ambience. Or, try one of the healthy choices like fat-free yogurt and granola with fruit. 96 Main St., East Greenwich, 884-1965, facebook.com/simonsayscafedeli.