Inside East Greenwich's Mysterious Varnum Armory
It presides over a prominent downtown corner, but the armory and its historic collections are relatively unknown.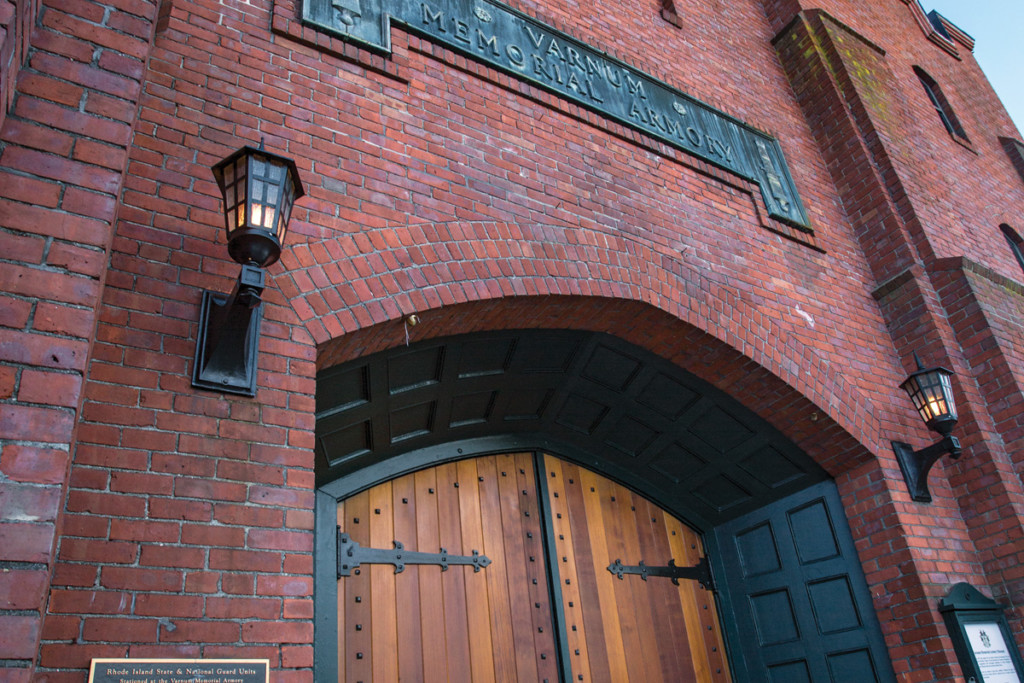 Patrick Donovan stares down the barrel of a Gatling gun. "It's the first predecessor to the modern machine gun." He walks around the behemoth and gets behind its enormous brass barrel. "It basically fires as quickly as you could turn the handle. A tremendous amount of firepower came out at the end of the Civil War, but too late to really be of use."
He's giving me a tour of the Varnum Memorial Armory Museum, a century old depository for thousands of fragments of military history, from propaganda posters to artillery shells. The weathered medieval-style building is located on East Greenwich's Main Street. Despite its unusual appearance, central location and dizzying array of artifacts, it attracts surprisingly little attention.
"People I'm giving tours to will say they've driven by this building for thirty years and have never known what we had here," Donovan says. "We're trying to change that, but we can only do so much because we're all volunteers."
In addition to being the curator of the armory museum, Donovan is the vice president of the Varnum Continentals, a state-chartered ceremonial militia organization founded in 1907 to preserve Rhode Island military history. The Continentals named themselves after James Mitchell Varnum, a Revolutionary War general and resident of East Greenwich. In 1913, only a few years after they were founded, they commissioned the construction of the armory as their headquarters. Throughout the years, members of the organization and folks from across the state donated military paraphernalia to the armory. Today, in addition to conservation, some members of the Varnum Continentals march in parades, at events and at funerals.
"We're largely a conservation organization," Donovan says. "The museum has some national and state treasures that you're not going to see anywhere else — artifacts that we're very proud and honored to be taking care of."
Donovan shows me around the armory's first floor. One room is lined floor to ceiling with antique and vintage rifles. He points out a hefty looking musket hanging from the wall.
"That's a double barreled flintlock musket — but it's also a booby trap gun. I was told on commercial ships, they were always paranoid about pirates. So they would have cannons." He carefully lifts the unwieldy weapon from the wall. "They would also wedge these in the holds of the ship. They were spring loaded and attached by a string to the door. We know from the design that it's mid-eighteenth century, so it might predate the Revolutionary War."
He points out a yellowing letter protected behind museum glass.

"This was dictated and signed by George Washington, to our namesake, James Mitchell Varnum. And it's about positioning troops on the eve of the battle of Red Bank, in New Jersey. What I always point out to kids when we give tours: Here's the most powerful man in our country, and he signs his letters 'Your Most Obedient Servant, G. Washington.' And I just found this letter tucked away in a box."
Like many of the artifacts in the museum, the signed George Washington letter was squirreled away in an ordinary cardboard box. Donovan has found innumerable treasures stashed in the armory's back rooms: a Zulu bow and arrows, documents from Thomas Jefferson, James Madison and Nathaniel Greene, first class cabin deck plans from the Titanic and much more. And all these pieces of history were hidden from the public eye until now.
"The former curator knew these things were here, but no one else knew," Donovan explains. "He wouldn't share or tell the objects' stories. They would just be sitting there. I'm rediscovering things all the time."
Besides uncovering lost history, Donovan has made numerous other improvements to the museum. He has renovated parts of the building, put valuable relics behind museum glass, and he has even begun to share the museum's collection through social media. Today, the museum is a neat and proper collection of the state's military history, but it wasn't
always this way.
Several members of the armory's board of trustees knew Donovan's love of history and passion for collecting, and roughly four years ago, he began his mission to save the Continentals' museum.
"When I first arrived, it was like a hoarder lived here; you could barely open the door to the museum. There was just stuff everywhere. The smell of mold would hit you as soon as you walked in. You would shine a light in the cases, and all the gunstocks were covered in white mold."
Little did Donovan know he would also have to combat flying saboteurs.
"I was battling an active infestation of moths, and stuff was literally being eaten away. All the moth damage you see in the uniforms, that was all from the last thirty years. I would stay awake at night, worried about it."
But Donovan worked quickly to keep the collection from crumbling away (and to eradicate his winged enemies). He installed climate control in the building, sealed documents in archival sleeves and boxes and applied protective wax to many artifacts, amongst other things.
"Now that everything is cleaned and the climate is controlled, I've got time so I don't have to panic. I can really look at the stuff."
Donovan sifted through the armory's collection, looking for big names and big events, trying to gauge which items would be worth researching and displaying. In his first search, he found plenty of valuable items, but every time he starts looking deeper, he finds even more.
"I keep looking for trap doors, or for something up in the ceiling. I'm almost positive there's something else hidden away."