Drink to Your Health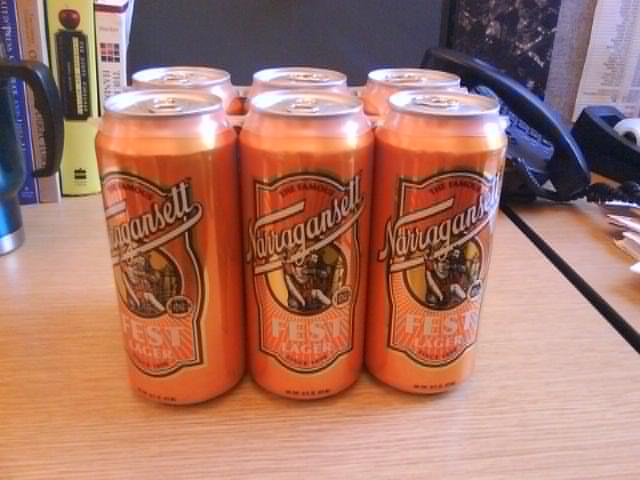 So, I was just about to blog about this Time mag article — "Why Do Heavy Drinkers Outlive Nondrinkers?" — that's been buzzing around Facebook and Twitter, when our office manager extraordinaire, Kris, popped by to tell me Ted from Narragansett was here. With a six-pack. Seriously. Talk about good timing.
I wrote about Fest Lager, which debuts today, in our August edition of The Dish:
Beer drinkers have new reason to toast. Narragansett has announced it will debut its Oktoberfest brew, Narragansett Fest, on August 30. The release marks 'Gansett's first canned craft beer since the company's 2005 revival. The seasonal beer, offered through November, will be available in sixteen-ounce tall boys at most packies as well as on draught in area bars and restaurants. Brewed under the watchful eye of Sean Larkin at Cottrell Brewery in Pawcatuck, Conn., and High Falls Brewery in Rochester, it's touted as a traditional amber-brown German Oktoberfest-style brew, made using four kinds of malts and two kinds of hops. We'll let you know how it tastes as soon as we get our hands on a sixer, which retails for around $8.
Well, our beer is currently in the freezer, and we're (impatiently) waiting for it to get down to temp. We'll be sure to drink to longevity.