Drink Like You're at Churchill Downs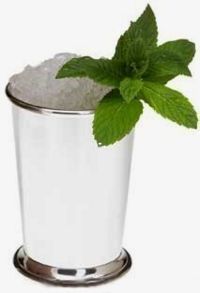 At the Kentucky Derby (held this Saturday), horses and bourbon go together like love and marriage. The official drink of the race — the beloved mint julep — has been sating race watchers for the better part of a century. And for a genteel set, they know how to throw 'em back — the Derby website boasts they go through more than 10,000 bottles of bourbon. Sox fans would be proud. Besides, at what other sporting event does your drink outlast the competition?
If you can't make it to Louisville, host your own party. Here's a recipe for a mint julep by longtime Capital Grille bartender Bobby LaPointe:
2 sugar cubes
5 mint leaves
splash water
1.5 jiggers Blanton's single barrel bourbon
Muddle sugar, mint and water. Fill a 12-ounce glass with ice. Add bourbon. Stir gently and garnish with sprig of mint.
As for the horses, my money is on "I Want Revenge." I know nothing about ponies or odds, but I figure he's got to be the popular favorite. It's been one of those years….