Drink and Be Merry
Five local guys prove that homemade wine's not synonymous with swill — and have a damn good time in the process.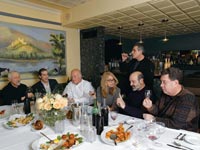 Put homemade wine and basement in the same sentence and my mouth puckers with memory. On holidays, my old Italian uncles brought bottles of their homemade wine out of the basement and the adults sat around in the knotty oak-paneled den drinking it with pizzelles and salami. The kids always got a sip, and I remember thinking it tasted like the too strong red wine vinegar my grandmother put on salad.
So when my GPS directs me into a subdivision of cul de sacs and sprawling new homes in Johnston to meet with a group of men who make wine in their basements, my hopes aren't high. When I see Gino and Bobby Rebussini standing at the top of a terraced yard, smiling and waving, I know I've arrived. The brothers usher me inside, across a doormat decorated with wine bottles, through a doorway over which a sign reads: "When in doubt, simply add more wine," and into one of the most impressive wine cellars I've seen. As my eyes take in the more than 10,000 pieces of wood, homemade doors and racks and molding, and roughly 1,000 bottles of temperature-controlled wine, I know that this is not anything like Uncle Rudy's holiday wine.
Gino and Bobby are joined by fellow winemakers John Volpe, Ed Pascarella and Grayson Murphy. The men, whose lives intersect through work and family, have been making wine together for five years. Back in 1990, inspired by his wife's uncle's passion for winemaking, Gino spent fifty dollars on some used winemaking equipment—barrels, a press, a crusher and bottles—and got hooked. As a forensic scientist, the chemistry of the process compelled him as much as the rewards of good wine, and soon he was trading formulas and ideas with the other men.
Now, they stand in Bobby's wine cellar, an open box of Dunkin' Donuts before them and tiny cups of espresso topped off with sambuca in their hands. They are as eager to talk wine as new parents are to show off their baby's pictures. Mention cabernet franc and they are off and running. Ask about the grapes in a petite syrah and get a history lesson that goes back to the 1880s when a French nurseryman combined syrah and durif grapes. Before I can verify the spelling of durif, the men are laughing together over the time when they were making wine in Gino's basement and…or was it Bobby's basement?… never mind. Being with these guys is like watching a live episode of "Friends," or "The Honeymooners." Over and over, Gino turns his Paul McCartney eyes toward me and says, "This is what it's about. Great food. Great wine. Great friends. What else do you need?"
Upstairs in Bobby's kitchen, with its red wine-colored walls (the living room walls are the yellow of a good chardonnay), bunch-of-grapes cabinet pulls and oil paintings of wine bottles, I get a lesson in how they make wine. Although they pay respect to the old timers like my uncles, and even concede that there are some very good wine-making kits available, what they do is a combination of art and science. It starts with the grapes, which arrive in September from Lodi, California. After the grapes are crushed, yeast is added and the mixture ferments for up to ten days. The grapes are pressed and the liquid is drawn off and transferred to oak barrels for a second fermentation. They constantly measure for pH and acidity, and they check the sugar and sulfite levels. "Being scientists," Gino explains, "we approach it scientifically." "Then we pray a lot," Grayson, a retired forensic scientist, says. "And light the novena candles," Bobby adds, laughing. "I've made every mistake in the world," Gino says, shaking his head. But he has also won more than 100 awards for his wine. In 2007, he was ranked twenty-fourth by the American Wine Society.
When I ask what they want in a wine, Bobby says, "A thick, chewy wine." I've never heard wine described this way, and it makes me laugh. "Chocolate." "Currants." "Tobacco." They say these with more than a hint of ecstasy. Geranium or green pepper is no good. "Wine's too young," Bobby says. Everyone agrees that a cabernet is their favorite commercial wine, petite syrah their favorite homemade. After an ad hoc discussion comparing the wines of Greece and Tuscany, it's time to head to Caffe Itri in Cranston, where owner Greg Spremulli hosts the guys at least once a month for a wine tasting and lunch.
As each man arrives, he pulls a bottle or two from a tote bag and places them on the table. The wine in its label-less bottles, with the names and dates handwritten in silver Sharpie, looks…well…homemade. As if he's read my mind, Gino leans toward me and says, "There's a lot of suggestion with wine. We've put our wine in empty wine bottles with the labels still on and people love it. When they know it's homemade, they say, 'Oh, I don't care for it.' Same wine!" He shakes his head as if to say, what can you do?
Food covers our table: two kinds of pizza, fried calamari, fried smelts, crab cakes, miniature seafood quiches. Just as quickly, three glasses of wine are set before me: John's blended ruby cabernet, Bobby's cabernet-merlot blend and Gino's Bordeaux blend. I take a sip of John's first. He is sitting next to me, his twinkling blue eyes watching closely. "Wow," I say, and he knows I mean it. John bursts into a grin. "This is really good." Then I try Gino's Bordeaux blend. Another winner. But when I lift Bobby's wine to my nose, there is a faint odor of eggs. "When someone's wine isn't good, we say, 'How interesting, ' " Gino whispers. I glance over at Bobby. He's frowning and swirling the wine in his glass, fast. Politely, I accept a refill of John's and stay mum.
"When you serve wine with dinner," Bobby explains, swirling like mad, "you should open it forty-five minutes early." A giant pork chop in a mission fig reduction has appeared in front of me, and John and Gino are keeping me happy with more of their wine, so I kind of forget about Bobby's. Until he tells me, "Try it now." He points his chin toward my glass. Bobby is cute, the kind of guy I would get a crush on in college. He grins. "Come on." Reluctantly—who wants wine that smells like eggs? —I take another sniff. To my surprise, the sulfur smell is gone, and when I taste the wine, it is darn good. Bobby beams, triumphant.
The buzz from Greg, who has been sipping Gino's port while he brings us lunch, is that it's nothing short of amazing. Aged in bourbon barrels from Jim Beam, the port is indeed amazing. By the time Greg has served us his homemade spumoni, espresso and Gino's limoncello (his secret? Add two limes to the lemon zest and juice), I am not only tipsy and full, but I am a convert. So much so that I jump at the chance to meet up again at nine the next morning to taste the champion of homemade wines: petite syrah.
In Gino's basement, the wine cellar is a work in progress. Except for the six barrels lined up against one wall and the strong smell of wine, it could be any basement. That is, until Gino taps a barrel and hands me a glass of 2004 petite syrah. I drink it, and suddenly I am not standing in a basement in Cranston. I am transported to a sunlit hillside in California, in Tuscany, in France. Gino, Bobby, Grayson, Ed and John are watching me. They are smiling, these winemakers. And so am I. When it's time to leave, John hands me a bottle of his ruby cab blend. "You liked it so much yesterday," he says. I am actually getting teary. But then I remember something Ed said yesterday, motioning to the food, the wine, the guys. "Isn't this what it's all about?" Yes, I think as I hug each of them goodbye, it is.
>> Winemaking 101
According to Gino Rebussini, anybody can make wine. He promises. Here, Gino shares a few tips to help get your creative juices flowing.
Get a wine kit. "In the old days the wine kits were horrible, but now they're pretty good," Rebussini says. He suggests starting with one before mov-ing on to more advanced methods using your own juice or grapes. Kits (the Grand Cru brand is best, he says) are available online and at local wine shops, such as Silver Lake Beer and Wine Making Supply in Providence.
Read a book. Rebussini recommends First Steps in Winemaking by C.J.J. Berry and Grapes into Wine by Philip Wagner.
Buy the right equipment. The only tools you absolutely need are a thermometer and a hydrometer (a device that measures specific gravity, sugar and potential alcohol), he says.
Keep meticulous records. If you take good notes, you'll thank yourself later—they'll help you to decipher what led to that crummy cab or, better yet, duplicate a winning chard.
Become a clean freak. Post bottling, all equipment should be cleaned thoroughly. "When you cut corners, some bug will get in there and wreck havoc on your next wine," Rebussini says. He suggests sanitizing using a solution of water and potassium metabisulfite (one ounce per gallon of H2O), available online and at wine making supply stores. —Jenna Pelletier