Dream Kitchen
The Dartmouth Grange's incubator kitchen helps turn favorite family recipes into market-worthy products.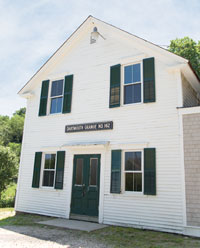 ON MY WAY FROM HOME to almost anywhere, I drive past one of three beautiful grange halls.
Each wood-framed building dates to the nineteenth century. Each has a hand-painted sign above the door. And, except on meeting nights or pancake breakfast mornings, each grange spends most of the time with its doors shut and the parking lot empty.
Not so the Dartmouth Grange, tucked away off the main road that runs through the village of Russells Mills in Dartmouth, Massachusetts. Oh, don't get me wrong; it used to be just like the granges in my town, sadly underutilized, with an aging and dwindling membership, in a rural community trying to resist the pressures of development.
Today, though, the farm families of Dartmouth have re-claimed their building, energized their membership, and delighted their community, by opening the grange hall doors to a new venture: an incubator. Not for babies, or for seedlings — no, this incubator nourishes the dreams of food entrepreneurs.
After years of planning, fundraising and construction, the Dartmouth Grange Regional Shared-Use Community Kitchen (the Grange Kitchen for short) opened last January with a lot of help from public and private resources, and with a mission: to help farm and food businesses thrive, thereby contributing to the social, economic and ecological well-being of the region.
Incubator, or shared-use, kitchens have been around for years, often operated by nonprofit community development corporations. The basic idea is simple: provide a fully equip-ped, licensed and insured facility, where food businesses can get their start, and where farmers can create value-added products (jams, pies, sauces, pickles) to maximize their harvest. In a shared-use kitchen, anyone from home cooks to restaurant chefs can translate their specialties into commercially viable, shelf-stable products that can be manufactured in accordance with food safety standards, packaged and labeled and sold to the public. And they can do all of this at the Grange Kitchen for less than $30 an hour.
The concept of shared-use kitchens isn't new, but it was new to Dartmouth resident Julie Manley, whose husband, Sam, joined the Grange thirty years ago. In 2002, when the Pilgrim Resource Conservation and Development Area Council organized a tour of the Greenfield Kitchens, an incubator in western Massachusetts, Julie's mother-in-law, also a Grange member, had planned to go; when she had to bow out, Julie took her place.
"When I went on the tour," she recalls, "a tree had just fallen on the roof of the existing grange kitchen, and the membership, much of which was older, couldn't keep the organization on its feet, let alone figure out what to do about repairing the building. I think there was a sense that the Grange had lost purpose. So, on that tour, I started to think about the kitchen, how to fix the roof and fill a need in the community at the same time. Lots of wheels started to turn."
Julie returned to Dartmouth excited but a bit overwhelmed by all of the unknowns. "I put an ad in the paper and tacked up flyers around town, inviting people to a community meeting to discuss the shared-use kitchen idea," she says. Representatives of many local agencies participated, as did members of the community. "People were asking so many questions I couldn't answer," Julie recollects, "like, 'How much is this going to cost?' I had no idea! But there was a lot of enthusiasm in the room."
One of those enthusiastic attendees, Don Plant, has his own firm specializing in commercial and restaurant kitchen design. He offered his services to the project pro bono. "I wanted to do something for the community," he says, "and because of my professional training and experience designing more than 600 kitchens, I knew what the challenges would be. It was most important that the kitchen be user-friendly — something multi-use that would work for multiple operators, without a lot of electronics, easy to use and easy to clean. It had to be a kitchen that anybody could come into and get the lay of the land right away."
Don suggested reaching out to his alma mater, Greater New Bedford Regional Vocational Technical High School, to donate the construction expertise; the school acted as general contractor, with students taking on shingling, electrical, plumbing and framing work. Over the course of the project, community contributions like this, combined with technical assistance and funding from a variety of sources including the United States Department of Agriculture, Massachusetts Department of Agricultural Resources, the Town of Dartmouth's Agricultural Preservation Trust and Community Preservation Fund, other local granges, and traditional events like lobster bakes, helped raise more than $400,000.
With the space nearing completion, the Grange Kitchen's advisory committee realized they would need someone to manage and market this new enterprise. Enter Becky Turner, who has a business management and marketing background and had apprenticed at the East Coast Grill for a few months before managing the Way Back Eddy in Westport, Massachusetts.
Becky came on board in December, 2006; her job description as kitchen manager was to do whatever it took to get the word out about the Grange Kitchen and to attract users, and revenue, to the venture. "First, I had to educate myself about all aspects of this operation, from reg-ulations and insurance to how to do a pH test," she says. "I put together everything a food entrepreneur would need, with all of the applications, paperwork, resource lists and contact information. Now, when someone comes in, I can literally hand them a map of what they need to do to get started."
Becky's knowledge, support and enthusiasm, plus the lure of a new, professional kitchen, attracted Barbara Simon-Olsen and Michele Kozloski to Dartmouth. The first Rhode Island entrepreneurs to produce their specialty food at the Grange Kitchen, the two met over dinner — and over pesto — just a year ago.
Barbara, who had retired after teaching for thirty-two years at Rhode Island School for the Deaf, is a volunteer site coordinator for the Urban Edge Community-Supported Agriculture program in western Cranston, where Michele is the farm manager. "Our core group of women involved in the CSA was having dinner, and I'd brought my pesto, which I'd been making for decades," Barbara remembers. "As often happens, someone suggested I should sell it. Then Michele turned to me and said that she'd like to partner with me. It just clicked! I had the recipe; Michele could grow the basil. And we loved the idea that we could do something positive for the environment and economy, Rhode Island's and our own. That night it started; then we bought the business books for dummies, and realized we had a lot of work ahead."
The two women began to search for a production location; they looked at school kitchens and catering facilities. "Nothing felt right," says Barbara. "We talked about starting our own kitchen, but that was way too much, too soon. So when we heard about the Grange Kitchen, it was serendipitous. We went for a tour and had a lot of confidence in Becky; we knew she could save us from making mistakes."
Anyone who cooks knows that scaling up a recipe, even doubling or tripling the quantity, isn't simply a matter of arithmetic. In late May, with calculations and plenty of basil in hand, Barbara and Michele made their first commercial batch of pesto in the Grange Kitchen. They debuted their finished product, under the name Besto Pesto, at the Coastal Growers and Brown University farmers' markets earlier this summer. "Our goal is to help small businesses be-come medium-size businesses," Becky ex-plains, "so I hope that some day Barbara and Michele outgrow us."
In its first nine months, the incubator kitchen — outfitted with a forty-gallon tilt-ing kettle, a commercial mixer, convection ovens, a six-burner stovetop and more — has hatched a few dreams, and sparked queries from people making a range of products from cookies to pies to preserves. "We really want to have farmers come here," Julie emphasizes. "We've had lots of calls, but not as many from farmers as we'd like. We want them to know they can freeze their product in season, and make their value-added in the winter, or that they can partner with a food entrepreneur who will create that value-added. Farming is changing, and I'm hoping the younger generation will be tuned in to this. "

Becky Turner shares the vision. "I've always had a passion for food," she says. "And of course I had my own dream, to open a restaurant, just like the people who come here have their dreams. Instead, I ended up being a kind of food therapist and a matchmaker, trying to put farmers and entrepreneurs together, and helping people make their dreams come true. I love that part of my job."

Dartmouth Grange Regional Shared-Use Community Kitchen, 1133 Fisher Road, Dartmouth, Massachusetts, 508-636-1900, dartmouthgrange.org. To contact Lydia Walshin directly, email lydia@ninecooks.com.
Grange Range
Farmers, chefs, even college kids use the Grange Kitchen to make their food dreams come true. Here's some of what's cooking:
By day, Joan Marcy is a nurse at a Boston hospital; by night, she's a cranberry maven. Her Cape Cod Cranberry Drizzle Company, based in Dennis, Massachusetts, makes more than just drizzles; she also does a cranberry margarita base and a vinaigrette, all made from berries purchased from local farms.
College students and Westport, Massachusetts, residents Tom Borden and Jill Duclos used the Grange Kitchen this summer as home base for their hot dog vending cart, which made stops at local beaches and county fairs.
Westport, Massachusetts, vegetable farmer Mary Merhi bakes yeast breads, quick breads and muffins at the Grange Kitchen. You can purchase Mary's baked goods at her own Quan-sett Gardens farmstand on Horseneck Road; next summer, look for her at the Westport Farmers' Market.
Phil Walters, owner of Walters Specialty Foods in Kingston, Massachusetts, sells a line of hot pepper sauces and barbecue sauces. After traveling to another shared-use kitchen in Vermont to create his products, he was happy to find a commercial kitchen closer to home.
A recent graduate of the Culinary Institute of America, Michelle Fecteau works for Lucky Field Organics. She uses the Grange Kitchen to develop value-added products — pickles, sauces and more — from the farm's harvest to sell at their Mattapoisett, Massachusetts, store.