Dr. Robert D. Ballard
Deep sea explorer Robert Ballard makes waves at URI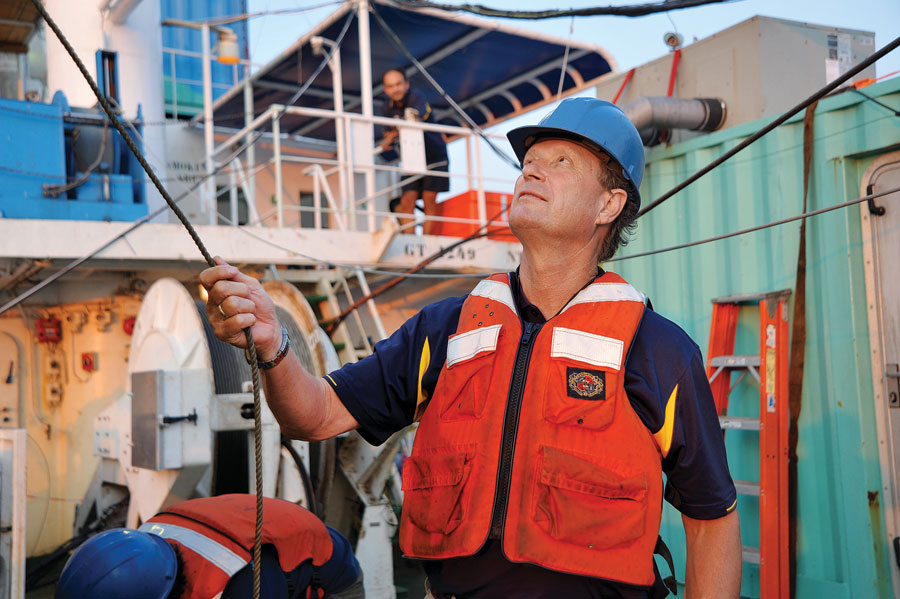 During fifty-six years of exploring the world's oceans, Dr. Robert D. Ballard found the long-lost wreck of RMS Titanic in the mid-Atlantic and discovered hydrothermal vents on the floor of the Pacific. He's worked with the U.S. Navy, the Woods Hole Oceanographic Institution and the National Geographic Society. But despite all this globe-hopping, his Rhode Island roots run deep.
Ballard earned a doctorate in marine geology and geophysics from the University of Rhode Island in 1974, and since 2002, he's been a professor at the URI Graduate School of Oceanography. In 2008, he created the nonprofit Ocean Exploration Trust to operate his own ship, the E/V Nautilus. The Trust leases space in the Center for Ocean Exploration at the URI Graduate School of Oceanography on the Narragansett Bay Campus.
This summer, Ballard turns seventy-three. He recently ended his fifteen-year relationship with the Mystic Aquarium, closing his long-running Titanic exhibit there, saying he had "too many irons in the fire." But he says he has no plans to reduce his workload here in Rhode Island.
"My ties to Rhode Island are only getting stronger and more complex," he says, talking by phone from Fort Lauderdale, where he enjoys a sunny break from New England's winter while working out logistics for Nautilus's upcoming trip to the Galapagos. "It's been a wonderful synergy here, with the leadership of the state, the university and the graduate school. They've just been delightful to work with."
His trust, he says, works hand-in-hand with the oceanography school. "The dean, Bruce Corliss, and I were students together at URI," he says. "Now we're getting new faculty members and graduate students, and they all use the Nautilus. We bring interns on board from the media program at the main campus."
In September, Ballard says, his team will launch a major new initiative to promote science, technology, engineering and math in middle schools in several states across the country, including Rhode Island. "The battle to create a new scientist or an engineer is over by eighth grade," he says. "You have to really start early. We'll be bringing school groups onto campus to our Ocean Technology Center where we can go live to the Nautilus and explore underwater."
After visiting the Galapagos Islands, Ballard says, Nautilus will venture farther into the Pacific Ocean, where it will stay for a long, long time. "It's a big ocean, a third of the Earth, and a lot to explore," he says. And he'll be along for the journey.
Follow the voyage of the Nautilus live online at nautiluslive.org.