Down the Garden Path
Bringing all her talents to bear, a passionate Saunderstown gardener creates a green and memorable paradise.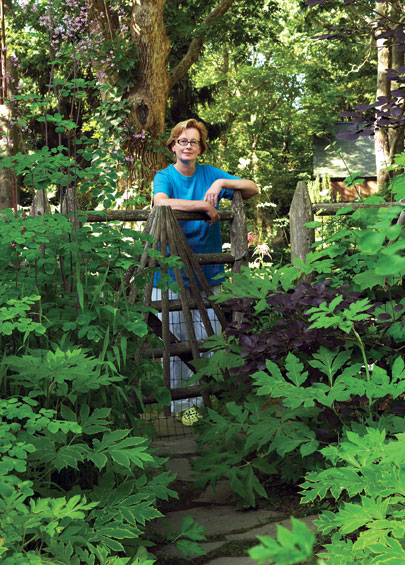 We're not surprised plantswoman Lisa Gibson McMahon (left) spent decades studying and pursuing an opera career. Music, acting, fabulous scenery and costumes; they're all channeling now into her garden. She and husband, Michael, have transformed their landscape with texture and color as thoughtfully composed as a musical score. It's a lush, lyrical performance any way you cut it.
Ground Rules
Wouldn't you know? The McMahons had just completed a renovation next door when this 1916 neighbor became available. The more size-manageable house and potential garden acreage were irresistible. They sealed the deal and dove into another remodel. McMahon spent a year studying how windows framed views and light morphed. She needed to determine "how house and garden could eventually become one," she says. Mesh intimate plant knowledge, consummate patience and truckloads of loam and compost; the results, ten years later, are stunning. "Over the years," she explains, "we've continued to layer in shrubs and perennials to form a variety of form and foliage." Born in Tokyo and a frequent traveler, McMahon finds her inspiration around the world. Myriad Asian and European influences stand out, but there's Yankee ingenuity, too, stemming from her Rhode Island life. (The pair met in Newport and McMahon has co-created two award-winning designs for the indoor flower show.) Every "strolling path" — her label — is carefully mapped. "A path's direction helps control movement, vision and sound. You want a balance," she says. The Primrose Path winding from the dooryard garden to barn plays well up close or spied from a second-story bedroom. The eye is drawn with variations on the color green, emerald to celadon. There's a variety of faithful hostas unfolding along the edge and creeping vines that serve a seasonal surprise. Come fall, the leaves drop and the ruddy vines curl ribbon-like around the oak's gray bark.
Still Life
Self-sown flowers appear, but the well-ordered ambience that prevails at what has now become Singing Stones Nursery — a by-appointment mid-May to mid-October destination specializing in herbaceous perennials — has little to do with happy accidents and more to do with innovative thinking and hard work. Visitors (did we mention Blithewold sometimes schedules day trips?) always gravitate to the reflecting pool. Only eleven inches deep (to safeguard a water-loving cat), it's a serene oasis minus plants and fish. "The views captured and brought into the garden are still; sky and a canopy of trees," McMahon explains. Looming behind, a century-old Norway spruce (Picea abies) found fresh vigor when the McMahons removed an overzealous oak. Afraid they'd miss sea vistas of the past, the couple also added a barn (via kit; see "Sources"). An area in front of the building mimics a dry river creek. Rain water is captured and directed elsewhere. "Functional, yet decorative, it has allowed for a different plant palette," McMahon says. A blast of spring bulbs is followed by Mediterranean beauties like euphorbias and sedums that prefer a hot home with speedy drainage.


Good Bones
Once existing trees were edited, McMahon used the remainders as framework. "We were fortunate to have a nice rhythm of mature oaks and evergreens already in place," she says. Waves of holly, hydrangea ('Preziosa,' left and below, flaunts maroon stems), rhododendron and fairy roses also shape the garden's backbone. A cerise pink shrub rose like 'Thomas Affleck' (left) delivers fragrance; no thorns. Like all creative souls, McMahon is forever scheming. "Thinking about it is almost as much fun as actually gardening," she insists. "When I design, I often draw freehand plans and layout, then I search for and collaborate with people who help bring the design into form." Among the willing group are Sophie Fair, head gardener; John and Rose Gauvin, caretakers; Farrell Landscaping, Narragansett; and Kaiser Tree Preservation, North Kingstown.
Taking Shelter
Decades ago, the McMahons' home was a summer retreat. The original owners camped out in the tiny cabin with a wood-burning stove on occasional winter weekends. Recruiting Hammond Housecraft (the Westerly firm responsible for the home renovations), McMahon upgraded the building into a studio. Come cold weather, she focuses on jewelry design. "Playing with various colors and materials," she claims, "is similar to garden planning." Peach trees fringe steps to the octagonal "summer house" (left). A classic English feature, the structure was trucked from yesterday's homestead and revamped. Dozens of plants, many for the opulent kitchen garden, are raised from seed in an energy efficient greenhouse. Check out McMahon's blog for recipes: delightfuldelicious.blogspot.com.

Sources

Barn kit: Country Carpenters, Hebron, Connecticut
countrycarpenters.com
Fence: Walpole Woodworkers "Berkshire style", Warwick
walpolewoodworkers.com
Roses: The Antique Rose Emporium, Brenham, Texas
antiqueroseemporium.com

Singing Stones Nursery: 295-2375