Dough Boys: Pizza on the Hill
Four takes on the ultimate Italian-American snack.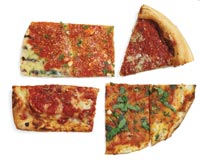 A. Bob & Timmy's:
Thin and crispy wood-grilled pizza with toppings both classic and modern. Try a simple pomodoro sauce with parmesan and grilled onions or the trio of wild mushrooms. 32 Spruce Street, 453-2221.
B. Sicilia's:
Offers thin and classic crusts, but Sicilia's is known for its "stuffed" (a.k.a. deep-dish) pizza filled with veggies, chicken, shrimp, sausage or a year's worth of cheese. 181 Atwells Avenue, 273-9222.
C. Caserta's:
Doughy Sicilian style with plenty of sauce and basic ingredients: pepperoni, mushrooms, olives and anchovies. Small pizzas offer triangular slices while large are rectangular slabs. 121 Spruce Street, 272-3618.
D. Geppetto's:
Grilled thin-crust as well as classic New York-style pizza. You can also take the dough to go, fully grilled and frozen. No stretching required. 57 De Pasquale Square, 270-3003, geppettospizzeria.com.

Edited by O'rya Hyde-Keller