Don't Miss These Three Spring Fashion Events
SEED Cirque, StyleWeek Swim and Au Courant will keep your social calendar packed this season.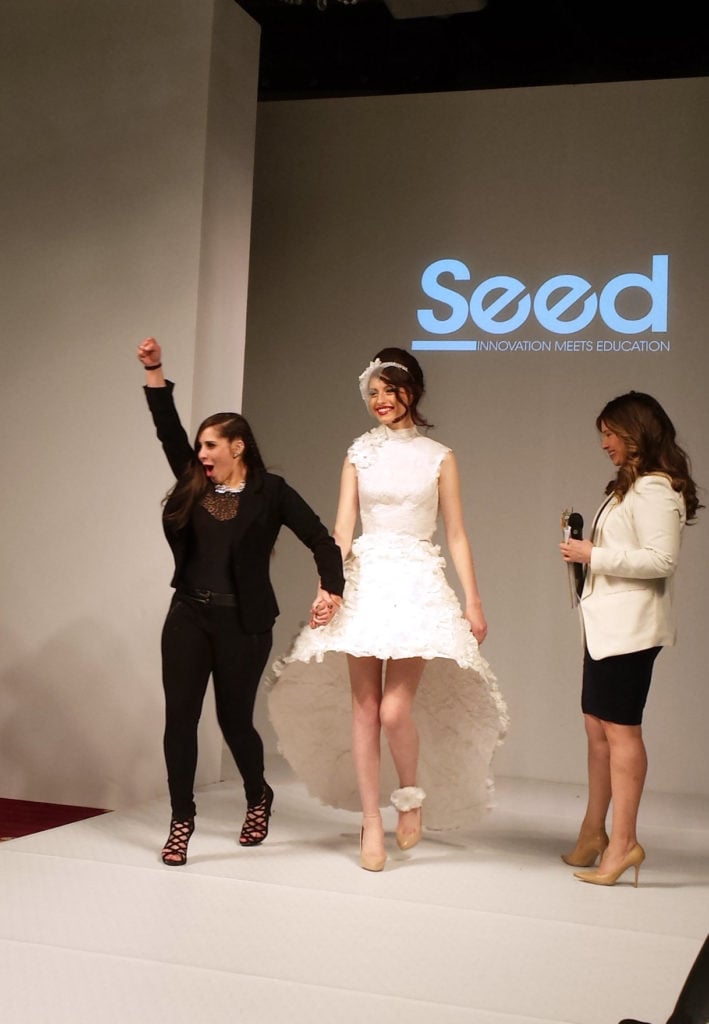 Summer is nearly here, and that means StyleWeek Swim. The swimwear fashion event is returning in June to the Hotel Providence, where StyleWeek began. But you don't have to wait until June to get your fashion fix, because there's a SEED party to benefit up-and-coming student designers who will be participating in the mentorship program. Here's the information on all the upcoming festivities:
Fri., May 29, 6:30−10 p.m.: Attend CIRQUE, the very first SEED fundraiser to benefit the student designer mentorship program, held at the Arcade Providence. Guests will be entertained with circus games, music and more while New Harvest Coffee and Spirits hosts an open bar for ninety minutes. Food will be served by Vanity. Purchase a $100 ticket to automatically be entered into a raffle to win $10,000. The raffle drawing will take place at 9:30 p.m. and the winner does not need to be present to claim the prize. The purchase of the raffle ticket grants admission to the party. All proceeds from this fundraiser will go toward launching the student design mentorship program. The annual SEED fashion show is the pride of StyleWeek founder Rosanna Ortiz. "SEED and StyleWeek are two separate organizations and I am thrilled to say that it is now a federal non-profit where we can build the mentorship program and help these lucky student designers attain their goals," says Ortiz. You must purchase raffle tickets over the phone via credit card or visit a SEED representative to pay cash or check. Raffle tickets are not allowed to be sold online. Call 617-818-1135 or email contact@seednortheast.org for tickets.
Sun., June 7, noon−4 p.m.: StyleWeek Swim returns, this time to the Hotel Providence courtyard where local designers will showcase their swimwear and resort collections. Start the day off at noon browsing accessories and jewelry from local businesses while sipping cocktails. The fashion show kicks off at 3 p.m., and participating designers include Jonathan Joseph Peters, Alistair Archer, Jess Abernethy, Artiss Akarra, Stetkiewicz and Debrichhio. There will also be an after party following the event at 4 p.m. Early bird tickets are now $25 (one week only). Regular admission is $35. Check out our blog covering last year's event.
A swimsuit from last year's Artiss Akarra runway show, featuring EIGHT United Republic Affair.
Fri., June 26, 6:30−11 p.m. Au Courant is returning to Newport with local designers showcasing their latest looks at Ochre Court at Salve Regina University. It's the biggest fashion event of the season in the city by the sea. Through the collaborative efforts of Child and Family and StyleWeek Northeast, Au Courant celebrates and promotes the creative talents of eight of the finest designers in the Northeast. It provides a sneak preview of designer fashions which will officially debut later in the summer and fall. The event helps support Child and Family, one of the oldest and largest social service providers in the state of Rhode Island. Guests will enjoy a cocktail party catered by Pranzi Catering and Events that includes an open bar, several specialty bars, delicious hors d'oeuvres and desserts. Bid on both silent and live auction items. Previous auction items have included lunch in New York City with fashion guru Tim Gunn, weekend long spa retreats and jewelry from Swarovski. Then, guests will watch the fashion show with previous appearances by "Project Runway" alums Jonathan Joseph Peters and Joseph Aaron Segal. What sets this event apart from other StyleWeek shows is that some of the clothing that appears on the runway will be available for sale directly after the show! Tickets start at $125 per person.