Don't Miss the Last Ringling Bros. Circus Ever
The circus ends its run with a finale in Providence, Rhode Island, at the Dunkin Donuts Center.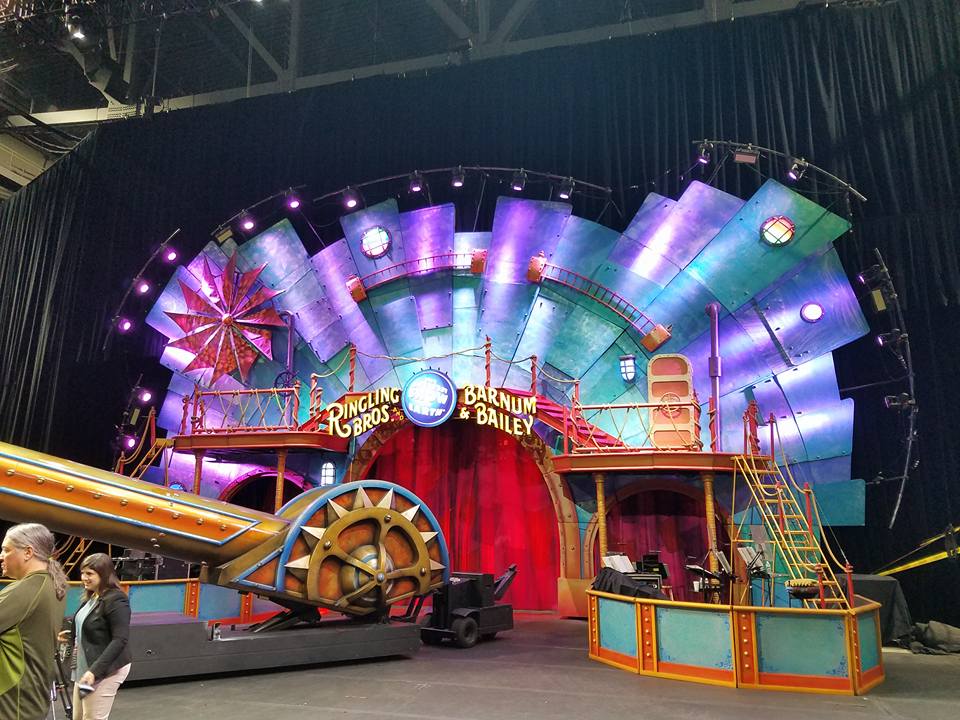 This season marks the very last Ringling Bros. and Barnum and Bailey Circus ever. Yes, ever. You can catch the final run of "The Greatest Show on Earth" with Circus EXTREME this weekend at the Dunkin' Donuts Center in downtown Providence as it concludes more than fifty years of enjoyment under Feld Entertainment.
Tickets are still available for the performances taking place May 5 to 7. It's a historic occasion for more than one reason; visitors will also get the chance to witness the first (and last) female ringmaster, Kristen Michelle Wilson, lead the spectacle.
There are acrobats, freestyle BMX riders, jugglers extraordinaire, tons of clowns, a tiger presenter, a human cannon, comedic canines, a hire-wire troupe, Mongolian contortionists, Brazilian dancers and so much more. The elephant in the room is that there are no more elephants in the show, but we are glad to know they are safe and happy, living on a refuge.
The Feld family made the difficult business decision to end Ringling Bros. and Barnum and Bailey this May because ticket sales have been declining, and after the decision was made to retire elephants from the show, there was an even more dramatic drop in sales.
We got a sneak peek at all the action at a farewell media event this morning, during which all the performers demonstrated various tricks, and we also got to interview the artists who travel across the country on a train with the show. Don't forget to check out our Instagram story at @RIMonthly.
Here are some of the most interesting things we learned:
Kristen Michelle Wilson, first female ringmaster from Orlando, Florida:
"They had never had a female ringmaster before, and I thought why don't I throw my hat in the ring and give it a try. The very last audition city happened to be Orlando [where I lived], and I went, and a few weeks later I was offered this coveted role and I have been pinching myself ever since. We live on a train and we travel from city to city and you are with your very best friends. We have fourteen different countries represented on Circus Extreme so you hear all of these different languages and there are so many cultures represented. That's what makes the circus amazing to me. A lot of times in society, people are afraid of their differences, but in the circus, we celebrate those differences. This is the most fun thing I have ever done."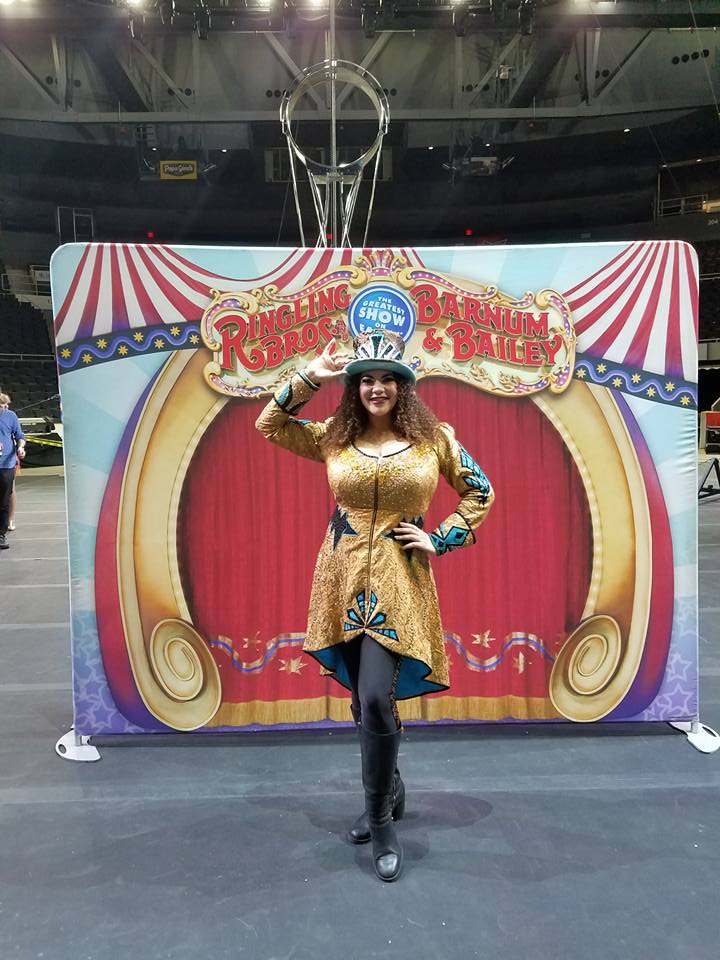 Mustafa Danguir, Danguir High-Wire, from Morocco
"I've been working with the circus twenty-six years. I started working with Ringling from 1996 to 2000, and then for the last seven years, so all together ten years at Ringling, and all my life twenty-six years. My family is with me here. I have a three-month-old baby boy, Amir. My wife comes from six generations of circus and we are together in the RV, and we travel with the circus across the country. My wife does high-wire with me. She was a juggler when we first met and she wanted to do high-wire, so I taught her. We do trapeze; we do acrobatics. It's beautiful to be up there and see the people clapping for you. It's not just about the money. Our pay is when we see families happy and clapping for you, getting excited and enjoying what we do. My family is from Tangier, Morocco. My wife is half-Italian, half-Russian. We have a home in Morocco, and for the moment, we are waiting for some offer. After what's happened with Ringling, it's hard to trust anyone. I will miss seeing the cities all over the United States, the people clapping for me, especially because Ringling is so big. At Ringling, we are from all over the world: Mongolia, Arabia, Europe, Spain, Germany, Chile, Brazil. We work together and it's so beautiful to see that. To leave that is hard. We will work with other artists but not the nationalities from all over the world like Ringling. Ringling is the best example of that."
Dancer, Leticia [in the middle], from Brazil:
"I have been here for one-and-a-half years. I will miss the energy from the people in the audience because us dancers are used to the stage, so we don't have thousands of people watching us. We will miss the whole cast. Some of us are going back to Brazil, and some will stay here for jobs."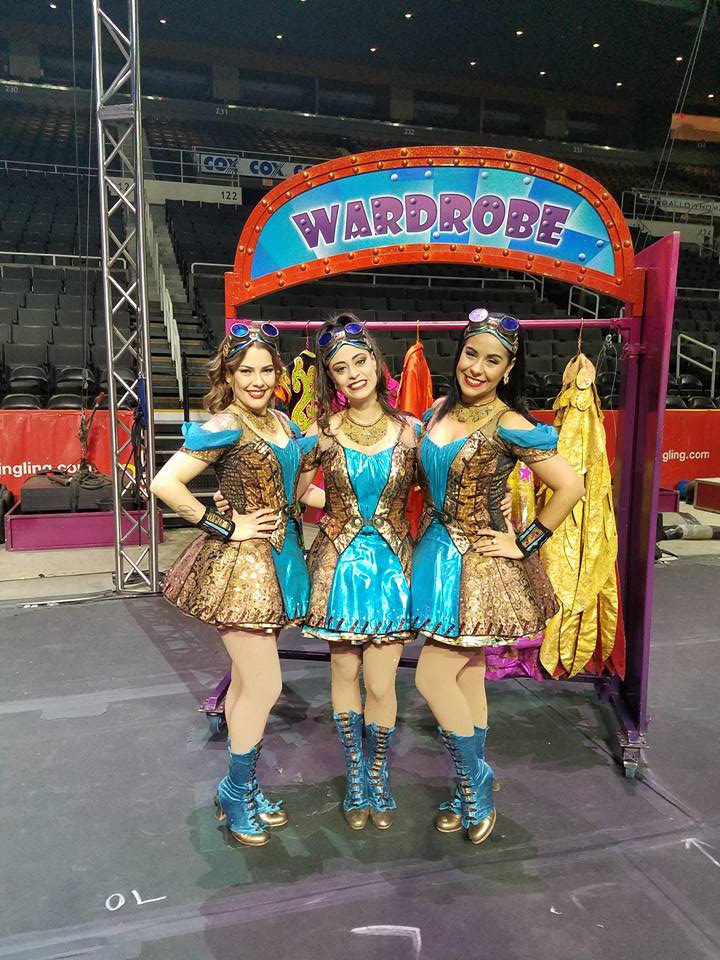 Kenny Short [on right], BMX Rider from Minneapolis, Minnesota:
"I have been with the circus for two-and-a-half years and I have been BMX riding for fourteen or fifteen years. I got a phone call that they wanted to put BMX in the circus and it sounded amazing. I told my parents I might be taking off and joining the circus for a year or two. They were excited, and they thought it sounded like a good opportunity and something I should go for. With this show, the circus wanted to take a less traditional path but keep the core roots, like the human cannonball, the high-wire, the camels and tiger, things of that nature, but bring in the extreme element to give it a new twist. After the final circus, we'll settle back in to how things traditionally are for BMX riders: shows, contests and traveling, and have fun with it as it happens."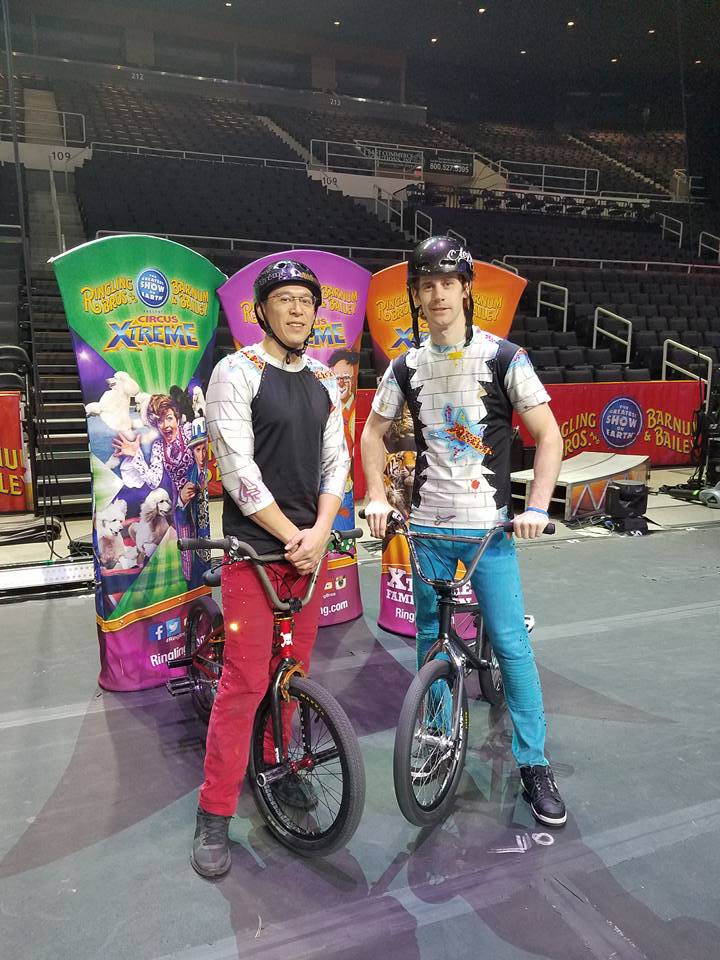 Ivan Vargas [on far left], Clown, from Mexico, but living in Las Vegas, Nevada:
"You need to know a little of everything. That's why the saying goes, "Send in the clowns," because unfortunately, things happen. I was born and raised on Ringling so I worked here for twelve years, and I started performing at age fifteen. I've been an acrobat, I've done trapeze and gymnastics, I became a clown, I've hosted the show, I was an understudy ringmaster. I've learned so much here and I continue to learn to this day, even though we only have a couple days left. I will take what I've learned here the last twelve years performing. If I can make it here, I can make it anywhere, just like Manhattan. I believe I was born to entertain, so whether it's another arena filled with 10,000 people or out in a park with ten people, as long as I'm entertaining, I'm happy."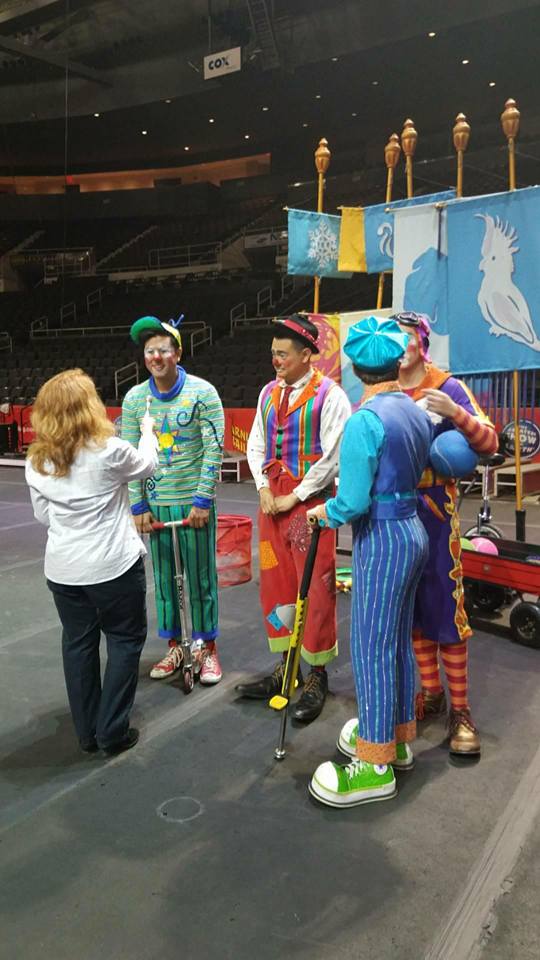 Viki Zsilak, and her son, Richie Labadi, jugglers extraordinaire, from Hungary
Viki: "I have been with Ringling Brothers for eighteen years. But I've been with the circus all my life. I am third-generation. My parents and my grandparents were involved, and my son is nineteen so he's been here eighteen years [points to Richie]."
Richie: "I was born in Hungary, but when I was one year old, my mom came over to work on the show."
Viki: "It's just been awesome over eighteen years. One season is two years, so we travel with the same people for two years. Some of the people stay longer. Some families have been here eighteen years, or longer than me. We become a big family. We have all these different countries and cultures represented. We learn different languages. You just pick it up. I was training my son for juggling but the acrobats from Ukraine taught him acrobatics. We have Brazilian dancers, some of them teach ballet for my little daughter. You get the skills from other performers. I have been fortunate that they let me do so many different things here. I have been juggling on horseback, that's how I came here originally. I have been doing the upside-down act, which is aerial. We have a platform with my husband which you walk on upside-down. It's like an illusion. I have been working with so many animals. I've been presenting horses, camels, llamas, yaks, elephants, kangaroos, goats, donkeys. It's always safety first with acrobatics."
Richie: "We start at a low heights, and there's always mats under it. Once you feel comfortable, and get it down, then you can go higher."
Viki: "It's two years of preparation to get to a certain level. I'm going to miss everyone on the show, I am going to miss performing for all these people. Live entertainment is the best and I hope it stays alive. I will miss the great crowds and cities. From every city, you have a memory. I am happy we can have these memories."
Richie: "Growing up how many kids can say they got to run around in Madison Square Garden or the Staples Center, and grow up there for a week. It's a once in a lifetime experience."
Viki: "After Sunday, we are going to Florida. We have a house there, then after a couple months off, we will join another show. Circus people are built for that — to always travel."