Don't Ask Me to Cut My Hydrangeas
To share the bountiful blue blossoms, or not to share?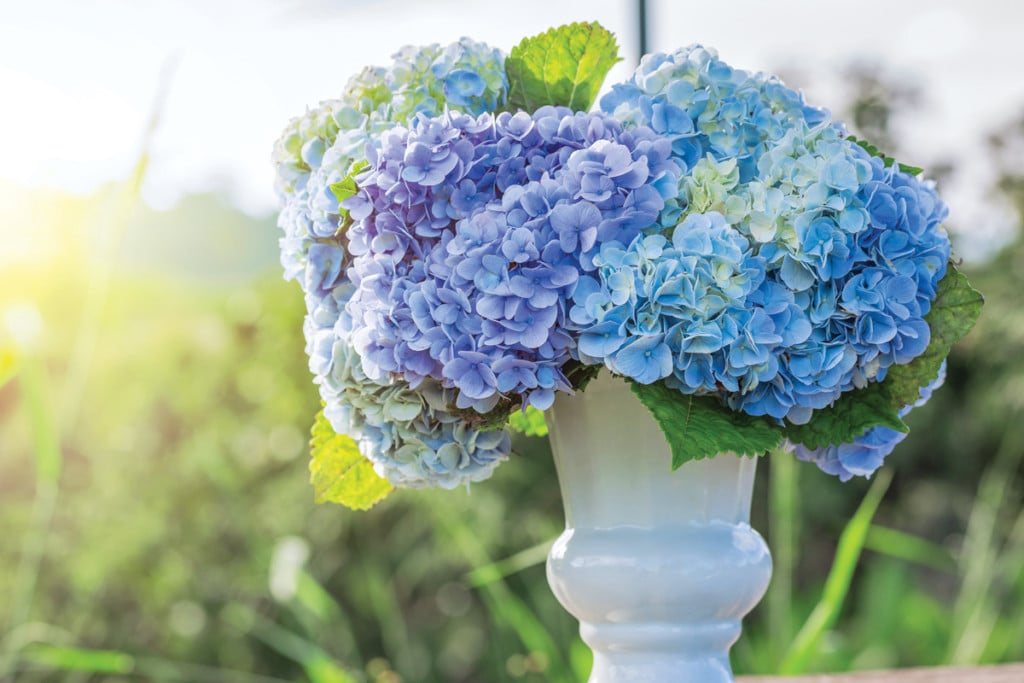 I've heard people talk about their flowers before, their gardens in an almost mystical way. Each blossom named for a member of their family. And, although I think I understand how they feel, I have always had an affinity for wild growth and untamed weeds. Gardens that smack of passion to me are those that let their hair down in a way that as people we often cannot do. The letting alone to allow things to happen, the maturing and "growing" at a pace that we are not often allowed to do because of all of the discerning bushes around us: That is the kind of garden I have always wanted to grow. 
But maybe I have been kidding myself all along; maybe it is in the order and history of my garden that I experience life. You see, I have a thing for my hydrangeas. Every summer I go back to a cottage in Narragansett pier that I have owned for more than twenty-five years, or as long as my older child has been alive. I'm reminded of a line from a childhood friend, who used to say as we drove down to her beach house at the Cape: "Let's go and see if the ocean is still there."
For me, as I approach my house in the old neighborhood in which we live, I try to spot the hydrangeas from the corner. Are they there? Did they come up this year? Did I cut them back too far last summer? Or not enough? Or did they bloom at all — their green leaves as vibrant and childlike as ever, but not a single blossom on the whole bush.
I realized this summer, as I have never realized before, that the ownership I feel towards these two bushes that flank the entryway to our little home borders on miserliness. I feel like an old witch in a fairy tale ready to clip anyone's hands off with my garden shears at the first suggestion of, "Oh, can I cut some?" But cut they do, and they see it in my face, watch me as I bow my head and clench my fists in resolve. I have lost. I have given in again. I have parted with something I didn't want to. My husband, a strong and fortified man, cowers in the corner of the screened-in porch when someone asks to "just cut a few." "Well, you had better ask my wife," he says. The most unselfish man I have ever met stares at me dumbfounded at my utter selfishness re: my flowers.
I'm not stupid. I know what they represent; they show me like no other object in my life the passage of time. They are bright blue when I arrive in June and they fade to purple, sometimes brown, just as both my children turn another year older on their August birthdays. They show me the commitment in life it takes to carry on, to face the rain, the disappointment, when ideas that bloom don't endure, when heat and sun take their turn on a life that you only wish was always filled with fair weather. The ownership, the pride, for these beloved blossoms and the sense that I did this myself sits on my shoulder like a giant burden.
On the Fourth of July, one of my oldest friends told me he was going to cut some flowers for the dinner table. I had just noticed how beautiful they looked that morning from the rain we had had the night before. I didn't want to but I said sure, then I added, a little too late, can you cut the ones in the back? But nobody ever wants to cut the ones in the back. They want to cut the flowers in the front, the luscious blooms bursting with fertility that greet you by the entrance, the ones you see when you are coming and going. The best ones. And so he did. I closed my eyes, I prayed to God, to let me be less selfish, when he walked in with an armful of flowers. And then I remembered that this is his summer too. Let him walk barefoot in the yard, eat sweet Rhode Island strawberries and cut flowers from the garden. We all want to be young again, I thought. David is the person who led us to this house in Narragansett. He is the one who said to us one night while vacationing in Charlestown, "Buy it. You won't believe how happy you will be here."  We had just gotten back from a pick-up game of basketball on the Boon Street courts and a dinner at the old Terminesi's. Four months later, we left our family home on the Jersey Shore and moved into this cottage.
The hydrangeas have never been as abundant as they have been this summer. Everyone who visits goes home with a jar filled with them. The killer rain that wouldn't stop and kept us off the beach for weeks pummeled my flowers with sweet food and made them grow like crazy.
Until the last couple that comes, a young family from Manhattan, asks me if they can cut a bunch to take back to the city. "You don't know how much these would cost on the street in New York," they say. "Yes, I do," I murmur. And I let them take them all.