Doctor Feel Good
Rajiv Kumar is a man on a mission: to help Rhode Islanders become the biggest losers (of weight, that is) and, in the process, get hooked on healthy living.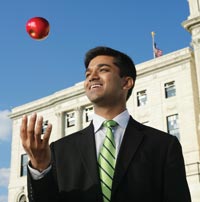 Rajiv Kumar wants to play a game.
We're in a conference room at the Rhode Island Foundation in downtown Providence. It's a nice place with a view of Waterplace Park and the state capitol, but neither he nor those who have come to hear him seems to notice. Our attention is fixed on Kumar. We've been told this will be fun.
A slide pops up on the projector screen that says, "I'm cuckoo for…"
"Cocoa Puffs," we answer.
The next slide says, "They're Grrreat!"
"Frosted Flakes," we say.
"Melts in your mouth, not in your hand."
"M&Ms," we say.
"I'm lovin' it…"
"McDonald's," we say.
"Congratulations, you got all the answers correct," Kumar tells us. But, of course, that's not the point, and we know it. We're here to learn about Kumar's plan to get Rhode Islanders off the sofa, away from junk food and hooked on a healthier lifestyle. The program is Shape Up RI, a competitive, team-based weight loss program that has motivated thousands in Rhode Island—a state where 61 percent of all adults are overweight or obese—to exercise regularly, eat more healthily and regain their self esteem.
The twenty-four-year-old Kumar started the program two years ago as a new medical student at Brown University with a modest budget and little idea how his vision would play out. Much to his surprise, about 2,000 people signed up, formed teams and competed against each other to see which squad could shed the most pounds or log the most hours of exercise. Now, as Shape Up RI begins its third year in February, Kumar expects 15,000 Rhode Islanders to battle their bulges and sweat and step their way into better shape.
"I realized…that losing weight is very personal," he tells his audience, which includes representatives from the state attorney general's office, Lincoln High School, Thundermist Health Center, Greater Providence Chamber of Commerce and area businesses. "We do it alone. But the problem is when we get alone, it's easy to get frustrated."
He adds: "I figured there must be a better way."
Kumar is the anti-Richard Simmons. He doesn't yell or race around to get people pumped about losing weight, and he's admittedly more comfortable in a suit than sweatpants. "I'm not a fitness buff," he admits with a self-deprecating chuckle, "and I've never been a star athlete." And at five-foot-eleven and 155 pounds, there's no spare tire to speak of either. Still, Kumar says, "I see myself in the same boat as everyone else. We all have trouble finding time in our day to be healthy, to exercise." Although Kumar preaches the power of teamwork as a motivating force, days crammed with meetings, classes and hospital rotations often limit him to solo workouts at a gym near his Jewelry District apartment.
True to his medical roots, his approach as Shape Up's spokesman is almost clinical (he lacks the in-your-face personality of a fitness instructor and certainly doesn't subscribe to the hard-sell, quick-fix approach of a fly-by-night dietician). He speaks softly and calmly, letting the facts motivate people to join his movement. No matter his audience, he wins them over with his affable, nice-guy-next-door demeanor. "I see myself as very much like the average person," he says. "Even I have to fight the temptation to take the elevator."
Kumar has wanted to be a doctor since he was five. It's in his blood. Just about everyone in his family is a doctor, nearly thirty in all. They cover seemingly every discipline: cardiology, radiology, nephrology, gastroenterology, oncology, ophthalmology, obstetrics, pediatrics, emergency medicine. Family gatherings invariably evolve into discussions on medicine, with relatives trading advice and comparing notes around the dinner table. "It's kind of who we are. It's our identity in the family," Kumar says.
Kumar credits his mother, Manju Aggarwal, with his career choice. Manju is an internist who works at the state-run Cedarcrest Regional Hospital, about twenty minutes away from the family's home in Glastonbury, Connecticut. She and two of her three siblings are doctors. They took after their father, who was a family physician in central India.
"He loved to help people, and he never expected anything in return," Manju remembers. "They would come from villages, from all over. They would ring the doorbell in the middle of the night, and he would treat them in the living room. We would be woken up, and he'd say later, 'Their suffering is greater than yours.'"
Manju and her husband, Pawan, left Delhi in 1974 when she was twenty-three. They ended up in Cincinnati where Manju completed her medical residency. The couple then moved to Connecticut when Pawan landed a job at United Technologies, a major aerospace and aviation technology firm.
At thirteen, Kumar began working at Hartford Hospital and Connecticut Children's Medical Center—in the gift shop, the only place he was allowed at that age. The next summer, he wheeled patients around. The following summer, he was allowed "patient contact," as he terms it, performing chores such as bringing meals to patients and supporting the nurses on duty. The jobs were all unpaid. "I saw it as valuable, and the purpose of summer is doing something good and worthwhile," Kumar says.
Kumar gravitated toward science courses in high school, taking particular interest in biology. He won an award from the governor for academic achievement, and he was the class valedictorian. He was serious about his studies but not obsessed, says Sachin Bansal, a friend since the fifth grade. Bansal remembers downtime filled with movies and Dave Matthews concerts, a band Kumar reverently followed. He says Kumar was popular, even though he didn't play sports. He had a close network of friends, a group that kept to itself.

Kumar got accepted to Brown's Program in Liberal Medical Education, an eight-year commitment that combines undergraduate and medical degrees. He majored in economics as an undergrad but took his share of pre-med classes. An aspiring MD's true test, however, happens outside the classroom.
Last July Kumar started his med school rotations, as a resident at Miriam Hospital in Providence, gathering information about psychiatric patients, a notoriously difficult group. The trick, says Jeffrey Burock, a psychiatrist and clinical assistant professor at Brown Medical School, is to establish a rapport with the patients.
Many of the med students appeared to lack bedside manner. Most were intimidated, others afraid. Kumar, however, was a natural. "He was the most confident third-year medical student I've had," says Burock, who has overseen dozens of medical school rotations at Miriam. "Most third-year students are pretty awkward in their first rounds. You could tell [Kumar] was no stranger to being a doctor."
Burock gave Kumar honors, the highest clinical grade. "He's been focused on medicine since birth or something," Burock remarks. "He's been preparing for this his whole life."
What Kumar wasn't prepared for was a lecture by a medical researcher, Rena Wing. It was fall 2005, and Kumar had just begun medical school. Wing is an obesity expert and director of the Weight Control and Diabetes Research Center at Miriam Hospital. In her talk, she said obesity was a growing public health danger. She showed a series of maps of the United States to illustrate her point. The first map, from 1985, showed nearly two dozen states shaded blue, which meant between 10 percent and 14 percent of the population was obese. The maps in the following years showed more states acquiring the blue hue, as if ink had been spilled on the map. This indicated more states, and more people had become obese. In this century, two more colors—orange and red—have appeared on the map. They represent states in which the obesity percentage had reached a staggering 25 percent or 30 percent of the population.
The maps showed clinically and unflinchingly that more and more Americans are getting fat. Wing then told the students that obesity is linked to life-threatening illnesses such as Type 2 diabetes, cancer, heart disease, strokes, respiratory problems and osteoarthritis.
"I was blown away," Kumar tells me as we sit in his office, a converted storage room in a building in Providence's Jewelry District. "It was visually powerful to see that in twenty years, we have seen states that have gone from 10 percent prevalence for obesity to 30 percent. That's unheard of for a disease—unless it's an epidemic—to grow at that rate."
Wing's presentation draws from data compiled by the federal Centers for Disease Control and Prevention, which reported three years ago that 33 percent of the adult U.S. population was obese. That's 70 million Americans. Perhaps even more troubling, the fat trend has taken hold in children: The CDC says that the number of overweight kids (there is no obesity category) aged two to five has nearly tripled in the last quarter century (ending in 2004) to 14 percent. For those aged six to eleven, the number has spiked during that same time from 6.5 percent to 19 percent; and for twelve- to nineteen-year-olds, it has risen from 5 percent to 17 percent.

In 2001, the surgeon general called upon Americans to slim down, saying obesity "may soon cause as much preventable disease and death as cigarette smoking."
Kumar's response to the problem was to start Shape Up RI. His adviser was Ray Rickman, his one-time boss.
Rickman, a former state representative and deputy secretary of state, was the mastermind behind Adopt A Doctor, a program to retain native physicians in the world's poorest countries by augmenting their meager salaries. Rickman knew what he wanted the program to accomplish, but he wasn't sure how to put it into practice. So, in early 2004 he went looking for help.
"Eleven or twelve people showed up who had applied," Rickman recalls. "[Kumar] was the third person to go, and I hired him on the spot. He was pre-med, he was exuberant and he cared. It wasn't a summer job, and it wasn't for the resume. He wanted to do good in the world."
I ask Rickman how he knew Kumar didn't want the job to pad his professional credentials. "I know what realness is," he replies. "You can't fake it."
He senses I remain unconvinced. "He's the most honest person I know of his age," Rickman says with some earnestness. "I know a couple of rabbis in their seventies who are as honest as he is. But that's their jobs."
One of the first things the pair did was draw up the group's papers as a nonprofit. They sat along the river in downtown Providence, and Kumar pulled out his laptop and started pecking away. Six hours later, "he prints it out, and it's all fine," Rickman marvels. "He was so organized. I've done ten applications for [nonprofits], and it was the finest one I'd seen."
Adopt A Doctor was a small operation, sponsoring about a dozen doctors in four countries when Kumar went to the west African nation of Mali in the summer of 2006. He worked at an AIDS clinic in the capital, Bamako, and although the government was providing life-saving drugs to combat HIV free of charge, there weren't enough doctors to examine patients and administer the medication—especially to those who lived on the city's outskirts. Distressed and frustrated, Kumar called Rickman and told him they needed to fund two more doctors.
"I said, 'We're not going to add any more doctors,' " Rickman remembers. "And guess what? We got two more doctors in the clinic. He wouldn't take no."
"It was so simple of a solution" to pay for additional doctors to serve the population, Kumar explains. "It was about connecting people. It wasn't creating a product or transforming anything. It was working with what we have."

Kumar's naturally adept at finding solutions. Anoop Raman, Kumar's best friend from Brown, remembers a small instance of a noisy door at the library: "People would put up signs, 'Please close the door gently.' But it still would slam. So, Rajiv was like, 'This is dumb.' He sent a letter to the facilities manager, and the next day it was fixed."
Stephen Smith, who advised Kumar as a freshman at Brown through his first two years of medical school, calls such problem-solving a "logical, systematic way of thinking." Smith got to know Kumar when he, as a freshman, took Smith's health-policy class, Cost vs. Care: The Dilemma for American Medicine.
"I could see his interest in trying to solve some of those problems we face," recalls Smith, who was the associate dean at Brown's medical school for twenty-five years. "He had a deep social conscience, and he recognized some of the injustice in our [medical] system.
"What never changed was the sort of unusual combination that I saw in him of both the entrepreneur and the social justice champion," says Smith, who teaches family medicine. "Most of the time, people who are activists are not exactly realistic. They're out to change the world, and they're highly idealistic and not very pragmatic. What I saw in Rajiv was a high degree of activism and pragmatism. He had a tremendous sense of coming up with real, business-savvy solutions."
Kumar has adopted a sound business model to reduce obesity in Rhode Island. He entices companies to pay for their employees to participate, although individuals can enroll as well. The $15 per person registration fee brings in money to organize a handful of educational events, manage the website and fund end-of-competition functions, such as last summer's softball tournament fundraiser that featured former Red Sox slugger Sam Horn.
Once a team has been organized, it competes for twelve weeks in up to three disciplines: weight loss, exercise hours and steps, the latter tallied by a pedometer. Each player logs his or her progress online, and totals are kept for each team. Weight-loss information is kept confidential, viewed only by the participant.
As I enter his office, Kumar is analyzing stats from the 6,916 Rhode Islanders who took part in the 2007 campaign. He clicks on his laptop to a screen that displays three charts. The average person lost 7.6 pounds, he says, with a high of fifty-eight pounds and dozens who lost about thirty. Each person exercised for forty-two minutes daily on average during the competition, which could have included a trip to the gym or a walk around the block. And each person walked about 4.9 miles daily. (That's 10,000 steps on the pedometer.)
"These are stunning results," Kumar proclaims with a hint of pride. "What's exciting about this is it's not a quick fix. We're not telling people, 'Lose fifty pounds in three months, and your life is changed forever, and that's the end of the story.' What we're doing is helping people incorporate behavior change, physical activity, into their daily lifestyle, and the goal is that they will maintain this healthy behavior for the long term."
The Shape Up RI website is full of testimonials from former participants. Many speak of the program as just the catalyst they needed to begin exercising. Others talk about the initiative as a bonding experience with friends and strangers. Some say they persevered because they feared letting their team down.
Ann N. Davis was nearing desperation when she decided to give Shape Up RI a try in February 2007. She was popping meds daily for achy joints, and she was on the cusp of being diagnosed for high cholesterol, diabetes and hypertension. On her last visit, her doctor told her, "I will give you six months, and if I don't see improvement, I will put you on medication."
Davis, a leadership development coordinator at Lifespan, weighed 170 pounds when she took her first step with Shape Up RI. When the competition ended, she had slimmed to 150 pounds—and is still keeping it off. "The most exciting thing was taking clothes I had purchased in my largest size to the tailor," says Davis, who's fifty-three.
She says the program gave her incentive, discipline and structure. She plans to participate in the next round and is eyeing hooking up with a more competitive team. "I continue to watch my intake and the things I eat," Davis says. "It's not to say I don't enjoy a fatty pastry, but I don't eat a box. I'm cognizant of the calories, whereas before I just didn't care."
For Kumar, it's the personal anecdotes that carry more weight than the pounds shed. He ticks them off from memory: the woman who lowered her cholesterol so much that she no longer needed gall bladder surgery; the fifty-four-year-old who had been chained to diets since she was twelve, and for the first time was able to lose weight and keep it off; the man who dropped forty-one pounds during the competition and finished within three pounds of his marriage-day weight nearly two decades ago.
"It's humbling," says Kumar, "to think that in twelve weeks you can change somebody's life."