Distance Runners
Why give up color with weeks of warm weather to go? These fabulous underused plants fill the gaps.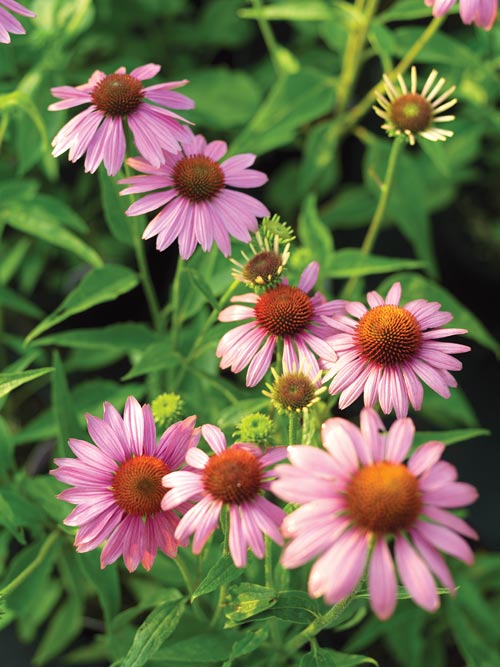 After what experts refer to as the "big bang" — that spring and early summer color explosion — comes the quiet. Personally, we love harmonious all-green gardens full of textures and tonal variations, but then we visited Jane Case — proprietor of Wakefield's Blue Moon Farm Nursery and Magic Gardens, a twenty-five-year-old garden design firm — and had a change of heart.

At home, the hostas and ivy were holding their own. And the boxwood was looking okay. Case, though, had fields — fields! — radiating mid-season color. Even more impressive, her perennials were easy care (our specialty), many were deer resistant, and most were native. "We need to change people's awareness of sustainable plants," she says. "The more we grow, the more we learn."
And more surprises: These hardy planet-friendly plants have only the usual requirements such as fertile soil (a garden or meadow situation) with plenty of compost, good drainage and appropriate light. Case recommends a soil test, if you're starting from scratch, and a slow-release fertilizer (North Country's Pro Grow organic fertilizer is her choice). And don't think it's too late. Case plants all season long. "You just have to water faithfully until things are well established," she says.

SHOP
Blue Moon Farm, Wakefield, 284-2369
Woodbridge Greenhouses, North Scituate, 647-0630
Confreda Greenhouses and Farm, Hope, 827-5000
The Good Earth, Cranston, 826-3130
JOIN
For more information about plants native to our state, contact the Rhode Island Wild Plant Society, Exeter, 789-7497, riwps.org
READ
Case recommends: anything by author Michael Dirr; The Well Tended Perennial Garden by Tracy DiSabato-Aust; Bringing Nature Home by Dr. Doug Tallamy; and Wildflowers by William Cullina.