The Dish: Troop Restaurant Opens with Hip-hop and Skateboarding Vibe
Co-owners brewer Sean Larkin and chef Jason Timothy gave us the rundown on the new Olneyville hotspot.
Laughing Gorilla Catering and brewer Sean Larkin have teamed up for a new restaurant that's now open in Olneyville. Troop serves international street food and Revival beers, alongside other brews and cocktails, in a vibrant, community atmosphere that pays homage to '90s hip-hop culture and the skateboarding and surfing scene.
The space was designed by Kyla Coburn and her team of artists who painted murals and created a sculpture out of boomboxes stacked on top of each other. There's a bar where skateboards are multipurposed as the backs of stools, and a cozy nook with hanging chairs, wicker seating and cushy bright-colored pillows. The view is straight out of Costa Rica with inspiration from A Tribe Called Quest, Wu-Tang Clan and the Beastie Boys alongside skateboarding and surfing details. You might hear an occasional profanity-laced song from the Spotify playlist, but it's all part of the vibe that is a statement on the culture that the owners grew up in.
Designer Kyla Coburn sat down with the Troop owners to curate the restaurant look and feel through murals, furniture, artifacts and lighting. "Working with Kyla has been awesome," says Sean Larkin, one of the five founders and co-owners, who also serves as Troop's general manager. "I've appreciated all the stuff she's done and this was an exercise in trust. We told her what we wanted to do and let her go wild."
Jason Timothy is the chef and one of the five co-owners alongside Larkin, Leigh Vincola, Christopher Simonelli and a fifth silent partner. Timothy wanted to take the Laughing Gorilla menu to the next level with a more refined approach to global street food. With choices like the signature pork belly banh mi sandwich with handcut potato chips, yucca fries, street noodles and eggplant four ways, there are options for any kind of eater, adventurous or not. Laughing Gorilla continues as a catering company with chef Andrea LaFazia (formerly of Elmwood Diner and the Locals) heading up the catering while also serving as Troop's sous chef. Troop, 60 Valley St., Providence, 401-473-2900, trooppvd.com
Here's a q-and-a with Jason Timothy and Sean Larkin about the restaurant:
Jamie: How did you come up with the concept for Troop?
Jason Timothy: I was looking at names, and I wanted to keep it within what made sense, like what we were doing with Laughing Gorilla. I looked up the name for a group of gorillas, and came up with Troop. We're staying true to the Laughing Gorilla brand; it's just our family has gotten bigger.
Jamie: Is Laughing Gorilla the nickname that your friends gave you?
Jason Timothy: When I was in college, my friends would reference me and be like, "Don't let the gorilla come out." Then in Sean's early brewing days, they called him "Silverback." It just made sense to go with that. It's something that people have attached to me and him.
Jamie: How did you and Sean Larkin first form a business relationship?
Jason Timothy: I was the chef at Loie Fuller's. I was ready to make a change after five years, and Sean had wanted to sell Revival beer at events. We started talking about teaming up, and it was a running dialogue for a couple of months. We started out doing Industry Nights at the Revival tasting room on Mondays and then we were invited to do some public events where we could sell beer. People know Sean, he's been on the scene for a long time, and with Revival, we've been able to be broadcast to a larger audience. It's the same thing with Kitchen. When we did the pop up there for six months, it brought us to a larger audience. That has carried over to the restaurant. If you had asked me when we started, do you think you'll be in a restaurant in under two years? I would have been like "No." To say things have gone rather quickly is an understatement.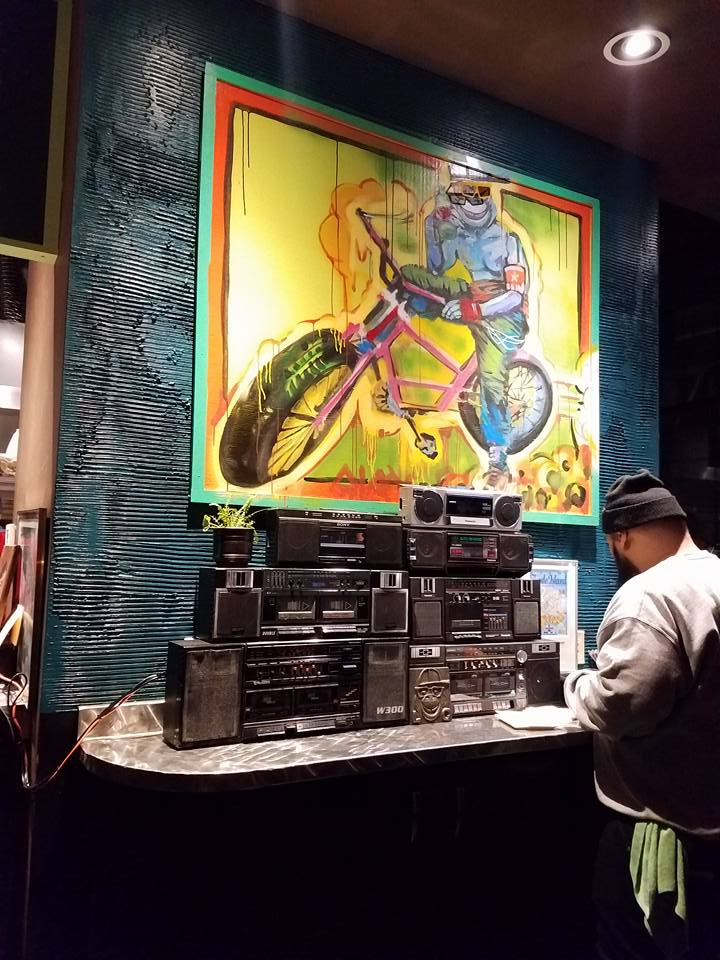 It's good you started out in the way that you did, because you got your feet wet and then you expanded from there. That's super smart.
Jason Timothy: It was a lot of legwork for me and our other co-owner, Leigh Vincola. She was amazing in starting the whole process. She started out talking to licensing and getting all that together. Her role is also very important. Trying to get licenses around here for anything can be a pain. She's handles administrative tasks and does invoicing for catering.
Sean Larkin: Jessica Whittington at Ello Pretty was also instrumental in getting us into that space. When Laughing Gorilla was doing popups, she suggested we do popups in the alleyway there and she introduced us to the folks at GRIN and Sprout. When the Bocado space became available, she said, "You guys need to come look at it." If it wasn't for her mentioning that space was available, and cheering us on, we probably wouldn't have considered that space.
As far as the tap list, how many Revival brews are on tap and will they rotate?
Sean Larkin: We wanted to be Revival-forward because of our relationship with our distributor, meaning that I believe in my own brand. But I didn't want to dilute it too much with having the entirety of the beer selection be Revival, so we brought over favorites we know will sell over there. We'll probably introduce special projects throughout the year, and we've had Grey Sail, Foolproof, Wormtown, Captain Lawrence. We try to extend our local beer program to breweries in New England. I don't want to be labeled as a craft beer bar. We are a neighborhood bar that sells and believes in craft beer, meaning we are not just trying to be craft-forward. We have Miller Light, Presidente, Miller High Life. Our biggest sellers continue to be Revival You Thirsty? and Revival Night Swim'ah. We have other beers on tap but that's what they are gravitating towards.
How does your lifestyle fit into the vibe of Troop?
Sean Larkin: I grew up in Olneyville until I was about nine years old, and then I moved to East Providence. East Providence was more of a middle class neighborhood, but I still had my heart rooted in Olneyville because I had friends and family that lived there. When I grew up, I started skateboarding and got into music. When I was at LaSalle for a year, I took the bus and rolled through the old neighborhood on the way to LaSalle. That's where I started getting exposed to hip-hop music. The first groups I started listening to were Public Enemy, De La Sol, and hip-hop of that genre and generation. I continued to skateboard up until I was nineteen or twenty, but as I started working, I had less time to skateboard. For me, that time period was when racial stereotypes started to diminish. The whole marriage of hip-hop and rock and roll music was one of deliberately breaking down walls of stereotypes between race and music and culture. Unity is the word that I got out of it.
Jason Timothy: Me and Sean both skated as kids. He does some surfing. Our other partner, Chris, was also an avid skateboarder. He still snowboards. We came up in that culture, the late-'80s, early '90s of really good hip-hop. It brings us back to a time we really enjoyed as kids, even though we didn't grow up together. I grew up in Connecticut, but we all share those same likes and we wanted to bring that to a space where everyone is accepted and you come and hang out and chill, and enjoy the vibe.
And the design of Troop merges all of those things from the hip-hop and the music scene to the skateboarding and street culture.
Sean Larkin: What we had intended after looking at that space was a deliberate attempt at making a restaurant and/or gathering place that is accessible, whether you are from the West Side or somebody who grew up in Olneyville, you can feel welcome coming in there. Obviously that neighborhood is full of diverse backgrounds, and we just want to be welcoming to everybody.
I like some of the small details, like the colorful sneakers hanging from a pole. What is the significance?
Jason Timothy: Some people have taken issue to it. The neighborhood I grew up in Connecticut – it was one of two things if there were sneakers hanging on the wires. It was either you can get drugs there, or someone might have gotten shot and they hang their sneakers up. I look at it differently, not in that negative sense. Those shoes are ones Kyla got, so to me, it just means that this is also her room, outside of the interior design. I am not worried about how people are going to feel about it or take it. People get really sensitive about it. We had someone say something about cultural appropriation, and I was like that's funny, because I am the chef/owner and I am black. I don't have a problem with it so why would you have a problem with it?
Sean Larkin: With the other design elements, it's one of those things where people forget this is the culture we grew up in. I might not be African American, but I have an affinity for hip-hop and street culture, and it was never a race-driven thing. It's important to say that we wanted to bring authenticity to the neighborhood. We're not a restaurant group from New York that looked at that space and decided to come in and capitalize off this neighborhood by designing it as such. I grew up in that neighborhood. I went to the library in Olneyville Square. I practiced in mill buildings in bands for years in those spaces, and I support all the business owners in that area that I am friends with, and everybody that's made the decision to stick it out in Olneyville. Whether someone calls it gentrification, or they call it capitalization on a certain area, the reality of it is we are all choosing to invest our money in a neighborhood that we believe has a fabric and texture that the rest of the state should see.
RELATED ARTICLES