The Dish: Meet The Burgundian Waffle Maker
Shane Matlock is crimping creative waffles at popup locations all over the area.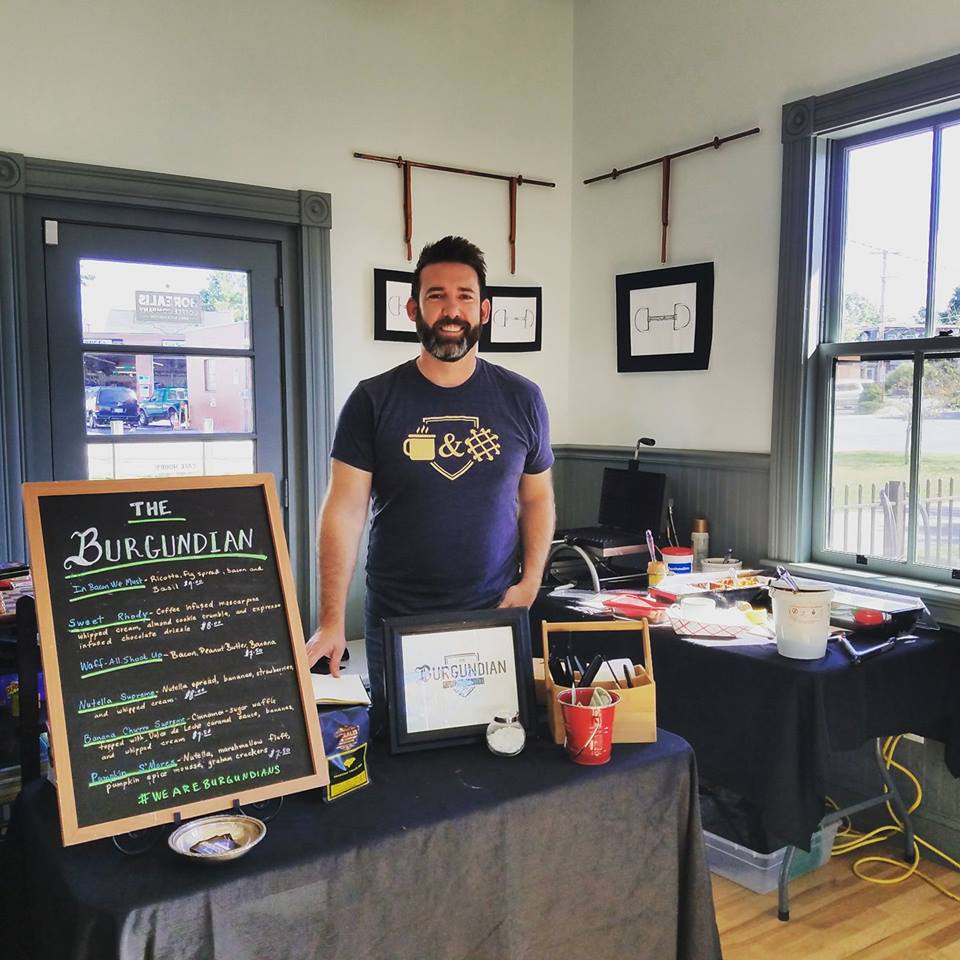 It was through a waffle vendor in the town of Lille, France, on the border of Belgium, where Shane Matlock first got a taste of his future as The Burgundian: Coffee and Waffles. A man in his '70s, Bernard, served Belgian waffles by the market where Matlock and his wife would shop for groceries when they lived in the medieval town. "We'd get a waffle, sit down at a table, have a cafe au lait and let the scene wash over us," Matlock says. "I fell in love with that."
Matlock worked in the military at a NATO base inside the citadel during the three years that he and his wife lived in France. They also had two daughters within that time frame. After two deployments to Afghanistan and the relocation to France, Matlock's longtime goal of one day opening his own coffee shop was always in the back of his mind.
He researched ideas while learning about Belgian beer and came across the term "Burgundian." When he learned that the name evolved from the Dukes of Burgundy to mean "someone who loves food and drink in both quality and quantity," he set out to determine its accuracy.
"I talked with a lot of Belgian colleagues, and I'd go to breweries and strike up a conversation in my crappy French and I would ask – 'is this really a thing?' " Matlock says. "And they would say 'yes, it's about getting together with good friends, having a beer and good food and laughing.' "
The word "Burgundian" spoke to Matlock. He quickly registered a Twitter handle without being sure what it would one day become. "I identify with this," he remembers saying. "I am going to use it for a business someday."
It took some time and a few career changes, including working in the military and then a move to Southern Massachusetts with his family to work in military recruiting. The father of three girls then moved on to take a job in the travel industry at local company Collette, which included contracting hotels, negotiating rates and planning tours in France and Latin America. After traveling nearly 120 days out of the year and being away from family for too long, he took some time off to figure out the next step in his career. It all came back to coffee and waffles.
It was time to wake up and smell the coffee. Matlock says he convinced Brian Dwiggins, owner of Borealis Coffee in East Providence, to allow him to work one day a week to learn about the beans business. His ultimate plan would be to serve Borealis coffee drinks alongside his creative waffle menu. They had a deal.
In March, he registered The Burgundian and began selling coffee at Attleboro soccer games. By late-June he launched the waffles side of the business at the Attleboro farmers market. Then he started doing weekly popups serving waffles at various locations in the area.
Matlock now crimps waffles on Thursday mornings at Borealis Coffee, visits PVDonuts once monthly for Tuesday takeovers, and serves at the Guild in Pawtucket. He also crosses the Massachusetts border at Trillium and Treehouse breweries, plus Bully Boy Distillers, and he'll serve every other week at the Pawtucket Wintertime Market at Hope Artiste Village, starting in November.
Waffle varieties include the Sweet Rhody, topped with Dave's Coffee-infused mascarpone whipped cream, Borealis espresso-infused chocolate syrup and biscotti cookie crumble from Bellicchi's Best. Other seasonal choices include Pumpkin S'mores, Nutella Supreme, Banana Churro Supreme and a savory bacon-themed one topped with ricotta, fig spread, bacon and basil.
Ingredients are prepped out of Hope and Main in Warren, but he's still looking for a production distribution kitchen, so he can run multiple units simultaneously. Ultimately, he has his sights set on on a double-decker bus that will be retrofitted in England, which he'll eventually turn into a traveling cafe.
But first, to make more waffles and gain a following. The operation allows Matlock to sell during any season since he can serve both indoors and out. And sweet and savory versions appeal to all appetites.
"I am trying to disassociate the word waffle and breakfast," Matlock says, "and get it to mean any time of day or night."
It's waffle-o-clock somewhere.
Learn about popup locations on Facebook and Instagram. weareburgundians.com
RELATED ARTICLES