The Dish: Federal Hill Pizza Returns to Providence
The Neapolitan brick oven pizza that made its debut inside an Atwells Avenue cigar shop has revived Chalkstone Avenue's historic Castle Cinema.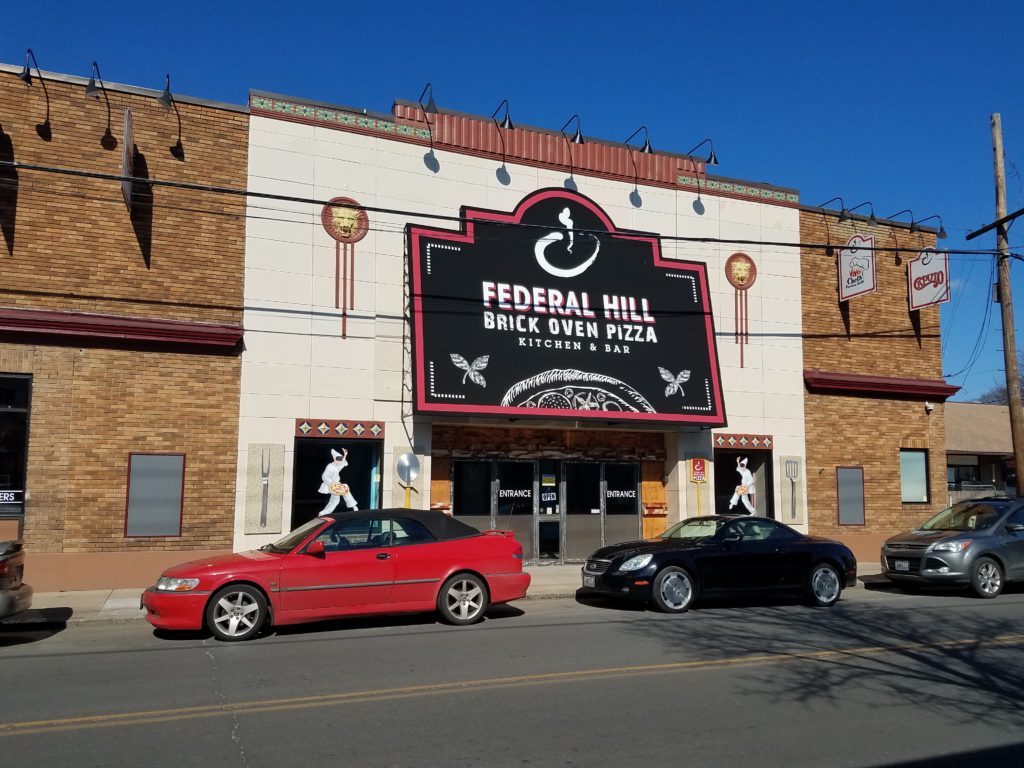 Two 5,500-pound Gianni Acunto Italian brick ovens stand in the back of Federal Hill Pizza's new location inside the historic former Castle Cinema in the Mount Pleasant section of Providence. "They are handmade brick ovens from Naples, Italy," says Federal Hill Pizza co-owner and certified master pizzaiolo Billy Manzo. The ovens have a heat soak layer of volcanic material installed between the baking surface and final insulation layer. "They bring in volcanic rock from around Mount Vesuvius and grind it to build the oven," Manzo says. "It can hold the heat."
The ovens and the ingredients make Manzo's pizzas impossible to duplicate. His secret is in the dough — make that the flour mix, which is a combination of three or four varieties, including the most important one, Le 5 Stagioni 00 flour. "As far as I am concerned in the pizza industry in the world, 5 Stagioni flour can't be touched," Manzo says. "It's the best."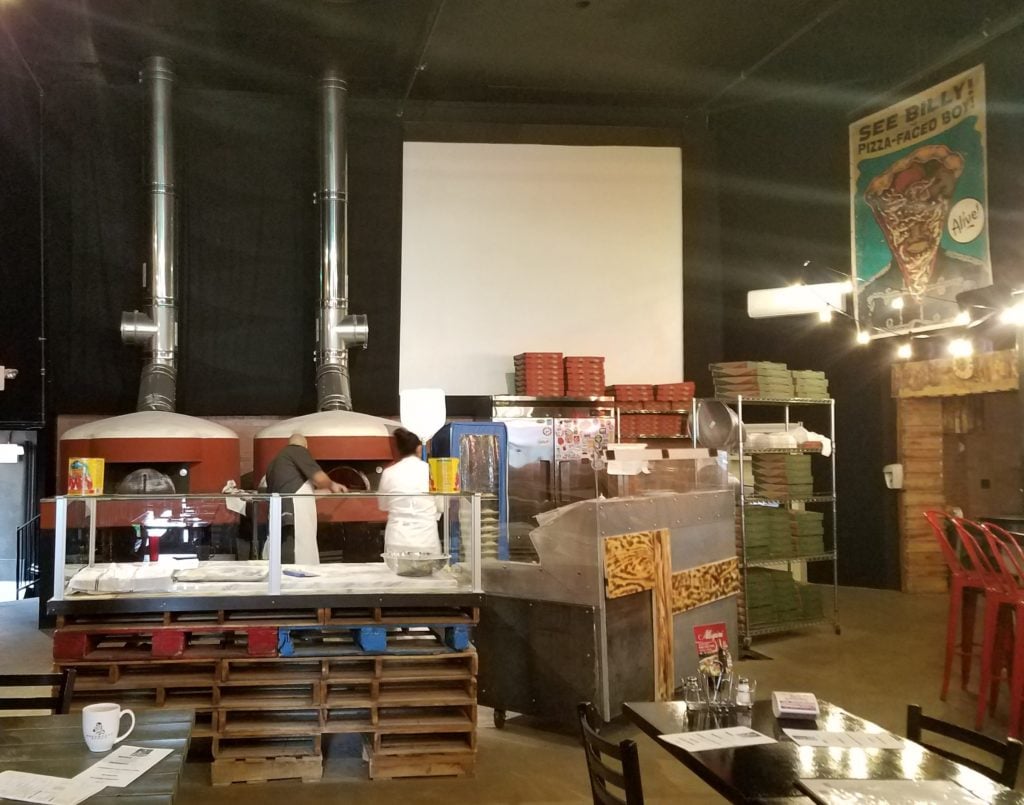 Manzo's specialty is the al taglio pizza, a rectangular or "square" version with focaccia-like crusty dough that has a crunch on the outside but is soft and airy inside. The base can hold up to heavy-handed toppings like salty prosciutto and goat cheese, red sauce, mushrooms and fresh slices of aromatic basil for the "Owner's Favorite." The Greek version is also incredible. Called "Zorba the Greek," it's a white pizza with mozzarella and feta cheeses, kalamata olives, red onion and olive oil, plus hamburger, tzatziki sauce and basil. Thin crust versions also boast generous toppings on top of blistered, bubbling dough with just the right amount of char and crispness.
It wasn't easy opening the second Federal Hill Pizza location in Providence, in addition to running the Warren flagship. The family bought the property back in August 2015, but the cleanup and aesthetic build out took a long time. Manzo and his wife, Christine Arvanigian, invested in the location because Manzo grew up in the neighborhood, and because they're hopeful for the future there as real estate values rise. They've added a cafe that opens in the early morning serving coffee drinks, breakfast items and quick-serve foods like calzones to go. They're also running a wholesale business that delivers piping hot pizzas for lunch sales at cafes like the new Honest Green Market at UNFI in Providence.
The Chalkstone Avenue location was an opportunity they couldn't pass up. Arvanigian's family has also run a multi-million dollar Halloween store in Massachusetts for decades, and they declared the address a no-brainer. "If you had a building like this in a major metropolitan city, would we have ever been able to buy it? No way," says Manzo. "Would it have been developed twenty years ago? Absolutely."
The Castle Cinema was built in 1925, and opened in 1926 as a vaudeville playhouse. It switched to movies by 1930 and was remodeled in the 1970s, but suffered a decline in profits following the construction of suburban cineplexes in the 1980s. In 1999, it hosted a food and entertainment program with live bands, art and fine dining, but closed in 2004. The Castle Cinema holds special significance for Manzo. "Every Saturday, me and my five or six friends would come here as little kids," Manzo says. "I saw Rocky 1 thirty-six times in this theater."
"Sometimes at night, he likes to play the Rocky theme song," says Manzo's wife with a laugh. "We still have the sound in here from the movie theater. It's really cool. But it's soundproof on the outside."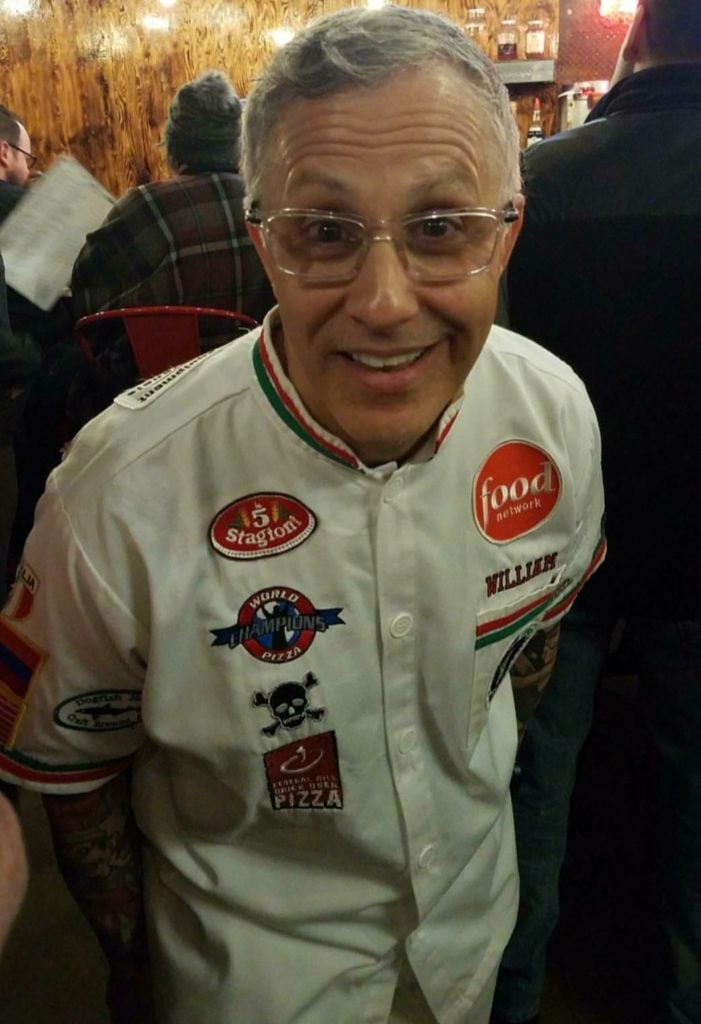 The couple and immediate family members and even some good friends pitched in to help open the restaurant. "We closed on this building, and Billy was here the next day cleaning. Maybe the day of," says Arvanigian. "Ninety-five percent was cosmetic. We had to remove a ton of trash. Billy was super hands on. He did everything in here. But we did have to fire him from painting the walls."
A friend from the neighborhood came to the rescue. Manzo's family fed him meals growing up and he used to come to the theater, too. "Forty-five years later, [the friend] says, 'I am going to paint the place for you. Your family took care of me,'" Arvanigian says.
Manzo adds, "You don't expect that thirty or forty years later, but that's what friends are for."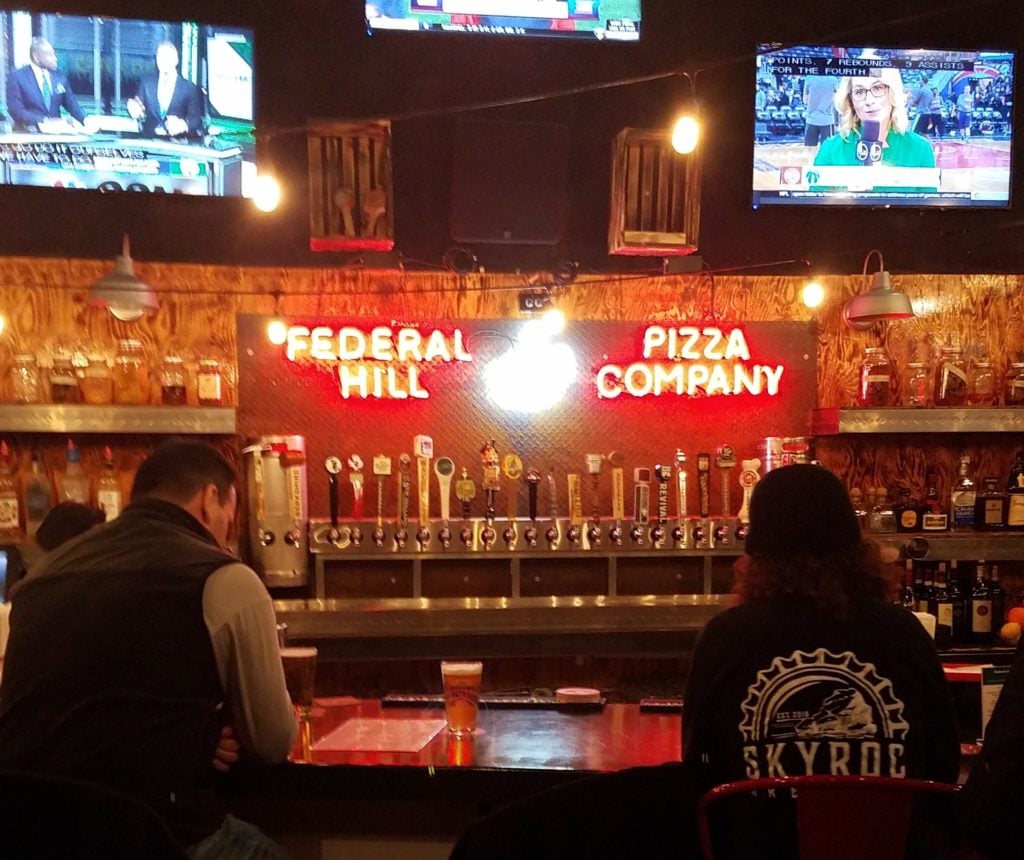 Beside cosmetics, other setbacks held up the opening. Arvanigian was diagnosed with breast cancer and faced recovery. "I had surgery for breast cancer in the middle of it, and that put us behind. I told myself I was going to be recovered in thirty days and on day thirty, I was back here," she says. "Thankfully, we caught it early. But that was nothing compared to what we had to do to get this place opened."
The doors may be unlocked and tables are ready for guests, but their work is not done. One day, they hope they can revive the Castle Cinema with entertainment. But for now, the big screen is silent and the stage is left empty since they've been unable to obtain zoning rights for entertainment thus far.
"We have been pointed in the right direction for things but then you are also judged based on previous businesses and owners in the city. How do we progress? How do we make this street, or this city, what it needs to be to get new businesses to open? We cannot get an entertainment license here because this street is not zoned for entertainment," says Arvanigian. "When Billy said he wants to take this to the finish line, that's the finish line for us." 1039 Chalkstone Ave., Providence, 401-331-3310; 495 Main St., Warren, 401-245-0045, federalhillpizza.com