The Dish: By Chloe. Opens in Providence on Friday
The plant-based, fast casual restaurant opens its doors on Thayer Street this week.
Editor's Note: Due to a wiring glitch, by Chloe. is opening tomorrow, Friday, January 19.
When they said there was a cult following for the plant-based, fast casual restaurant by Chloe., they weren't kidding. Yesterday, I stopped by the soft opening on Thayer Street, which was a sneak peek for media, friends and family, and I posted a few photos to Instagram. Within fifteen minutes, the photos gained more than twenty comments and captured over 200 likes. Now the post is up to 700 likes and 132 comments. That means people will probably be camping out overnight to be the first to try by Chloe. tomorrow, Thursday, January 18, for its grand opening.
The public relations team sent out a release yesterday that calls by Chloe. "a trendsetting plant-based, fast casual restaurant that has achieved a cult following in New York City, Los Angeles, and most recently, Boston." It will open its first location in Rhode Island at 223 Thayer Street in Providence tomorrow. The restaurant menu includes super-healthy brunch, lunch and dinner options, and everything is "entirely free of meat, dairy and egg products, as well as of saturated animal fat, added preservatives and artificial flavors."
Providence's Thayer Street is a perfect fit for the brand since the location is well-traveled by students and academics. "With its New England charm, growing food scene and thriving student and artist population, Providence was really a perfect match for by Chloe.," says Samantha Wasser, the brand's founder. "To open our doors on iconic Thayer Street, a quick trip from every major school and university in the area, was a dream."
By Chloe. specializes in vegan burgers, sandwiches and salad, fries and sides and its own line of vegan sweets, including cupcakes (check out the chocolate Chlostess cupcake, modeled after the iconic Hostess treat), cookies and muffins, and Chill by Chloe.'s dairy-free ice cream in flavors like raspberry and cream, salted peanut butter, kale cookies and cream, Ube smores, chocolate chocolate and coffee.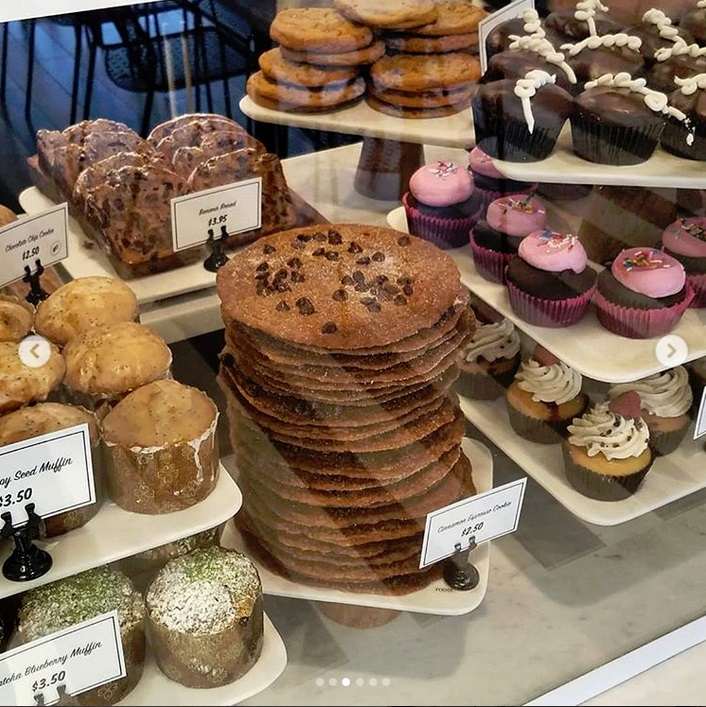 There are lots of grab-and-go items in the refrigerated case for those in a rush, or you can place an order at the counter. It's a cash-free business, so you've got to use a credit card for purchases, though you can leave a tip in cash. I tried the quinoa taco salad with spicy seitan chorizo, black beans, sweet corn, avocado, tomato, tortilla strips, crema and agave lime vinaigrette with kombucha for a beverage, and a giant espresso chocolate chip cookie for dessert. My healthy lunch fueled me with a burst of energy so I was ready to tackle the rest of my day.
The white brick building has floor-to-ceiling glass windows, a clean white palette with pops of color and blue and white Moroccan tabletops. Right in the window, passersby can see two hanging swing chairs with tie-dyed fabric — a signature design element by the brand. It's an Instagrammable moment – sit in the swing chair with your salted caramel push-pop ice cream, or a giant chocolate chip cookie – and watch the likes and comments blow up your phone.
By Chloe. will be open seven days a week from 11 a.m. to 10 p.m. Monday through Friday and from 10 a.m. to 10 p.m. on Saturday and Sunday. Brunch is only offered on weekends, from 10 a.m. to 4 p.m. 223 Thayer St., Providence, eatbychloe.com
Related Articles