The Dish: 7 Things to Know About Ocean State Oyster Festival
A $25 ticket will get you six Rhode Island oysters, a local beverage of your choice and so much more.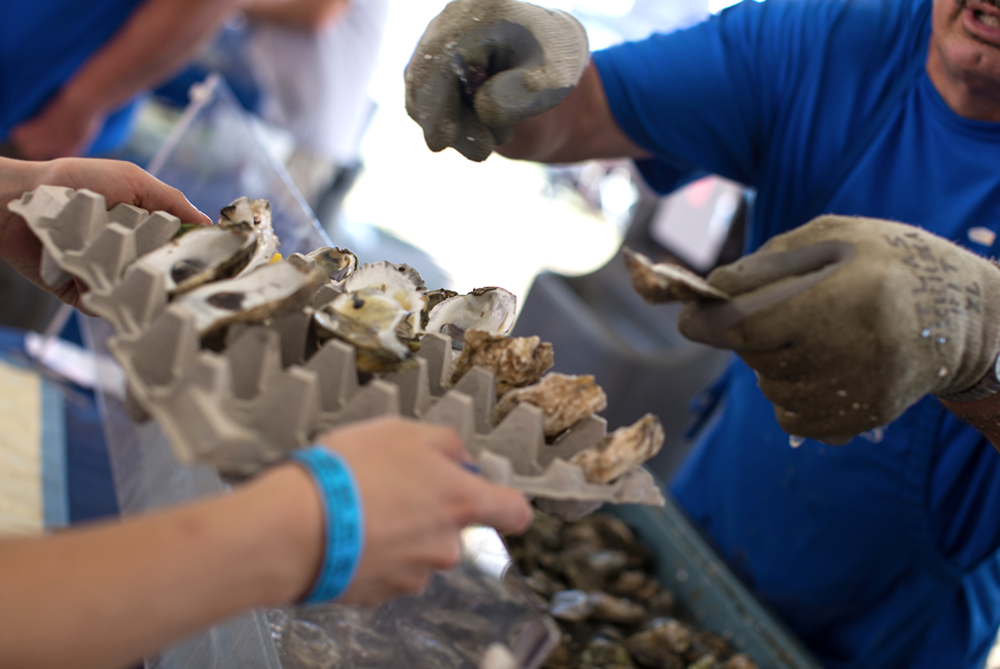 The time has come to slurp as many oysters as your heart (and stomach) desires. The Ocean State Oyster Festival is on September 23 from 1 to 7 p.m. at Riverwalk Park on South Water Street in Providence. A $25 advance ticket gets you six oysters and a beverage of your choice, including a local micro-brewed beer, glass of wine, spiked ginger beer or a non-alcoholic beverage. Tickets are also available for $30 at the door. The festival earned a "Best of Rhode Island" award last year for being a great Providence food event that supports the Rhode Island economy while giving lots of love to our favorite local oyster farmers.
"Rhode Island's oyster farming heritage is significant and the festival is one way that we can showcase our local oyster farmers and celebrate them," says Don Nguyen, founding partner of the festival. "Oyster farming in Rhode Island is seeing tremendous growth in revenue with a big demand for such high quality products. It's a very positive indicator for our state's economy."
Head to Riverwalk Park on Saturday for an afternoon that includes learning about how oysters clean up the bay, and then taste the results.
Here are seven things to know:
Where to Park: Metered parking can usually be found at the beginning of South Main Street, and then it's just a quick walk from there over to the festival along the Riverwalk. Don't forget to take a photo at the 10,000 Suns sunflower exhibit as you make your way to the festival. There's no dedicated parking lot, but there's plenty of on-street parking available. There's also a drop-off spot near the main gate and limited handicapped parking near the main gate and check-in area.
Save Money: Order your tickets online before the festival to save money, then check your name off the list at the check-in table. No need to bring a printed ticket. Tickets will also be available on the day-of at the door for $30 apiece.
Sample Oysters From Local Farms: Seventeen participating oyster farms include: 401 Oyster Co., Aquidneck Oyster Co., Behan Family Farm, Bluff Hill Cove Oyster Co., Chessawanock Island Oyster Company, East Beach Oysters, Jonathan Island Oyster Co., Matunuck Oyster Farm, Moonstone Oysters, Mooresfield Oyster Farm, Quonnie Rocks, Rocky Rhode Oyster Co., Salt Pond Oysters, Walrus and Carpenter, Watch Hill Oysters, Wickford Oyster Co. and Quonset Point Oyster Co.
Grab a Local Beverage: Some of the participating beverage vendors include: Revival Brewing, Grey Sail Brewing of Rhode Island, Jonathan Edwards Winery, Farmer Willie's Craft Ginger Beer, Little Bitte Artisanal Cocktails, Yacht Club Soda, Granny Squibb's Iced Tea and more.
Activities Abound: There will be live music from local bands, educational booths, a shucking contest featuring oyster farmers, more seafood from the Shuckin' Truck and Thai ice cream rolls from Mike's Ice available for purchase, and much more. You can even bring the kids. Children younger than twelve are free and there will be activities for children.
Give Back to a Good Cause: Ten percent of the ticket sales will be donated to Save the Bay's youth program, Explore the Bay. Last year, the Ocean State Oyster Festival donated $2,500 to Save the Bay after-school programs, allowing 250-plus youth to participate.
Learn About Composting: The event composts waste, and collects the oyster shells to save them from being deposited into a landfill. Last year, 1,200-plus attendees downed more than 11,000 oysters, and 2.5 tons of compostable waste (including the oyster shells) was diverted from landfills thanks to the Compost Plant.
RELATED ARTICLES