Tate's is Italian Done Right
This Wickford eatery has no plans to rewrite Italian history.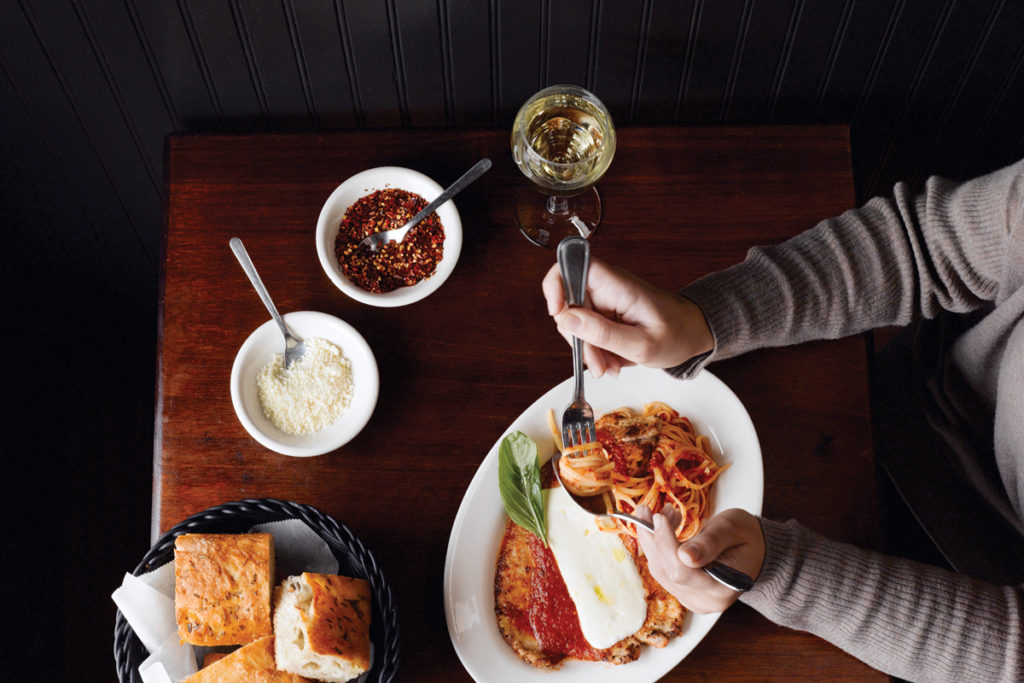 ✱ ✱ +
64 Brown St., Wickford, 294-0000, tatesitaliankitchen.com.
Open for dinner Thursday–Monday. Reservations accepted. Wheelchair accessibility is challenging. Street parking.
Cuisine Nonna's Sunday cooking.
Capacity Fifty or so, including bar seating.
Vibe Someone opened up their 1970s Colonial and insisted you sit down with the family.
Prices Appetizers $9–$17; entrees: $18–$34; dessert: $7.
Karen's picks Meatballs, veal parmesan, lasagna, spicy chicken.
Key ✱Fair ✱✱Good ✱✱✱Very Good ✱✱✱✱Excellent +Half-star
"New" cuisine is getting old. New American, New Italian, New Asian — the propensity toward a progressive template has become so expected that we're in danger of losing sight of what's referential. Food is as much history as it is innovation, and restaurants that remember this rule often reap the benefits of sentimentality. Case in point: Tate's Italian Kitchen in Wickford, which has no plans to rewrite Italian identity.
Housed in the old Wickford Diner building, Tate's feels like someone's eclectic attic. The aesthetic is vintage flea market: Rafters are adorned with string lights while the walls sport a cache of peculiar collectibles. A wooden fish juts sconce-like from one side, old cookbooks lean leisurely on a peripheral shelf, Royal Doulton mugs peer out overhead and a mobile of mermaids hangs languidly from the ceiling. Nobody, it turns out, comes to Tate's because they value formality; they come because they long for a space that thrives without it.
Nearly as many people sit at the bar as in the dining room, though it's an unexpected group of stool sitters. Kids sidle up next to their parents, watching TV and tearing through baskets of housemade focaccia. If Tate's has a type, it's a local — of any age — in search of something comfortable. T-shirts, baseball caps and an extended family of flannel shirts fill tables in a convivial manner, happy to face a meal that celebrates what's past.
Tate's reference point, however, isn't ancient Italy as much as the Italy adopted by America some forty years ago. Presentation is of little concern to either the kitchen or the clientele; taste would only be adulterated by excess primping.
Most of the first courses are solid, though crab cakes and a beet and goat cheese salad are somewhat disconnected from the Italian core. But a pair of old school meatballs proves that Tate's can pull its weight when it comes to the dishes that matter. Tender but intense, they're the manifestation of grandma's cooking: nothing special and yet compellingly elusive.
Chopped salad is the other staple, though its heavy dice of salami, provolone, pepperoncini and oregano is more Italian sub than salad. It's a dish that evokes the diner approach of Angelo's Civita Farnese but Tate's is more intimate and, in its own way, more charming. Where Angelo's renovated to cordovan banquettes, Tate's is a place that people flock to without pretense or plans.

Even the staff is low-key and unflappable. Owners Karen Bruno, who works the front of the house, and Jack Mutell, who runs the kitchen, oversee servers so young that wine recommendations are out of the question. You could wait to get your focaccia basket refilled (worth the trip if you eat nothing else) but the conversations that may slow down the service are also the reason people show up: I heard about your mother — how is she? Did Jean ever get back to you? Eh, don't waste your time. If you don't have plans on Friday, stop by and we'll talk.
There is one other reason to hang out at Tate's and it has to do with those meatballs. Main dishes are a playlist of Best Ofs: pastas, parms and a handful of meats. The challenge with staples is that they have to live up to expectations — paradigms developed over a lifetime. Mutell's parmesans and lasagna Bolognese are standard bearers though — an accomplishment in a state that often considers Italian food its native tongue. Sauce is intense, meats are highly seasoned and everything collapses into a bed of viscous cheese. It's the reason people cling to favorites in the food world.
There are a handful of dishes that play with variations: Butternut squash lasagnette, layered with maple brown butter and amaretti, is reminiscent of semi-sweet ravioli dishes that pair unctuous texture with an equally rich taste. Cavatelli is similar, a riff on carbonara that takes a weightier approach. What's described as truffle butter seems more like a truffle-infused cream sauce that clings to mushrooms and peas like magma — an effect that's only broken by a slice of salty prosciutto draped on top.
But the highlight of the menu, a simple roast chicken, metaphorically manifests Tate's success. It barely attracts attention given how many cheese-laden and more dramatic options there are. But flatten it entirely, rub the skin with spices, lay it under bricks and it becomes capable of stardom. Served with a single potato and a pile of sauteed escarole, it shouldn't garner this much praise. Yet, as any old school French chef will say, if a kitchen can make a roast chicken you dream about, it's a kitchen worth returning to. There's something endearing about that single potato and the pile of greens — it's a plate that some maternal figure in your life would make for you, insistent that a balanced diet is inherently tied to love.
That's really Tate's mission: for everything to feel like home. Even if you're waiting for five minutes, it's because they know you'll still be there in ten and they'll get to you in time. They'll also offer you a slice of the evening's dessert and, if you're lucky, there could be two. It's always something modest: tiramisu, cannolis or a frosted chocolate cake, but the kitchen's sweet signature is embedded in the almond cake that tastes like mouthfuls of marzipan and that one young diner smashed entirely into her New York cheesecake, declaring it a hybrid of culinary perfection.
It's possible not to realize how much you like Tate's while you're in the throes of eating. Diners are too much at ease to realize the effort it takes to make fifty seats feel domestic to a disparate group of people. But think on it as you pass by the string light-strewn shingled building or when you doze off, still full hours later. Anyone who's walked through Wickford knows the wistful, retro mood of the small shops and the local businesses. There's something deeply satisfying in realizing the town's finally found a restaurant that matches its appeal.