Dining Review: Escape Reality at Brutopia
This Cranston hangout is Candyland for grownups.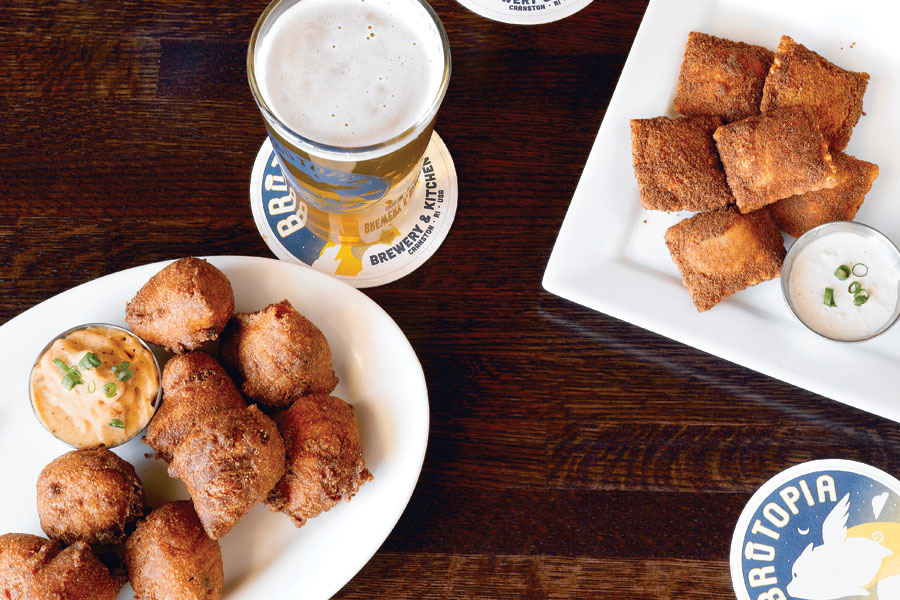 Brutopia, 505 Atwood Ave., Cranston, 464-8877, brutopiabrewery.com.
Open for lunch and dinner seven days, brunch on Sunday. Reservations accepted. Wheelchair accessible. Lot parking.
Cuisine Beer behind the wheel and the stuff that sits in the sidecar.
Capacity 175 with nearly fifty at the bar.
Vibe The ultimate man cave.
Prices Appetizers $7−$13; entrees $8–$25; dessert $6.
Karen's picks Pulled pork, jambalaya, fried everything. If you want to order a glass of wine, why are you here?
Key
Fair
Good
Very Good
Excellent
Half-star
There are two types of restaurants: those that help you escape your home and those that want you to feel at home in another location. That's not to say escapism is a bad thing. The best food in the world — progressive, multi-dimensional, challenging — aims to transport us. But hangouts are all about what we already know. They're in the business of improving some familiar space or dish in a way that pushes a person just barely off the couch in front of the television. And Brutopia is most definitely a hangout.
The restaurant — housed in what feels like a decorated airplane hangar on Atwood Avenue — has only two interests: beer and the stuff that goes with it. The north side of the building is a holding pen for Revival Brewing Company production as well as drafts made just for Brutopia. The kitchen belongs to chef and pit-master Richard Benson, who smokes or fries the dullness off of everything that comes through the kitchen. One could argue that the whole affair is one big backyard barbecue, given the expansive patio out back. But during the cold weather, sixteen televisions and at least a couple of contact sports make the great indoors a pretty good playroom.
The jambalaya
Of course a beer-themed utopia might take varied shapes depending on who's daydreaming. It could go traditional: plenty of bitter beers, some ales, a few stouts. Throw some pulled pork onto a bun ($12) and let me watch a game in peace, unless you're on my team — in which case screaming is not only permitted but encouraged. Or you might conjure up a modern and less gender-specific hops-laden heaven in which Frappuccino-flavored beers are served in flights and the menu reads like a drunken college dare. Spoiler alert: both dizzying dreamlands have fallen under one industrial roof.
The serious side ("serious" being relative — it is a bar) prevails in that decor is minimal. With the exception of a flying pig logo, aesthetics of any kind belong to the man cave school of design. There's little more than some booths surrounding a massive bar, bookcases filled with beer mugs, a pool table and a dartboard for those who want to fight fate and drink standing up. The default order needs only a high tolerance and two empty fists as the mainstays all come on a bun: pulled pork, smoked chicken ($13) and smothered burgers ($11−$15) are worth the dime. If you can stand to be more than two feet from the game (a game…any game…), a couple of booths abut the glass brewing room, which looks vaguely like a chemistry experiment set up in a fraternity house at Caltech. Take this road and all signs point to hard core. It's a place where brunch without booze is described as "sad, late breakfast."
But Brutopia has a carnival side to its personality as well. Hidden among the lagers and IPAs are some seriously leftist beers, from the heavy (a coffee stout that should be served at breakfast) to the light (a special ale stewed with gummi bears that should be served by a unicorn). The menu can also meander down the path of the Texas State Fair and, like that Southern inferno of fried food, a diner's initial fear is quickly replaced by beer-battered addiction.
There may be some foods that just shouldn't be tossed in hot oil. That list, however, hasn't made it here. Fried pickles ($7) are almost fading from novelty and corn-studded hush puppies ($8) may not raise an eyebrow. Fried wings and chicken tenders ($9) are old school. Fried butternut squash ravioli ($8)? Hmmm. A mild sweetness encased in a crust emits a slight nod of the head. Fried cheese curds ($8) — so tiny that they don't ooze as much as go down quickly like popcorn — are alarmingly easy to munch while deciding what to consume. Fried pretzels ($7)? Who would do such a…. You know, they're not half bad. (Maybe we could fry a bagel one of these days. Preferably with an egg already on it.) And just when you think your palate has been reduced to a preschooler's culinary quotient, the fried bacon-wrapped Oreos ($6) emerge. Frankly, it's not right. It's everything that's wrong with America. It's processed, full of nitrates, overindulgent, a blatant health hazard, kitschy without being clever and an overall mockery of everything we call decent….
(Pause. Clears throat. Whispers: "Holy God, these are so much better than I anticipated. Like, inappropriately good. Do not tell anyone you saw me eating these or I will call you a liar.")
There is one other mad hatter trick in Brutopia's arsenal, and that's the sauce bar. It's no secret that dry rubbed barbecue is only half done — and you can add your bushel of fried goods to that fact, too. The final curtain does not go down until everything is smothered in sauce and your mouth has jumped quickly between sweet and heat. Most of the options are boiled down with beer and to great effect. Bonfire Brown Ale rounds out the honey barbecue, scotch bonnets are tempered with dark stout and molasses to make the Fire Starter and Neverender IPA brings the bitter to a tangy mustard Gold Edition. Who knows what's in the Mad Mike sauce and who cares since you can't feel the roof of your mouth once you're done?
It may be that Brutopia is less about what you'll remember once you leave, and more about what you're able to forget once you get there. Peripheral issues such as work, finances, the free flow of blood in your veins and any attachment to civil discourse in an upcoming election go right out the window with the swiftly flying pig. This isn't the land of cloth napkins and crumb removers. It's beer bliss. It's fried rapture. It's Candyland for grownups. You may not get your table cleared at all and, if you're in a group larger than two, your server will likely assume you're splitting the check. No bother. Get a saddle on that winged pork belly and ride off into the sunset.
Left: Chef and pit-master Richard Benson.