Diego's
The mood at this Newport favorite may be relaxed Mexican summer, but the menu is surprisingly adventurous, and successful.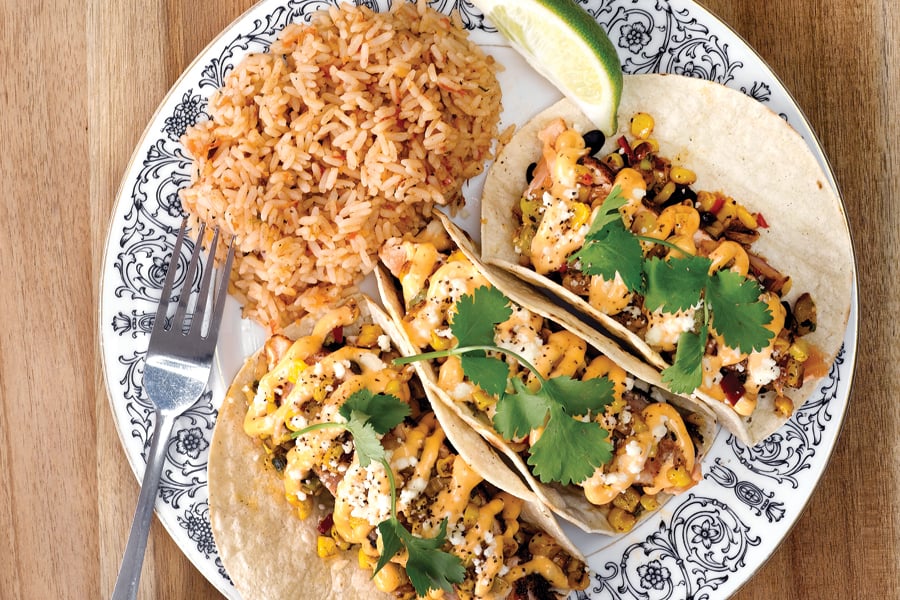 11 Bowen's Wharf, Newport, 619-2640, diegosnewport.com. Open for lunch and dinner seven days a week, brunch Saturday and Sunday. Reservations accepted. Wheelchair accessible but not easy. Some street and lot parking. Cuisine Modern Mexican. Capacity Forty-nine with bar seating, doubles in summer. Vibe After hours all the time. Prices Appetizers $5–$17; entrees $13.50–$33; dessert $5–$6. Karen's picks Duck empanadas, pulled pork spring rolls, lamb burrito, anything with avocado, a drink to wash it down.
Key
Fair
Good
Very Good
Excellent
Half-star

Imagine this: You come into moderate funding and decide to open a restaurant for your friends. Maybe neighbors too — if they're laidback. You want to be in the thick of the crowd so fussy food has no place here. Private booths are forfeited for patio tables and interior design belongs to the school of "Bar First, Build Later." You may not have walls at the ready but that's easily fixed with some industrial tarp that zips around foldable tables and the occasional tree trunk. Come summer, it all falls away anyway; you and your crew can sit in proximity to the sea, eating and drinking like the college days. Nothing fancy, everything good.
As it turns out, someone else may be living your fantasy. Diego's ultra-casual, California-style Mexican restaurant is wedged between a world of majestic ocean views and the propensity for partying on Thames Street. Not surprisingly, it fits right in. Inhabited by locals year-round (not to mention seasonal tourists), Diego's does its best to make everything feel just worn enough to be comfortable. The decor falls somewhere between flea market finds and a dorm room raid: twinkling lights are strung across the room; porcelain pandas lounge on shelves next to various skulls and the occasional Buddha; a fishnet leg lamp is perched informally on the bar; Taco Thursday posters hang over the kitchen like vintage Fillmore artwork.
The crowd is as difficult to categorize. College students in skinny jeans dine with their parents (margaritas all around); women sidle up to the bar with defensive phones in hand to ward off unwanted conversation; couples of all inclinations whisper over plates of molten cheese and shots of tequila. And on various nights, this same eclectic crowd comes together for live music, trivia games and for the chance to eat one's way through a smorgasbord of unexpected nachos. Life is fine in Newport.
Zesty lamb burrito with a Death in Friuli cocktail, homemade cinnamon and nutmeg churros with spicy caramel dipping sauce.
It's a given that Diego's could survive just as a bar. Their drinks are more complicated and interesting than you might expect — and that's the result of hard work. There are more than fifty drinks on the menu alone ($4–$12), each one an apothecarial concoction. The staff knows more about liquor and the way people respond to it than an E.R. or a witch doctor. When a GenX customer ordered a mixture of El Buho Mezcal, habañero-infused tequila and passion fruit puree, the server came back with shot glasses of both liquors. "Not everyone can handle the smoke and the heat. Let's have you make a wise choice." In an instant, everyone at the table was determined to man up and began ordering anything that looked overtly menacing. Maybe there was some fire to breathe or a sword to swallow. Diego's is capable of making a warrior out of everyone.
The element of risk pervades the food menu as well, though not necessarily with scorching heat. Instead, the kitchen dares its diners with Mexican mash-ups, ubiquitous in some ways, novel in others. You might take to a single surprising dish given that the portions are comatose-inducing. The best large plate is, arguably, a behemoth lamb burrito ($17) stuffed with shaved Brussels sprouts, black beans, Kalamata olives, cotija cheese and tzatziki. Strangely, it still feels Mexican but more fascinating than familiar. Or there's a trio of pork belly tacos ($16) with watermelon pico de gallo that tastes like a twisted BLT that you put together at 2 a.m. and then deemed yourself a culinary genius.
But, like the libations, the best way to make Diego's your own is by grazing through their smaller dishes, each an indulgent bomb of bar food. Guacamole is made to order and mixed — if you want — with lump crabmeat, shrimp and scallops ($17). The flavors are subtle but the varied texture elevates a dip exponentially. Spicy seared tuna shows up on tostadas ($8.50), butternut squash makes its way into fried rangoons and fried green tomatoes ($12) hunker down under a layer of chipotle crema. Even more addictive are the portable foods. Ancho pulled pork spring rolls ($8) with bright pickled habañero onions might restore your faith in fried food. If not, commit yourself entirely to the adobo duck empanadas ($8.50), perhaps the world's only desirable Hot Pocket, served with a fig and charred jalapeño sauce that tastes like liquid Christmas. It's an aggressive collection that stands up to the equally insistent cocktails, a combination that reminds diners that main courses are worth forfeiting altogether.
One thing is for sure: Diego's does not aspire to be a dining destination per se. Its goal is to make sure the Newport neighbors are having a damn good weekend in their own backyard. If you want to get up and dance? Great. Walk around the bar greeting newcomers? Perfect. Need to visit the loo? Grab the keyed ladle and walk across the way to the unisex restroom. The party will be in full swing when you return.
The dessert menu unequivocally agrees that the night is young. With only a duo of sweet dishes — churros ($5) and flan ($6) — its emphasis is on half a dozen drinks, tangentially related to a final course. Chocolate bitters, a shot of espresso or mint liqueur have an element of "after-dinner," or at least as much as a Hochstadter's slow and low rye whiskey that captures the aftermath of three hours locked in a battle with all things spicy. Stay for last call — though it's unclear exactly when that is. It depends on the crowd, on the kitchen, on the weather, or the day. It's worth lingering — particularly if you're far past your college days. It's been a long time since a celebration felt this good or this much like hanging out on a patch of urban lawn during a cool evening under a set of string lights. One more shot before the shop closes? Absolutely. This is exactly the reason why we live for summer.