Designer Genes
They share looks, but what about taste? We visited mother and daughter designers at home to determine how alike—or not—their decorating style really is.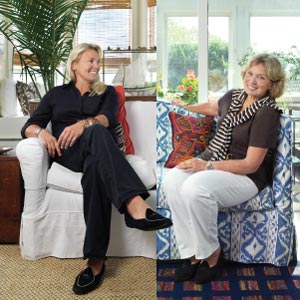 It's no surprise that a visual achiever like Karen Vaughan , proprietor of the popular Newport shop that bears her name, would have a similarly talented daughter. But interior designer Kim Kirby, of Kim Kirby Interiors, also in Newport, is no clone. True, our snooping revealed more similarities than differences. But, in the end, these high-drive women each cast a slightly different spell. Where one pairs down, the other layers. Kim favors nautical touches (more on that later), Karen has a thing for feathers. Still, all that aside, they're in perfect agreement on the basics. "Every fabulous home," they tell me, "needs a great sofa, good light, a fireplace and dogs."
Modern Vibes
Kim and husband, Jerry Kirby, of Kirby Perkins Construction in Middletown, built their handsome upside-down house twenty years ago. A recent remodel—"driven by my desire for a six-burner range," she says with a laugh—included a clutter-free kitchen with limestone countertops and beadboard. The theme throughout is pale walls with vibrant color pops and dashes of sheen. Note the entry with its mirrored wall and razzle-dazzle lamps. Just like her mother, Kim favors orchids. The high-style flowers bloom year-round in both Newport homes.
Island Cool
With see-through coffee tables, accessories raided from Karen's shop and oodles of art, both designers come home to personality-filled living rooms. The mirror above Kim's mantel (an ancient hand-picked beam) reflects half-hull models of boats Jerry, also a professional sailor, has helmed. Serene white sofas offset pillows dressed in contemporary mixed patterns. The stately built-in bar sports storage for glassware and silver—a boon for these frequent entertainers.
Old World Appeal
For thirteen years, Karen has cheered on the ivy that clambers over her nest. "I love European and Japanese country houses. Ivy promotes that ambience, making the building look like stone," she says. Such magical transformations are her forte. The front door gains stature wearing an antique grill. And the kitchen she claims she wants to renovate "down the road" is charming. Vaughan banished the cabinet doors, painted the wood Essex green and put collections on display. Old hats—"each with a story," she stresses—mark the entry.
Cottage Warmth
Karen's penchant for feathers (pheasant here) is obvious. Other passions? Burmese brooms and hand-sewn Panamanian pillows. In the dining area apple-green Crate and Barrel chairs are a variation on the black barstools in Kim's kitchen. The antique table is "three gorgeous pieces of wood on sawhorses," says Karen modestly. Her bar? An old mirrored door atop a chest. Devoted fans of each other's work, mom and daughter are best friends. This spot is a favorite hub for frequent gatherings.