Delicious Pastas and a Welcoming Vibe at Pastaio
Classic dishes are elevated by a streak of badass eccentricity at this new West Side eatery.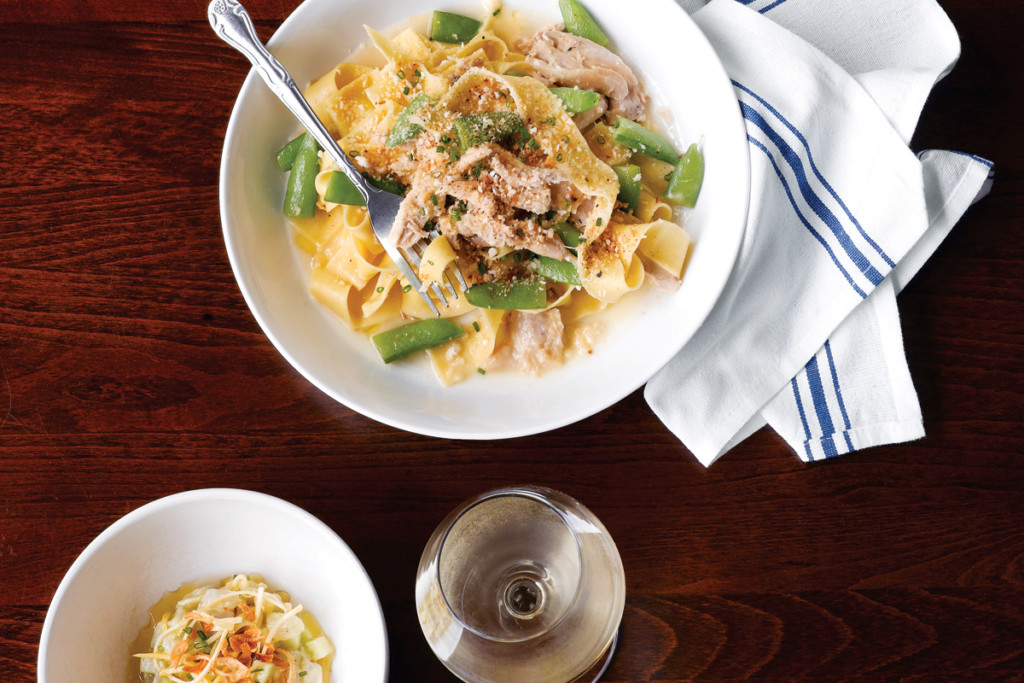 It may be unfair to assess a restaurant on a soft opening or the first big weekend. But there's something about those early days — like watching a toddler take his first steps — that imbue a food venture with deliberate romanticism. The physical space, the dynamic on the line, the relationship between waitstaff and guests: All of it marries method and magic in varying degrees.
Pastaio is in its infancy, but the contour of its maturation is already evident in its streamlined menu. This is Adam Baffoni's brainchild (yes, your chicken came off his family farm) and he's approached it methodically. The space, right off of Westminster, has a tempered aesthetic tied to a moderate budget. There's a quirky dichotomy at play: The hunter green room has a distinctly suburban feel, while chunky stools and tables lined up like school desks are illuminated by nearly three dozen pendant lights. By all accounts, it's pretty staid. The local West Side crowd, however, is what provides the panache.
Guests generally defy categorization. In one corner, a girls' night out dominates two tables pushed together; in another, a couple discusses what to do with the rest of their retirement; to the right two men with ear tunnels and formidable nose rings run through a list of acquaintances they have in common. If they're joined by anything, it's an admiration for Baffoni and his partner, Bethany Caliaro, another Johnson and Wales graduate who mans the front of the house and doles out the hugs to familiar patrons.
But where Caliaro operates with zeal, Baffoni's food is defined by restraint. Six appetizers and six entrees make up the menu, each dish myopically focused. Pastaio isn't looking to reimagine any one ingredient so much as examine it under a microscope and enhance its best attributes. Much of this study, not surprisingly, revolves around pasta, which allows Baffoni to play with the balance between skill and artistry.
Ricotta tortelloni ($8) is on the sweet, placid side of the spectrum. A quartet of delicately twisted pockets is stuffed with citrus-infused ricotta cheese and a dusting of pecorino. It's a whisper of a dish, reliant on texture and nuanced flavors to make its mark, like a familiar girl who becomes radiant when the light suddenly shifts. It's also a foil to the gnocchi alla Romana ($7), which asserts itself with Italian virility. Though the dough is tender, the gnocchi is served in large disks that resemble polenta, napped with a hearty tomato sauce and herb infused oil. You might nibble at the tortelloni but shoveling the gnocchi into your mouth seems oddly appropriate — particularly if it keeps others from invading your plate. (Foreign forks not welcome.)
It's not unusual for small plates to shine and they do here: Baffoni has just enough room to experiment, to channel something specific in several bites, and he does so capably. Squash risotto ($7) is spot on; toothsome but creamy and, paired with a soft-boiled egg, it's irresistibly unctuous. Underneath the classic approach to cooking, however, lies a streak of badass eccentricity. Chicken liver pate might sound old school, but Baffoni's is so deeply infused with bacon that it's hard to wrap your head around the texture of one thing with the taste of another. (If you've ever eaten a buttered popcorn jelly bean, you're getting close to understanding the paradox.) Spread on a plate like paint on a palette and covered in coarse salt, it's much of what the restaurant is: simple in appearance but more compelling as time passes.
Protein entrees can lose focus in a way that the pasta never does. Sea bass ($20) is expertly cooked but, paired with an orzo salad and a chilled roasted pepper aioli, it's more a question than a declaration. Chicken Milanese ($18), which sits on top of earthy lentils, defies expectations in a more welcome manner. Again though, the pappardelle ($18) sits in the thin space between homage and advancement. It presents as a study in deconstruction: The pasta is almost entirely dry, topped with crisped pancetta and toasted breadcrumbs. On its side sits a spring onion pesto that hydrates each bite in an intensely herby manner — like a flower perking up once the rain hits. It's as if you're eating backwards but the shift in perspective is both thoughtful and disarming.
It's clear that Baffoni and Caliaro are looking for ways to assert their youthfulness, and that's never a bad thing when it comes to eating. Even the wine list has a defiant tone. Bottles of red run $25 to $36, a flea market of interesting and overlooked options. The organic E Rosso Barbera is barely thirty bucks and comes with a pop top — an attribute so casual that even the server, offering it to the table, announced that she felt like she was carting a forty around town. Its own vintners call it a slurp wine and it's a lovable one at that, a bottle that matches the mood of the dining room by appreciating its predecessors but with no interest in emulating them exactly.
Pastaio bills itself as New American and, fittingly, it's an apt departure from the stereotype of American excess and theatricality. Baffoni is far more interested in articulating identity than conforming, yet the kitchen has enough confidence to avoid arrogance. His dessert of the evening almost meanders into nostalgia. One night a sweet corn ice cream emerges, so custard-like that it was just as good melted, and another night that same fresh corn is turned into a pudding topped with a tart rhubarb gelée. Grandma would love both its roots and its direction.
In its early weeks, the staff was still filling customers in on what was coming — a banquette, new dishes, more wine — but Pastaio is certainly growing roots. Wedged between a public park, some random Victorians and a healthy dose of West Side grit, it's only a matter of time before it not only refuses to follow but begins to lead. That's the beauty of being young and passionate: You always have an audience.
✱✱✱
9 Parade St., Providence, 421-1513, pastaio-pvd.com
Open Wed.–Sun. for dinner. Wheelchair accessible. Street parking.
Cuisine Italian mother, American father.
Capacity Fifty with bar seating.
Vibe Dressed in a suit but covered in tattoos underneath.
Prices Appetizers: $7–$8; entrees: $16–$21; dessert: $7.
Karen's picks Pasta of any kind, risotto, chicken liver and bacon pate.
Key ✱Fair ✱✱Good ✱✱✱Very Good ✱✱✱✱Excellent +Half-star