Deepwater Wind Goes Live
The historic project is the country's first offshore wind farm.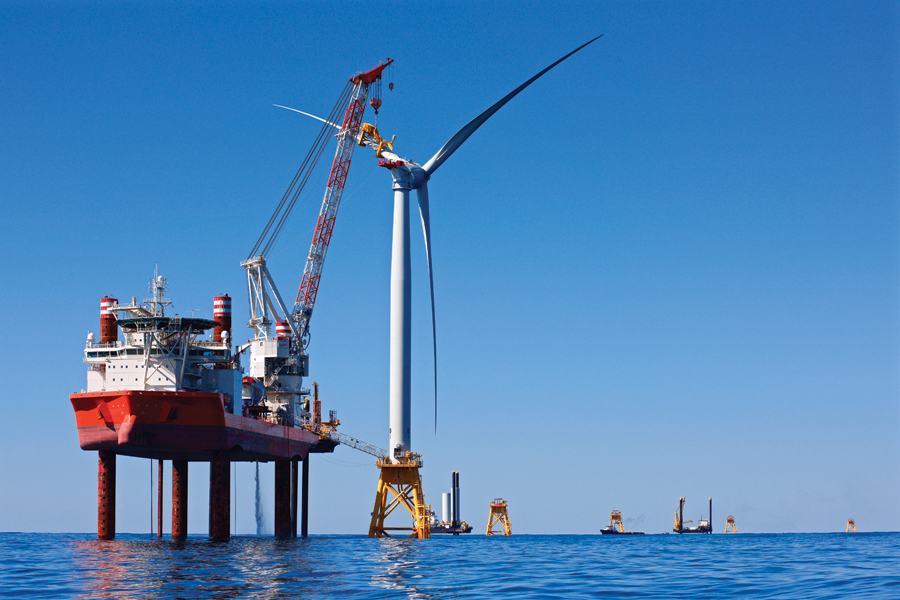 It is hard to know where to begin a story about the five-turbine wind farm built off the southeast coast of Block Island.
The most obvious angle is historic. Our little state, which gave the world religious freedom (after Roger Williams defected from Massachusetts in the 1630s) and the Industrial Revolution (with the construction of Slater Mill in 1790s), is now poised to deliver another milestone: the first offshore wind farm in the United States. This is a big deal, and our elected officials don't want you to forget it. When Governor Gina Raimondo and Congressman Jim Langevin tweet about the project, they rarely forget the hashtag, "#JourneyToFirst."
But, when pondering the project's significance, it's easy to get distracted by its logistics. The undersea cables that connect the farm to the mainland and Block Island are twenty miles long, weigh nearly five million pounds and were transported to Rhode Island via the Suez Canal, after being manufactured in South Korea. The fully assembled turbines stand nearly 600 feet tall — about twice the height of the Statue of Liberty. The individual blades, at 240 feet, are nearly as long as a Boeing 747.
Speaking of scale, the project has taken more than a decade to reach fruition. It was back in January of 2006 when then-Governor Donald Carcieri first unveiled ambitious plans to ramp up the state's renewable energy input to 20 percent, with offshore wind providing a major chunk of that clean power. The offshore wind odyssey that followed spans three gubernatorial terms; innumerable public hearings, meetings and press conferences; a Rhode Island Supreme Court case; and at least one delay when Narragansett officials resisted plans for the wind farm's cable to run underneath its town beach. Deepwater Wind, the company building the wind farm, eventually got clearance to send the cord under Scarborough State Beach instead. Overall, the firm has secured more than twenty permits from federal, state and local governments and agencies in order to proceed with the project.
The sum of this logistical and political activity will be felt most acutely by a relatively small constituency: the residents of Block Island. Certainly, some homeowners are ticked off about a change to their ocean view. But, once the farm is operating, the island will no longer rely on loud, unpredictably priced, exhaust-belching, diesel-generated power. And, as an added perk, the undersea cable that runs under the island's Fred Benson Town Beach includes fiber optic cables that will supply the island with reliable and speedy internet — an amenity the island has never had. Add to that the fact that turbines became a tourist attraction even before being fully assembled. Block Island Times reporter Cassius Shuman calls the development "transformative" for the island.
And you might say the same for the entire state.
The wind farm is a construction story, involving three of Rhode Island's major ports — in Providence, Quonset, Point Judith — and more than 300 blue- and white-collar workers. (Although critics point out that, once up and running, the farm will directly support only about a half-dozen jobs.)
It is a climate change story, since the backdrop of any story about renewable energy is the overwhelming — and dire — scientific consensus about climate change, sea-level rise and their connection to fossil fuels.
It is a business story, with Deepwater Wind owned by the $37-billion New York-based hedge fund D.E. Shaw, and the wind farm using hardware built by General Electric, one of the United States' largest corporations.

It is a media story that has been picked up by Forbes, Huffington Post, the New York Times, Slate, USA Today, National Public Radio, CNBC, the Economist and the Wall Street Journal.
In short, whatever your feelings about it, the wind farm is one of the biggest things happening in our small state. And it's drawing to its long-awaited conclusion, which, in fact, is really its beginning. At some point this fall, the switches will be turned "On," and the state's newest technological marvel will begin generating electricity from an invisible, ancient fuel source: air.
When this happens, it's no exaggeration to say that people around the world will take note. The blades of the turbines were manufactured in Denmark; the nacelles — the name for the house-sized skull of the turbine that contains the generator — were built in France. Grover Fugate, the executive director of the Coastal Resources Management Council, which closely regulated the planning and construction of the farm, says three Japanese professors recently visited Rhode Island to learn more about the process.
By now, he says the Ocean State is viewed as a "worldwide expert" on offshore wind. "Anybody that talks about offshore wind in the United States, Rhode Island's the one they talk about," he says.
In the most literal sense, the Block Island wind farm is a power plant. Brush away all of the symbolism, and its purpose is simple: to produce electricity. Once the turbines are fully constructed and the wires have been connected, the farm is expected to power approximately 17,500 homes, or about 1 percent of Rhode Island's total energy intake. (That accounts for about 90 percent of Block Island's electricity needs.)
The company behind the project first launched under the name Winergy in 2005, with initial plans to install turbines in the waters off of Long Island. Over the next few years, it was purchased by the New York-based hedge fund, D.E. Shaw, renamed Deepwater Wind, and it focused its sights on the coast of Rhode Island. This was around this same time Carcieri unveiled plans to launch an offshore wind industry in the state. And when the state put out a call for proposals to make those plans a reality, Deepwater was selected from seven submissions.
Today, the company's chief executive officer is a forty-five-year-old Cumberland native and Brown University graduate named Jeffrey Grybowski, who exhibits an interesting mix of personality traits: boyish enthusiasm, a science and engineering nerd's wonkish expertise, and the political savvy of a lawyer who's worked in politics. I sat with him in the conference room of Deepwater's downtown Providence headquarters, a sleek, twelve-employee space with views of Kennedy Plaza and fine art photos of offshore wind turbines hanging on the walls.
The United States is in the midst of a "quiet revolution," Grybowski says. "We see it in the rise of companies like Tesla. We see it in the rise of solar panels being installed on people's rooftops. And we see it in projects like Block Island that are being built instead of new big coal plants that would have been built fifty years ago."
He points to two aspects of this "revolution" that apply specifically to New England. First, the region is dotted with aging coal and gas-powered power plants that are nearing retirement age. The Brayton Point coal-fired power plant in Fall River— the largest coal-powered plant in New England, scheduled to be decommissioned in 2017 — is a prime example. Meanwhile, our region also has world-class (and hitherto untapped) offshore wind resources. This matters not only because the winds off Rhody's coast are strong and consistent, but because the continental shelf — the sea floor — juts out for miles at a relatively low depth, creating a platform on which these turbines can sit. The Block Island turbines were installed in water that's about ninety feet deep. Contrast this with the waters off of California, when the sea floor drops off precipitously.
Combine these favorable conditions with other factors — the fact that Rhode Island is aiming to reduce its carbon emissions to 80 percent of 1990 levels by 2050, for example — and you've got a potent collision of opportunity and necessity. Grover Fugate says the region that stretches from Cape Hatteras, in North Carolina, to Boston uses about 185 gigawatts of energy for its electricity, transportation and heating. The offshore wind resource, he says, could yield 330 gigawatts.
The Block Island turbines will be the first machines to put that theory to the test. But if you're picturing the turbines you've seen in Portsmouth or off Route 95 in Warwick or at Fields Point, the wastewater treatment plant in South Providence — think bigger. The Block Island turbines are an enormous hybrid of a building and a machine, each equipped with an internal elevator, a pressurized generator chamber (so salty sea air doesn't rush in and mess up the machinery), and a helipad-like landing platform onto which technicians can descend from a helicopter, in inclement weather. The turbines are controlled remotely and capable of turning 360 degrees in order to best capture the wind. And each is designed to withstand a Category Four hurricane. In fact, Grybowski smiles when he talks about brisk winds and high seas. "We like winter storms, we like summer storms," he says. "It's a wind turbine; it's designed to capture really strong wind."
And when it comes to converting that into power to charge smartphones and light homes, the Block Island project is actually relatively small. It's sometimes called a "demonstration project." Conservation Law Foundation's Director of Clean Energy and Climate Change, Greg Cunningham, says that when the Block Island turbines are commissioned, they'll be doing double duty: the everyday work of producing electricity, and the PR work that onshore turbines did ten or fifteen years ago. As he describes it: showing the world "that we can successfully construct them, we can successfully operate them and that they ultimately can serve a major role in our energy system."
Which isn't to say Deepwater is waiting for the Block Island turbines to spin to plan its next move. The company is in the early stages of production on a second, exponentially larger wind farm called Deepwater ONE, fifteen miles further off the coast of Block Island, in federal waters between Martha's Vineyard and Block Island. (The Block Island farm is located just inside the boundary between state and federal waters, three miles off the island's coast.) Deepwater won a thirty-year lease for the rights to develop the location in a 2013 federal auction. It is now in the process of acquiring the necessary permits and a purchase power agreement to build and operate the farm. Grybowski says he's "very confident" the project will happen, and estimates that construction on the first phase could begin around 2019, with operation potentially beginning in 2020.
To put the size of that project into perspective: The Block Island farm is expected to produce thirty megawatts, from five turbines. Deepwater ONE, meanwhile, has a capacity of 1,000 megawatts and, as the Deepwater website notes, "Eventually, this project would grow to 200 or more turbines."
Politicians love the Block Island wind farm. Listen to enough of their speeches about the project and you begin to see it as everything our struggling, deep-blue-Democrat state aspires to be: green, ambitious, high-tech, a state that builds things, an undisputed leader in an industry with near-limitless potential.
Although nary a turbine blade has spun and not a single kilowatt has been produced, there have been plenty of press events to publicly celebrate the project. In the fall of 2008, Governor Carcieri held a press conference to announce that Deepwater had been selected as the project's developer. In 2010, he joined a cadre of other officials, including Senator Jack Reed and Rhode Island Senate President Teresa Paiva Weed, to announce the adoption of the widely praised, University of Rhode Island-coproduced planning document, the Ocean Special Area Management Plan (SAMP), which was essential to finding a proper location for the farm and appeasing various stakeholders. Five years later, Governor Gina Raimondo wasted little time after taking office in January 2015 to align herself with the project. In April of that year, she appeared at a Quonset Business Park facility where metalwork for the turbine platforms was being manufactured. This was followed by another "steel in the water" ceremony in July, where she was accompanied by the United States Secretary of the Interior, to celebrate the completed installation of the turbine platforms.
Grybowski in front of the turbines' tower sections, pre-assembly at the Port of Providence.
PHOTOGRAPH BY MIKE CEVOLI

Governor Gina Raimondo and other dignitaries cheered construction of the Block Island Wind Farm at a ribbon cutting ceremony in 2015.
PHOTOGRAPH COURTESY OF DEEPWATER WIND
In March, Raimondo hosted yet another press event on a blustery, overcast afternoon at the Port of Providence, in a hangar-like structure situated past the scrap yards and oil tanks visible from the highway. Five enormous white metal cylinders — portions of the towers that will hold the turbines aloft — were arranged outside the building like bowling pins. Inside the building, people wearing suits with mini-wind turbines pinned to lapels mingled with folks wearing jeans and hard hats. Jazz piped from speakers. The actual occasion for the event was murky — press releases said, "To mark the progress of the Block Island project" — but nobody seemed bothered. The event had the feel of a celebration. In one corner stood a table offering coffee and cupcakes with brightly colored frosting. The tablecloth read, "DEEPWATER WIND: Clean energy is just over the horizon."
With the towers as her backdrop, Governor Raimondo took to the podium to announce she was "exploding with pride by the fact that Rhode Island is the site of this nation's first offshore wind farm." This was the first of more than ten references to Rhode Island being "first" in the United States offshore wind business during the event. A few minutes later, Congressman Jim Langevin said the towers behind him were reminiscent of rockets about to blast off into space, "and I think that's a great metaphor for wind energy in Rhode Island."
The same euphoric mood pervaded another event a month later, at a dock in Quonset, where a crowd gathered to watch the christening of a sixteen-passenger service vessel, built by the Rhode Island-based Blount Boats and operated by Rhode Island Fast Ferry, which will shuttle technicians to the turbines for maintenance work. The governor, who once again announced she was "bursting" with pride, was followed by Senator Sheldon Whitehouse, who remarked that it was a "pleasure, pleasure, pleasure" to be there. A few minutes later, it was time to smash the Champagne bottle on the boat's bow, as cameras snapped and the crowd cheered and the politicians grinned.
But not everyone is so jubilant. The Deepwater project has faced opposition of various sorts from its earliest stages. In one of the stranger 180-degree turns in recent political memory, it was the Rhode Island Democratic Party — the party of Raimondo, Langevin and Whitehouse — that voiced some of the loudest criticism. In 2008, shortly after Deepwater was selected as the project's developer by a panel appointed by the Republican-led Carcieri administration, Democratic State Party Chair Bill Lynch announced, "Deepwater wind does not have a corporate office and submitted a bid based on unproved technology…yet Governor Carcieri handed Deepwater Wind billions of dollars of development rights and unprecedented access to Rhode Island's most precious resources, its coastal waters."
These days, while the state Democrats are whistling a dramatically different tune, a handful of opposing groups remain.
For people who own houses on Block Island with views that will be altered, Grybowski admits there isn't much he can say or do. "The state went through this planning process; they looked at lots of places to put an offshore wind farm, [and] they said, 'This is the best place,' " he says. "Not that it doesn't have any conflicts at all, but just that it was the least conflicted site… I can't hide the project. It is three miles away, which is still pretty far…. They won't hear the project operating, but they will see it."
It didn't necessarily help matters, public relations-wise, that three years before joining Deepwater, Grybowski worked as Governor Carcieri's chief of staff. Was this simply an innocuous small-state coincidence? Or was it something more suspect? Grybowski says, "If people make that direct link, I'm not sure I can ever convince them otherwise. I would ask folks to look at the project, weigh the project on its merits and dig into the pros and cons of this project and offshore wind, generally."
It is on the merits of the project — specifically, the question of its funding — that the fiercest and loudest opponents of the project have seized. It was the New York hedge fund D.E. Shaw that provided most of the $75 million to jumpstart the project. And in March of 2015, Deepwater announced that it was fully funded, thanks to $290 million in financing from United States and French banks.
But that doesn't tell the whole story. For that, you have to take a closer look at perhaps the most controversial document in the farm's history: the Power Purchase Agreement (PPA) between National Grid and Deepwater, passed by the legislature and signed by Carcieri in 2010. The PPA codified National Grid's agreement to purchase power produced by the farm for twenty years at a rate that is about three times the rate National Grid delivered to its customers, as of July 2016. As a result, National Grid's approximately 485,000 ratepayers in Rhode Island (including most of the folks reading this article) are cumulatively, and over the course of two decades, taking on significant above-market costs for the Block Island project. How much? In a 2015, the power company placed the estimated above-market cost at $440 million, over twenty years. Some critics have placed that number at $1,000 per customer, over that time frame.
Grybowski dismisses the $440 million number, calling it an "academic attempt at looking into a crystal ball," and adding, "No one today knows what the cost of energy is going to be a year from now, never mind twenty years from now." But he declined to offer an exact counter estimate.
And figuring out the fairness of the deal on one's own is an exceedingly complex task. It involves sifting through the stacks of paper available on the Public Utilities Commission website: motions, testimony, data sets, legal briefs, and thousands of pages of other documents. It involves predicting the cost of fossil fuel-produced energy over the next two decades, and comparing that to the also-unknown costs of renewable fuel in that same time frame. It involves debates about whether the costs of catastrophic and, arguably, climate change-driven weather events ought to be added to those fossil fuel cost estimates. Should we factor in the record-level 2010 floods in Warwick that triggered a state of emergency, to climate change, and consider them a cost of fossil fuels? Can we add to that the damage wrought by Superstorm Sandy, two years later? Supporters of the Deepwater Wind project say "Yes," and are willing to take on a few dollars of extra costs on their power bill as a result. "I'm really concerned for my children. And I'm concerned even for my own future," says Brown University environmental studies professor J. Timmons Roberts. Projects like the Block Island wind farm, he says, offer "a little bit of insurance, for the cost of a couple cups of coffee a month."
In response to various critiques, Deepwater supporters — and representatives of the company, itself — also point to the lengths to which the company has gone to appease various stakeholders, throughout planning and construction. The company coordinated closely with Native American groups to ensure that it wasn't disturbing underwater archeological sites during the turbine platform siting and onstruction process. (At one point in history, the land between Block Island and the mainland was aboveground.) It worked with the Conservation Law Foundation to make sure that same construction wasn't affecting marine mammals. (In one case, it actually paused pile driving when a whale drifted into the construction area.) It negotiated with local fishermen to monitor ways that the wind farm might be affecting their livelihood and, in some cases, offered monetary relief for damages. After years of public hearings, votes, public comment periods and stakeholder meetings, "We are as vetted a project as ever [occurred] in the history of Rhode Island," Grybowski says.
But, still, anger persists. Perhaps the most visible expression is a lawsuit filed in United States District Court in Providence, in August 2015 by plaintiffs including the Rhode Island Manufacturers Association (one member is Toray Plastics, the state's largest electricity customer) against National Grid, the Public Utilities Commission and Deepwater Wind — the main parties involved in the 2010 PPA. At one point, the complaint alleges that the agreement "allows National Grid to pass on to Rhode Island ratepayers the cost of their forced subsidy of Deepwater Wind…. Plaintiffs would be harmed here because they will be expected to pay the non-competitive cost of the Deepwater Wind power."
Grybowski says the complaint had "absolutely zero merit" — and in July 2016, the lawsuit was dismissed by Chief Judge William E. Smith. But on the broader topic of ratepayers taking on excessive costs, Grybowski points out that ratepayers consistently pay for power plants that produce the energy we consume; those costs are always factored into your electricity bill. At the time when the PPA was negotiated, he says, this was not an unusually expensive renewable energy project; it compared closely to solar projects taking place in the state.
And, Grybowski says, as a whole, "we're making an investment in a sector of the economy that not only can produce jobs in construction and operations, but a sector of the economy that will actually provide us with a great portion of the energy that we're going to need over the next few decades in a carbon-free way," he says. "And I think that's a pretty good investment to make."
In February, the European Wind Energy Association published a report called "The European Offshore Wind Industry — Key Trends and Statistics 2015." Its contents were a stark reminder that, for all the hubbub about the Block Island wind farm, Rhode Island is far from being a global pioneer.
The report's introduction notes that, across Europe, "3,230 turbines are now installed and grid-connected, making a cumulative total of 11,027 MW." The United Kingdom has 1,454 grid-connected offshore turbines. Germany has 792. Denmark has 513. These numbers appear near a graph tracking the amount of electricity produced from offshore wind in Europe since the early 2000s — a line graph that climbs almost straight up as it nears 2016. For Americans reading the report, the message is clear: We have a lot of catching up to do.
Jeff Grybowski puts a more optimistic spin on the situation. "This is a new geographic application of a well-known technology," he says. "There's no technology risk here; this isn't R and D," he says. He says the problems that have hampered other United States offshore projects — like the ill-fated Cape Wind project in Massachusetts, or other offshore ventures in Delaware and New Jersey, that once led Rhode Island before falling away — have been political, not technological. And according to Grybowski, the thriving European offshore wind market bodes well for the Ocean State. "Rhode Island really reminds me of the model that was used in Europe to build out this industry, where they found this perfect marriage of a really strong offshore wind resource, and found the right onshore port locations," he says.
Of course, it's no surprise the CEO of an offshore wind company is bullish about the industry. But he's not alone. Jen McCann, the director of United States coastal programs at University of Rhode Island's Coastal Resources Center, says the northeast is "considered the Saudi Arabia for wind." J. Timmons Roberts points to the fact that Rhode Island imports more than $3 billion a year in fossil fuels to meet its energy needs. "So that's $3 billion pouring out of our economy to Pennsylvania for fracked natural gas, or to Texas or Saudi Arabia or Venezuela," he says. "Think of how many jobs you can make for $3 billion," he says. The United States Department of Energy is already doing some of those calculations. In a recent report, the DOE has predicted the United States will have 32,000 offshore wind-related jobs by 2020 and more than 170,000 by 2050.
Talk to environmental advocates, though, and they'll say the wind farm is about much more than just jobs. It's about the state's identity and very survival. "I grew up in Matunuck on the beaches where you'll be able to see the wind turbines," says Abel Collins, president of the South Kingstown Town Council and a longtime representative of the Rhode Island chapter of the Sierra Club. The dunes that once dotted those beaches are gone now, Collins says. The beaches have lost more than 100 feet due to sea-level rise in his lifetime. "The ocean is eating into farming soil at this point," he says.
Collins remains a mild-mannered and soft-spoken guy, even as he describes a dystopian future. By the end of this century, we'll see wars due to climate change, he says. We'll see massive displacements of people around the world — literally billions of lives damaged or lost. Rhode Island's climate will slowly shift to feel more like Georgia's. "A lot of places aren't going to be very recognizable when we see that kind of sea-level rise in Rhode Island," he says.
Collins doesn't spend much time blaming prior generations for leaving us with this mess. "But we need to recognize that it is a mess," he says, "and we need to do something to clean it up." The Block Island wind farm, which he has publicly supported, is a step in that direction — "a small step," he says.
Framed like that, maybe the wind farm isn't such a big project, after all.