Dean Hotel Opening Party Shakes Up Providence
What do singing drag queens, a Burmese albino python and a marching band all have in common?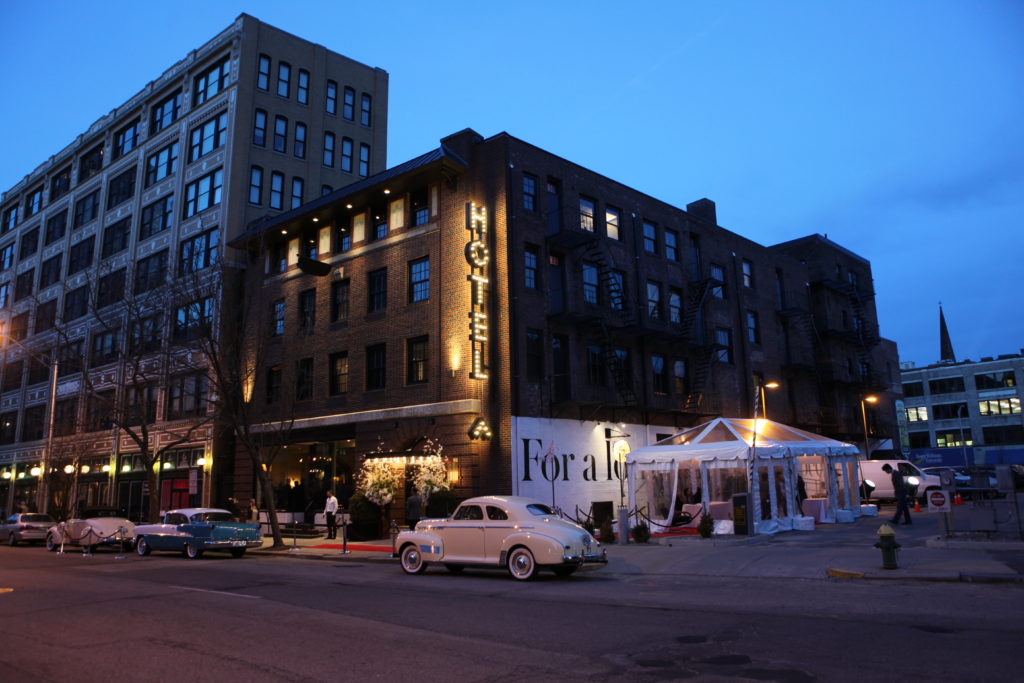 What do singing drag queens, a Burmese albino python and a marching band all have in common? They were all part of the fun at the Dean Hotel grand opening party last Thursday in Providence. The historic 1912 building was a former brothel and strip club – the Sportsman's Inn – and over the last year, it has been completely restored and renovated with a contemporary look and feel and gorgeous details created by Rhode Island architects and artists. It's the brainchild of Providence native Ari Heckman of ASH NYC, and Clay Rockefeller, founder of the arts non-profit the Steel Yard. Read more about the hotel.
The evening kicked off with a ribbon cutting and opening remarks from Heckman, Rockefeller and Mayor Angel Taveras – and then out came Providence's beloved Extraordinary Rendition Band serenading the crowd with its trademark "brass, beats and feet." Kristen Minsky of the TropiGals also broke out her finest vintage ensemble for a little performance art in the lobby.
Guests enjoyed libations from the hotel's several bars and restaurants, including Bolt Coffee; Faust, a German-style beer hall serving brews and brats; and the Boombox, a karaoke lounge with private rooms perfect for groups and amazing drinks served in kitty cat mugs (get the karate punch, please). There's also the Magdalenae Room, helmed by Mike Sears [The Avery, Loie Fuller's, Lilli Marlene's, Justine's] which has no cocktail menu, but focuses on classic cocktails and inventive drinks from bartender Willa Van Nostrand (featured in Rhode Island Monthly's April cocktail issue). Simply tell the bartenders your base spirit and flavors you like and they'll mix up something for you.
For photo opps, party guests were invited to drape a snake around their necks like Britney Spears a la "I'm a Slave for You" fame (remember when there were music videos on MTV, by the way?). There was also a Wes Anderson movie-themed photo booth set up for impromptu dress up.
Deejay Andy Morris turned the lobby into a club scene where gigantic floral arrangements of red roses and calla lilies reigned supreme. We stepped inside Boombox karaoke bar where two beautiful drag queens – cleverly named Ari Ola and Ursula – sang along with guests to 80's tunes and Salt-n- Pepa's "Shoop."
The Dean Hotel party was one to remember. It's a scene. It's a little obscene. And it's just what Providence was waiting for.
Here are some photos from the evening. By Mark Ouellett and Ryan Clarke.
(L to R) Christine West, Jenna Goldberg, Ari Heckman, Clay Rockefeller, Jonathan Minkoff, Mayor Angel Taveras, John Asfeld, City Council President Michael Solomon.


Anthony Pellegrino, Will Cooper, Ari Heckman

Ursula and Ari Ola.