David Podsnap is Livening Up the East Bay
The musician brought a retro movie theater, restaurant and music venue to a barren corner of Warren.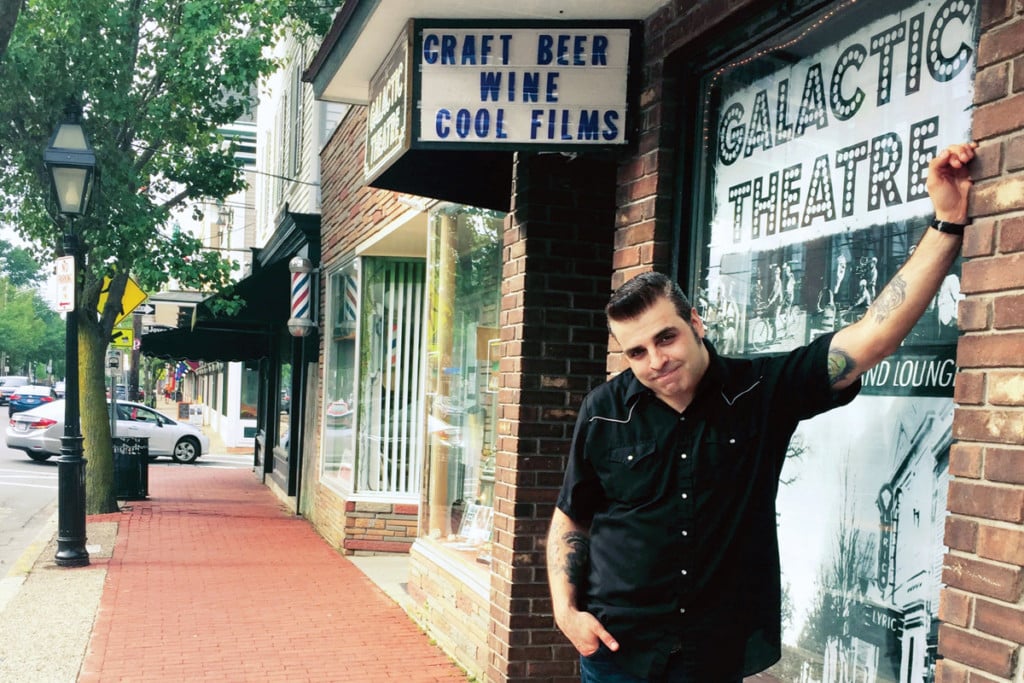 A revival of Warren's Main Street is happening, and it has a lot to do with the boundless energy of a musician who is determined to fill empty storefronts.
David Podsnap of the band Sasquatch and the Sick-a-Billys had been working as a bartender in the East Bay when a slow winter season prompted him to make a change. He talked with the owner of the Square Peg restaurant and opened Podsnappery next door, selling vintage goods and clothing with his wife, Victoria. Three months later, he was drawn to an empty storefront at bustling 508 Main Street where he moved the shop and began hosting live acoustic music acts.
Next, he transformed the back of the shop into a vintage theater, where he streamed nineteenth-century silent films and documentaries from the 1930s to '70s. He welcomed more musicians to perform on the small window-front stage, and added a bar on the side. After changing the layout a few times, he finally relocated the vintage goods to another store down the street. Suddenly the storefront-turned-music-venue and movie theater brought the community together at night.
Podsnappery no longer exists as a vintage store, but the idea evolved into the Flashback Vintage Emporium; located at 450 Main Street, it is now co-owned by Myke Dubovsky and Bleu Grijalva, who are expanding it to double its size. The shop is filled with vintage furniture, clothing and retro bicycles and toys — enough treasures to fill kitschy homes and businesses for miles.
When the Galactic Theatre hit its stride, it was time to move to a bigger space. Podsnap and a crew renovated an empty diner located at 440 Main Street on Warren's most barren corner. The new spot — formerly known as Dan's Wigwam — is now the new Galactic Theatre, complete with a full kitchen and dining counter that serves up food and drinks while films stream on the big screen and live music acts take the stage.
The evolution has taken a lot of guts and put him into debt, but Podsnap says it's been worth the work and stress that he and his wife have undertaken. Still, when he drives by all the other vacant storefronts in Warren — much like a pet lover visiting an animal shelter — he's heartbroken. "I wish I owned all of them," he says. "I would just let everyone move in, I'd lower the rent, and I would be like, 'Build this town now.' "
The original shop was opened with just $100 to his name, and now it's evolved into a community refuge. "I don't think everyone has a vision because not everyone's crazy," Podsnap says. "Why not do something epic? I am doing it to make a difference. I am doing it to save Main Street. Whether the town likes it, wants it, or not, I am bringing energy to this street." galactictheatre.com