Dance Fever
For twenty-five years, the painting sat forgotten in a basement. Today, it is a world treasure. But this isn't the first time Danza Afro-Cubana has set off fireworks.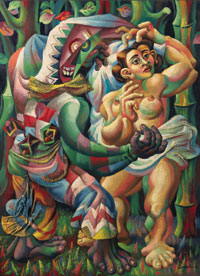 In the summer of 1970, when artist Roberto Julio Bessin was sixteen, his grandfather gave him a painting. The two were spending the summer fishing on Long Island Sound, and the gift was a gesture to encourage the teenager's dreams of becoming an artist. Thirty-seven years later, the painting was auctioned for $2.6 million last May.
It is hard for anyone who doesn't see art as a commodity to think that a painting could cost as much as putting twenty students through four years of a private college, supporting 125 families of four above the poverty line for a year or buying pretty good season tickets to the Patriots for yourself and more than 2,000 of your best friends. Yet, if any painting looks as if it is worth $2.6 million, it is Mario Carreño's Danza Afro-Cubana. It is big—sixty-five by forty-eight inches—beautifully composed, so colorful it seems to vibrate. And frankly, it is damn sexy.
In the painting, a man and woman are dancing in a cane field. The man is costumed and masked from head to ankle, but his exposed hands and feet reveal that he is black. The woman is white. She is naked except for a cloth wrapped around her hips, shimmying so fast that her legs and arms appear in two places at once. Her round, upturned breasts are at the center of the composition. There's almost no question how this night will end.
There are two sides to every story. If the story is a good one, there are as many versions as tellers. Memory fails, emotional patina builds up, perceptions change. This is one story of Danza Afro-Cubana—the man who painted it, the one who acquired it and the grandson who learned what it means to love and part with something of great value.
Roberto Julio Bessin's studio is a large, sunny room in an old mill building in North Kingstown. Art books, auction catalogs and bulging file folders form piles on shelves and tables. Nature photographs, paintings, drawings and old guitars cover the walls. There are comfortable chairs, a good music system. The studio is not only a place to make art, it is a good place to sit around, listen to Richard Thompson or Van Morrison recordings and talk politics over a cup of coffee.
At one end of the studio, brass sculptures of birds are in various stages of completion. Some of the birds are sleek, realistic, beautiful; others are strange and disturbing. There is an egret with two heads. At first glance, it looks like something from "Ripley's Believe It or Not." With more looking, it becomes a kind of double exposure, as if the bird has moved its head and the artist captured both poses simultaneously. Even in his more traditional pieces, Bessin has a wonderful ability to suggest movement. Wings appear to flap, feet move stealthily forward, beaks spear into the shallows. You can almost imagine that when Bessin turns off the lights and locks the door for the night, all avian hell breaks loose.
Is this the creative life Bessin's grandfather envisioned when he gave him the painting? Perhaps. It is also possible the old man's motives were more contrarian. The family was pushing for Bessin to go to medical school, and Julius Siebert loved to go against the grain. Maybe he didn't care whether his grandson became a doctor or an artist, only about making it clear that he had his own opinions and that they were different from everyone else's.
Siebert took pride in living an unconventional life. He didn't much concern himself with other people. He had inherited money, a lot of it, and owned a business on the eastern edge of New York City, selling seeds to Long Island farmers. However, he took more interest in horse racing. He dealt in a sideline of the seed business, promoting an extract made from apricot pits that was thought to enhance a horse's performance on the racetrack. His other great love was fishing, which he pursued all over the Caribbean. Snapshots from the forties and fifties capture Julius casting from beaches and charter boats in Puerto Rico, the Virgin Islands, Cuba.
Eventually, he married a woman seventeen years his junior. They had a daughter, but being a family man didn't seem to change his lifestyle. He stayed mainly in an apartment in New York City and did what he wanted while his wife lived in their summer house in Centerport, Long Island, and raised the girl.
He traveled. He blew through the money he had inherited. And then, in 1944, he bought a painting from a New York City gallery for $400. He wasn't an art collector; this was the only significant investment in art he ever made. Bessin assumes his grandfather bought it because it resonated with him personally, perhaps reminding him of his adventures on the islands of the Caribbean. Predictably, the painting became a bone of contention between Siebert and his wife. During his lifetime, she never allowed it to be hung in the Long Island house. It was put away among cardboard cartons in the basement. For a quarter of a century, the painting was out of sight and probably out of mind.
At the age of thirty, Mario Carreño was good looking, had access to family money, and was well connected to the international art world, shuttling back and forth between Havana and his studio on Bleecker Street in New York City's Greenwich Village. If things couldn't get any better, he painted a masterpiece.
An often-reproduced snapshot of Carreño from 1943 shows the young artist sitting shirtless in the sun, beside the famed Mexican muralist David Alfaro Siqueiros. There is a dachshund nestled in Carreño's lap. The men and little dog are sitting under an archway on the Carreño family property, near a preliminary chalk sketch of a mural. Financed by the Carreño family, the mural is to be called Allegory of the Equality and Brotherhood of the Black and White Races.
The photograph was taken in the same year that Carreño painted Danza Afro-Cubana. It is likely that while he was assisting Siqueiros with his depiction of racial equality and brotherhood, he created a more down and dirty version of his own.
As a key member of the Cuban Vanguardia movement of painting, Carreño sought to define and reinforce Cuban identity. His Danza Afro-Cubana seems to have sampled El Ñáñigo, a lithograph made in 1850 by Victor Patricio Landaluze, an expatriated Spaniard whose humorist drawings and paintings of Afro-Cuban folklore documented Havana during a time of slavery. El Ñáñigo, a kind of rumba-dancing mischief maker, was one of the characters in a traditional street performance staged annually in Havana during the 1800s on the Epiphany. On this day, El Día de los Reyes, the slaves of Havana were allowed to carouse in the streets, dancing, making music and drinking with abandon. It was part street festival, part religious procession, part carnival.
El Día de los Reyes is one example of how Cuban culture was transformed as African slaves infused Spanish Catholicism with new meanings. Saints came to have dual identities, those found in the Bible and alter egos based on African deities of the Santeria religion. It became possible to pray to Saint Barbara while simultaneously paying homage to Chango, the god of thunder and lightning, music and dance. No surprise then that on a nominally Christian holiday, you could find yourself dancing naked in a cane field.
Unlike the melting pot that is a popular metaphor for the United States, Cubans conceived of their society as a mosaic. Danza Afro-Cubana—its black and white dancers, tropical colors, vegetation, costumes, sexuality—is a portrait of mosaic Cuba. Various experts on Cuban art since have cited its importance. Alfred Barr, the influential first director of the Museum of Modern Art in New York City, called it "the most ambitious and powerful composition in Cuban painting." Art critic Elisa Turner praised the painting as "an astonishing masterpiece of Cuban art." Expert Ramón Cernuda considers Danza Afro-Cubana to be "the painting that achieves the synthesis of all that is Cuban."
Carreño's life as an artist was exemplary. He exhibited widely, taught in New York, Cuba and Chile, and wrote for many publications. He helped found an important art school, published a magazine and promoted the work of other artists. He was prolific over a career that lasted more than sixty years.
He was born in Havana on June 24, 1913. Something of a nomad for the first half of his life, Carreño lived in Spain, France, the United States and Mexico, with frequent, extended returns to Cuba. He hung out with Picasso in Paris, Diego Rivera in Mexico and Jackson Pollock in New York City. He had a long, deep friendship with the poet Pablo Neruda. After 1958, he settled finally in Chile, partly to be near his friend and partly because he felt that Chile "offered a different kind of life, more attuned to the rhythm of human beings."
There is no complete biography of Mario Carreño. He died in Chile on December 20, 1999. Some say he never returned to the island of his birth. But it is also reported that when he was much older and quite infirm, he was honored by the Museo Nacional de Bellas Artes in Havana. Perhaps he got to stand one last time on El Malecon and look out to sea.
Bessin keeps a photograph of him and his grandfather, taken the summer he was given the painting. They are sitting in front of the Long Island house. There is not much of a family resemblance between the boy and the old man. Bessin, with his wavy hair haloing his head, looks sweetly awkward, friendly and innocent. Siebert is cooler, self-contained.
In contrast to his grandfather, Bessin's stewardship of the painting never rested lightly on his shoulders. The old man seemed to have been satisfied by the provocation of buying and bringing the painting home. Bessin may have been given the painting as a sixteen year old, but he came to truly possess it in his mid-twenties. "I felt a feeling of responsibility toward it," he says. "I felt the energy, the voltage." Gradually, he sensed it was a world treasure.
So he started doing research. He called the Museum of Modern Art, which led to an appraisal by an expert in Latin American art, who estimated that Danza Afro-Cubana might be worth $100,000.
"I knew that someday I'd have to sell it because I couldn't care for it," says Bessin, who couldn't afford to insure the painting or have it cleaned. He moved frequently, taking the painting with him to a series of apartments, houses and studios, none of which offered much in the way of security. He recalled that the painting had narrowly escaped water damage in his grandfather's basement. He began having vivid dreams about losing it to flood, fire or theft.
Although the responsibility weighed on him, the painting inspired him as his grandfather had hoped. Before Bessin knew the painting's history or its pedigree, he responded only to its quality. "I looked at it, and said to myself, 'I have a lot of work to do,'" he says. "I'd want to go back to the studio and take things to a new level. It
absolutely influenced my art."
Perched in the North Kingstown studio, Bessin's sculpted birds echo Carreño's masterpiece in their sensuality and barely contained movement. How did Bessin learn to make his metal birds so fluid, so full of the potential to take off and soar? There were many influences, but he gives a good deal of credit to Danza Afro-Cubana. He thinks about creating his own sculpture of El Ñáñigo and his sultry dance partner.
In the end, Bessin felt his only choice was to sell the painting. By 2007, its estimated value had climbed to between $600,000 and $800,000. Overcome by the anxiety he felt about safeguarding the masterpiece, he consigned it to Sotheby's.
Bessin didn't attend the auction, but he listened to it by telephone. "It went so quickly," he says. "Maybe a minute. Without pause it went from 400,000 to 450 to 460 to 800,000. Boom! It jumped to a million. 1.6 million, two million, 2.3, 2.6. Then the whole place burst into applause."
Bessin thinks about his grandfather a lot these days. He remembers fishing together the summer he was given the painting. No more than twenty yards off shore, they caught flounder, striped bass and blue fish. Their favorites were the eels they trapped. Bessin's grandmother would skin them for the old man to fry up in bacon fat.
It can be complicated, growing up in a family whose patriarch is larger-than-life. To outsiders, Siebert sounds dashing, a character straight from an F. Scott Fitzgerald novel. In reality, he is a source of both painful and loving memories for Bessin. And now, he is the source of a good deal of wealth. In his typical contrarian fashion, after having squandered the inheritance that should have made the family comfortable while he was alive, Siebert came in the back door, long after he was dead, to hand his grandson a couple of million dollars.
Just as Bessin took seriously the stewardship of the masterpiece his grandfather neglected, he takes seriously the windfall that has come to him from the sale of Danza Afro-Cubana, which he knows can provide a measure of security to his family. But a small amount of the money will allow Bessin to take on art projects that otherwise might have gone unrealized. No doubt the old man would have liked that.
The third character in the story of Danza Afro-Cubana is Ramón Cernuda, the gallery owner who made the winning bid at the Sotheby's auction. Cernuda sat in a box on the second floor that night, where he could see the action but couldn't be seen by the people below. Knowing that he had multiple clients who would want the painting, he paid more than three times its estimated worth.
Cernuda has dedicated much of his life to Cuban art. He has an encyclopedic knowledge of the cultural life of his homeland and the art of the Cuban diaspora. He hopes the painting will end up in a collection in Miami, in the hands of someone who could appreciate its importance. Miami, because Cernuda is a passionate participant in the debate over the city's artistic and cultural future: Will America's most vitally multicultural city embrace and build on its diversity? Or will it settle for being a melting pot, cultivating the comfort of homogeneity rather than the energy of multiculturalism? Danza Afro-Cubana, an electrifying portrait of interracial culture, could be a touchstone in this discussion.
In its sixty-five-year history, Danza Afro-Cubana has been on public view for only two brief periods. Both times it caused quite a stir. In 1943, it was included in an exhibition at the Museum of Modern Art called "Modern Cuban Painters," traveling to eleven cities in the United States. In a time and place where whites and blacks could not drink from the same water fountain or order coffee at the same lunch counter, it is hard to imagine the reaction to a painting that celebrates interracial culture to the point of sexual intimacy.
Danza Afro-Cubana was seen publicly for the second time at the Sotheby's auction last year. Cernuda and other experts on Cuban art knew of the painting only from photographs. Even Carreño had no idea what had become of it. Then, suddenly here it was: the holy grail of Cuban art.
To promote the auction, Sotheby's threw a cocktail party in Coral Gables with Danza Afro-Cubana as the guest of honor. So that guests could examine it front and back, the newly cleaned and reframed masterpiece was displayed on an altar—people knelt to get a good look at the dated Museum of Modern Art label still affixed to the back of the canvas. Following the auction, the painting made a trip to Miami, this time to be the centerpiece for a show of high-end Cuban art at Cernuda's gallery.

Now it is out of sight again.
Who would you guess owns Danza Afro-Cubana now? The mind runs away with possibilities: Perhaps an eighty-year-old veteran of the Bay of Pigs invasion, whose favorite grandson, unbeknownst to him, was working for the Clinton campaign? An alumni of Yale, class of '68, whose company is building public housing units in post-Katrina New Orleans? Madonna? Where does it hang? Is it in Miami, as Ramón Cernuda hoped? Tokyo? South Hampton? Dubai? Could it be in a climate-controlled storage locker in Hoboken?
Most importantly, will we see it again?