Current: Reading List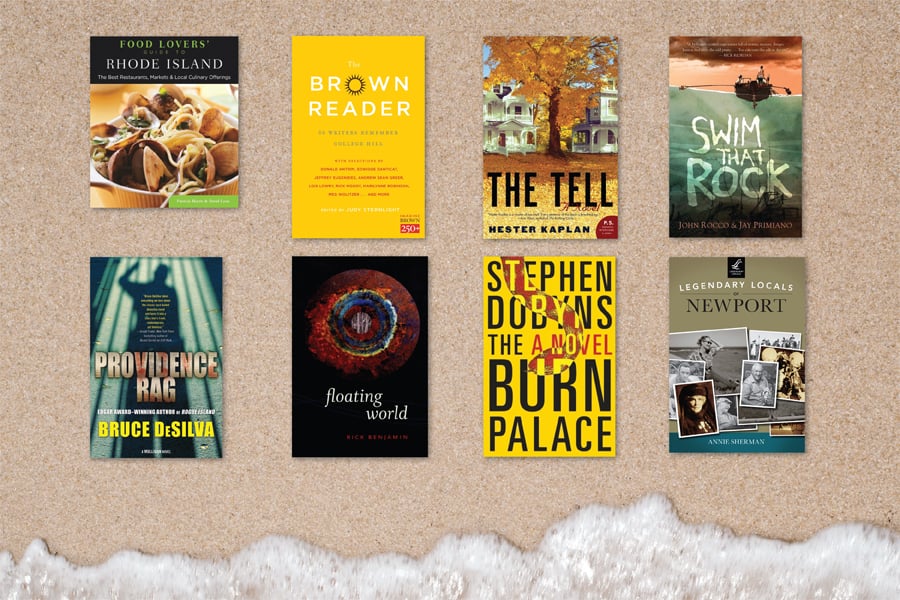 These literary works were either written by Rhode Islanders or star the Ocean State's (fictional or factual) people, places and things.
Beach read
The Tell
By Hester Kaplan
For married couple Mira and Owen living in Providence, the arrival of a washed-up actor turns their world upside down. Toying with fame, family and facades, the couple must acknowledge the reality of their eroding relationship before there's nothing left.
For the college bound
The Brown Reader: 50 Writers Remember College Hill
Edited by Judy Sternlight
Told like an ongoing inside joke but inclusive of non-Ivy Leaguers, fifty decorated graduates ruminate on their time spent on College Hill in celebration of Brown University's 250th anniversary. Their stories, though specific to a time, place and person, reveal universal notions of truth.
Kids' read
Swim That Rock
By John Rocco and Jay Primiano
When Jake's quahogger father goes missing on a fishing trip, the fourteen-year-old steps up. It falls to Jake, who takes on two jobs — one right (a clam sorter by day) and one wrong (an illegal fisher by night) — and the Narragansett Bay fishermen to save the family diner from repossession in this suspenseful coming-of-age tale.
For the history buff
Legendary Locals of Newport
By Annie Sherman
A mix of celebrated locals and lesser knowns make for a complete collection of notables from Newport's past and present. The lively black and whites give a snapshot of the City by the Sea's local history as it celebrates 375 years in 2014.
For the "CSI" lover
Providence Rag
By Bruce DeSilva
Former Providence Journal reporter and author of Cliff Walk and Rogue Island returns with his third installation in a series about Ocean State crime. Providence Rag is a provocative tale of judicial prejudice and the delayed release of the youngest serial killer in history. A work of fiction with detailed accounts reminiscent of the Craig Price case, the novel grips the reader in chilling suspense from page one to the back cover.
For the adventurous eater
Food Lovers' Guide to Rhode Island: The Best Restaurants, Markets and Local Culinary Offerings
By Patricia Harris and David Lyon
Whether you're a local or just visiting, this cookbook is the end-all, be-all guide to the state's gastronomic delights. Get insider info on local food festivals, farmers markets, places to pick your own produce or pour a perfect pint.
For the inner poet
Floating World
By Rick Benjamin
The latest collection of poetry by Rick Benjamin, the current Poet Laureate of Rhode Island, recalls gains and losses that coalesce to form the impermanence of life. Benjamin sources inspiration from the community through his positions at Brown University, RISD, Goddard College and New Urban Arts.
For the fearless
The Burn Palace
By Stephen Dobyns
When a baby is mysteriously abducted from its Memorial Hospital crib and replaced with a snake, the sleepy town of Brewster, Rhode Island, comes undone. The chilling resemblance Brewster shares with almost all small Rhode Island communities instigates fear as mass hysteria consumes the community.