Creative Costumes for a Cause at the Runway Earth Fashion Show
Rhode Island artists and designers created Halloween costumes out of recycled and reused materials that will be auctioned off Oct. 27 at The Roots Café to benefit Groundwork Providence.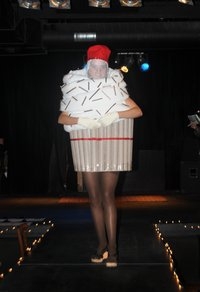 Last year, my husband created a homemade Halloween costume that he thought would be the most creative anyone had ever seen. He bought a yellow hardhat with a light attached to the top. He found a pair of old jeans and a red T-shirt and he took them outside and drove over them with his Ford Escape. He burned coal on the grill and rubbed the ashes into the clothing and on his face, and put it all together to transform into a rescued Chilean coal miner.
Much to his chagrin, we went out that night and everywhere we walked we saw dozens of men wearing hardhats and covered in soot.
"I guess I wasn't that creative," he said, after which he chased after strangers who were his supposed mine-mates. "Hey brother, I'm glad to see you made it out alive!"
Try as we might, coming up with unique costume ideas is always a challenge. To help Rhode Islanders in this area, next Thursday there will be a costume showcase and benefit called the Runway Earth fashion show, involving one-of-a-kind options that will be yours and yours only.
Local artists, fashion designers and RISD students have been commissioned to create twenty costumes out of recycled and reused materials that will be auctioned off Oct. 27 from 6-9 p.m. at The Roots Café at 276 Westminster St. in downtown Providence. All proceeds from the fashion show and auction will benefit Groundwork Providence, which is an organization that designs programs to help low-income and underserved populations develop their role in their own environment and in their futures.
Attendees can bid on creative creations like a Big Bad Wolf costume assembled from reused strapping and buckles from car seats and back packs, an outfit fashioned from bubble wrap, a dress made from discarded RIPTA bus passes, a mermaid and fish costumes, and a Medusa costume featuring the inner tubes from bicycle tires. Last year, costumes sold for anywhere between $40 to $200.
Groundwork Providence board member Monica Anderson, who is also the community liaison at the Miriam Hospital, has been helping to provide some of the reusable material for the creation of the costumes. She worked with people in the operating room at the Miriam Hospital to save blue wrap that is used to keep tools sterile as they are transported within the hospital. Usually the material is discarded, but now she has a car full of ten bags of it that she is delivering to RISD so students can repurpose it.
"Normally, this big bulky blue material just fills up a landfill because it's not recyclable," she said. "Here's a solution to use the material in a valuable way while keeping it out of the waste stream."
Rather than going to a traditional costume store this year, why not have your costume give back to the community? "The costumes are truly works of art, and the money goes right back into the community to help improve people's lives," Anderson said.
The event will include food from Pizzico, a cash bar, live music, the fashion show, auction and a raffle. $5 parking will be provided by InTown Parking. Simply tell the parking attendants that you are going to an event at the Roots Café for the reduced rate.
For more information, click here.