Create a Mini-You With T.O.A.K. Dolls
The Providence-based company makes likenesses based on personality traits and photos.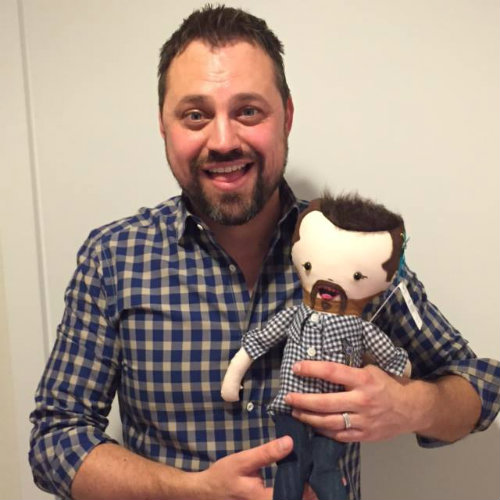 Have you ever wanted a miniature version of someone? Look no further. A new company based in Providence called T.O.A.K. Dolls — "two of a kind" dolls — is using personality profiles and photos of people to create dolls that look just like them — with funny and sweet results.
Everything is hand-made, says Brittny Willis, who handles PR for the company. The dolls are eighteen inches, with posable arms and legs. We chatted with head designer Sinead Burke and "stitchmaster flash" Katerina Pedersen to find out more:
How did the idea start?
Sinead: Honestly, I was making them as gifts for people and then people wanted me to make them for other people so I took it from there. We originally started making dolls not custom, but now that's pretty much the main thing we sell. People love them, it's really fun.

Sinead and her husband
So you design from photos of the subject?
Sinead: We've narrowed it down to a questionnaire that they answer that gives us some insight, and then they give us a few photos, and if they want a specific outfit or something. And we use a good head shot.
Katerina: We also ask for personality traits, like what kind of music do you like. People will tell you if they're more serious or if they're a sillier type of person. So we take that into account with the prints that we'll pick for their outfits. When you send us a picture, we can't just replicate exactly what you were wearing, but we do take your color story, a print concept and then personality traits into consideration in the design.
Do you get your supplies locally?
Sinead: Yeah, we mostly go to local places…I tried online, but you like to be able to feel the fabrics. We take clothing donations also, [so people can supply material from a favorite shirt].
Katerina: We can also do iron-on transfers, so our tattoo replication is getting more —
Sinead: — more accurate.
Katerina: We did a doll for a woman and she had a very distinct one across her chest. And we put the tattoo across her chest on the doll. It's getting to the point where other people will immediately know who the doll is.
What's your favorite doll you've made so far?
Sinead: David Bowie.
Katerina: All of my friends….And letting my daughter take her Katerina doll with her and watching her play, because she now has a collection of them and interprets other people's personalities using the doll.
The big thing is that we want people to know that you can replace yourself at work with your T.O.A.K. doll. Or if you're being yelled at, your doll can stand in for you, because they're pretty much exactly a replica of you.
Sinead: There's been so many different reasons for people to get one. We had one made for a dad for his daughter to hold on to. It doesn't have to be just of you. It can be if you're in a long-distance relationship. We did a wedding anniversary with a bride and a groom.
Katerina: I made them for my grandmother's ninetieth birthday, she and her four children, so now she has them and everybody can always be together. We do get repeat orders and when we get them, it's basically for a family or a group, so they don't seem so vain. They're like, "oh, I have to get three T.O.A.K. dolls, and one of me."
Poker Team
Sinead: A lot of them are gifts, and they're very personal gifts to their partner or their friend. We've done an order for a woman who was doing chemotherapy treatment, of her little daughter. Hopefully it brings some joy.
Katerina: Our friend Sarah is a hospice nurse and some of the people that she's caring for are sometimes a little more delusional and return to a child-like state and she can leave the doll with them. There's all different reasons.
Sinead: And we've actually had orders of the same person in a different outfit. You can actually have more than one.
Katerina: You can also get different levels. If it's for a small child, we're not going to put anything that's a choking hazard on it and it can be more easily washed.
Sinead: We also wanted to add a vegan option, so we don't use wool. And we might provide gluten-free. We're not sure.
T.O.A.K. Dolls range from $56 to $90 for custom orders, and there's currently a processing time of two to four weeks. To find out more, go to toakdolls.com.