Crazy for Kombucha at the Nook
East Greenwich's newest coffee house serves the sparkling probiotic on tap.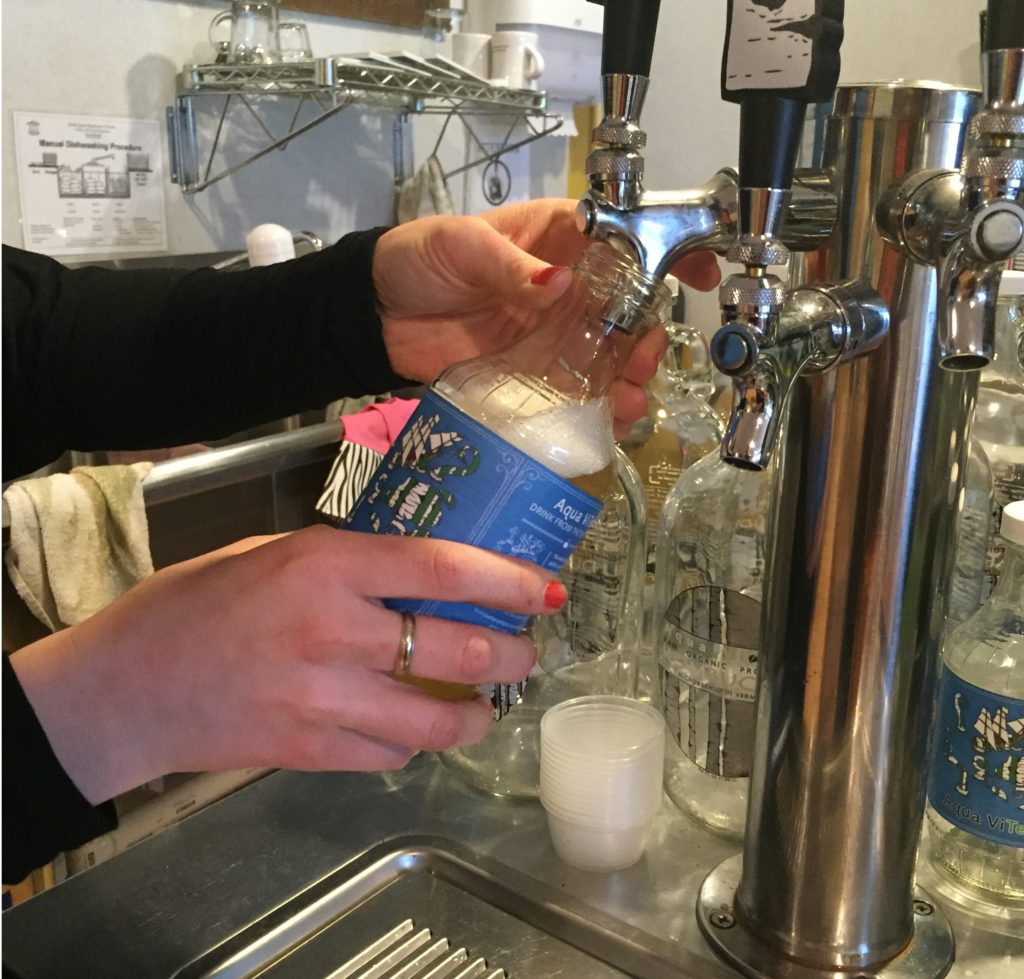 Vermont's Aqua ViTea brewery markets its raw organic kombucha as "the tea water of life," but Shannon Wylie thinks it's just plain refreshing.
"The biggest thing is that it's good for your gut bacteria, but I just like the way I feel after I drink it," says Wylie, owner of the Nook Coffee House, which opened on Main Street in East Greenwich just after the new year.
The shop serves local New Harvest Roasters coffee, plus fresh goodies from Cranston's Rainbow Bakery and packaged snacks like gluten-free Leah's Recipe cookies and health-conscious Shri Bark. But the big draw, says Wylie, are three self-serve taps featuring Aqua ViTea kombucha, where customers can blend their own flavors in growlers and pints.
Kombucha, a dairy-free probiotic drink that's similar to sparkling sour cider, is made from a combination of black and green teas, water, sugar and a live culture. Aqua ViTea's brews are topped off with organic flavors like turmeric, elderberry and blood orange.
Kombucha is lauded for its live enzymes, probiotics and amino acids, and proponents of the elixir claim it stimulates metabolism, increases energy (the drink has trace amounts of caffeine and alcohol, but not nearly enough for a fun buzz), boosts the immune system and detoxifies the liver.
Modern homesteaders make their own kombucha with a mother SCOBY (symbiotic colony of bacteria and yeast) but Wylie says, "I'd rather just leave that work to someone else. This requires very little overhead. Aqua ViTea delivers it in keg-form and it's hooked right up to CO2."
The taps will change regularly, depending on what's available at the brewery. Right now, the Nook offers turmeric, cranberry and ginger flavors, but a strawberry/sage blend is on the way. Wylie says she's proud to offer kombucha alongside coffee; she drinks both regularly, choosing coffee for a morning jolt and kombucha to fight the afternoon slump.
And there's really no middle ground for her customers. They either love the flavor of kombucha or hate it, Wylie says. Small sample cups are provided for the cautious and pints and growlers are available for the initiated. Pints are $4.99 for the first pour and $3.99 if you re-use your glass jar. Same deal for the growlers: $17.99 for the first, then $14.99 for refills.
For more information, visit the Nook at 307 Main St. in East Greenwich or follow along on Facebook.