Cory Bellucci – Blues Brother
Cory Bellucci is a self-taught musical phenom who thrills his fans with riffs on love, loss and inspiration. Just your typical fourteen-year-old.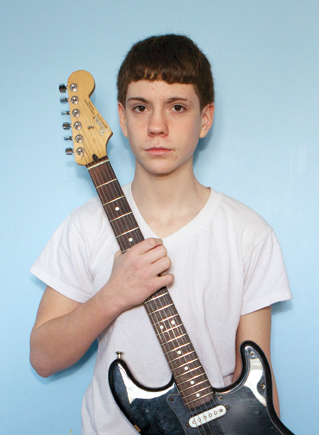 Getting Cory Bellucci to talk about himself is not easy. If you ask him how his day went, he might respond with a shrug and, if you're lucky, a simple "good." This should not come as much of a surprise. Cory is a teenager, a mere fourteen years old, and like most teenagers he speaks sparingly — at least around grown-ups.
But put an electric blues guitar in his arms — go on, lay down a Les Paul or a Strat — and he will bare his soul without saying a word. He'll play a lick or two and go to a place that is nobody's business, a place he's only beginning to discover and explore. Dry eyes will turn wet, because, after all, the world is a worrisome place and everyone knows loss, even Cory.
Where do your blues come from?
"Here," says Cory, tapping his chest with his fist and then devouring a late-afternoon snack of four waffles smothered in syrup.
His fingers started moving on his dad's 1966 Gibson Melody Maker when he was eleven years old, and now he can't stop. What makes his journey even more amazing is that he is entirely self-taught. He plays in between spoonfuls of Honey Smacks at breakfast.
He plays in his bedroom after school. He plays in the kitchen, the living room, the basement — anywhere he can find an outlet to plug in his amp and let loose with Texas Flood or Pride and Joy or one of his own riffs, the ones he makes up as he goes along.
Click here to watch Cory perform at The Met
To read more of this story please visit your nearest newsstand or click the link below.