Cook Up a Sizzling Turkey Dinner
Local chefs reveal tried-and-true recipes for your family dinner.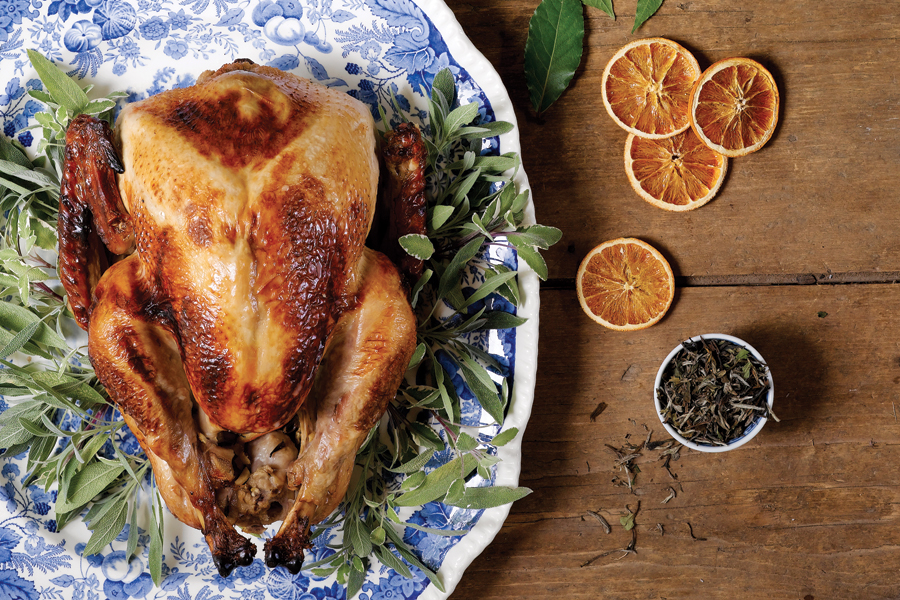 Traditional Turkey
Dawn Brooks-Rapp of Acacia Cafe food truck and kitchen shares her recipe for citrus-and-tea brined and maple butter glazed turkey.
Last fall, the chef gave a turkey brining demonstration at the Mount Hope Farm farmers market to much applause. She began assembling and selling her brining kits ($15) to help customers recreate the experience at home. The kits include all the dry spices and white tea leaves and slices of dried orange (all you need to buy is the apple cider vinegar). "The recipe was three or four years in the making," she says. "I experimented with different things I liked, including hints of citrus and white tea." Kits are available at the Mount Hope Farm farmers market, 250 Metacom Ave. in Bristol on Saturdays from 9 a.m. to 1 p.m. 323-3002, acaciacafe.com.
Brining Recipe for Turkey (15–25 pounds)
Notes:
Fresh turkey should brine for 24–48 hours before cooking, and needs to be refrigerated during the process.
You'll need a pot or plastic container large enough to hold the turkey. The entire bird should be submerged in the brining liquid. The turkey can also be covered with aromatics, placed in a large sealed plastic bag and submerged in the brining solution, then stored in the refrigerator in a baking pan (one with four-inch sides is ideal).
Brining Ingredients
16 cups water
3 cups apple cider vinegar
2 cups brown sugar
1 ½ cups kosher salt
3 tsp smoked salt
6 bay leaves
1 Tbs ginger (dried)
1 Tbs whole mixed peppercorns (white, black and pink)
1 tsp allspice
2 Tbs white tea (dried)
4 dried orange slices, or one whole orange
Bring water, vinegar, sugar and salt to a boil, stir to dissolve sugar and salt, and add all aromatics. Cool mixture before adding to container or bag. Add trimmed fresh turkey (not frozen) to container, making sure it is submerged. Place in refrigerator for 24–48 hours.
When ready, take turkey out of brine, place bird in a roasting pan, and roast at 425 degrees for 20 minutes, then lower oven temperature to 325 degrees. Cook 10–15 minutes per pound. When the internal temperature of the turkey reaches 150 degrees, start basting. Add the glaze in the last half-hour of cooking. Fresh turkey has been shown to cook faster than a previously frozen turkey.
Maple Sage Butter Glaze
2 sticks of unsalted butter, melted
1 Tbs freshly chopped sage
2 Tbs organic maple syrup
Melt butter, add sage and maple syrup. Using a pastry brush, brush turkey with glaze during last half-hour of cooking, and roast uncovered to 160 degrees (internal temperature). This glaze gives the turkey a sweet and savory browned skin.

Cornish Game Hens
Sometimes you don't need a giant turkey. Matt Gennuso from Chez Pascal and the Wurst Kitchen suggests Cornish game hens stuffed with mushrooms, cloumage cheese and pork sausage.
For a more intimate feast for two or four, choose Cornish game hens from Baffoni's Poultry farm. Gennuso's stuffing includes chunks of his housemade pork sausage (which is available for retail purchase at the Wurst Kitchen), as well as mushrooms grown locally by RI Mushroom Company and cheese from Shy Brothers Farm in Westport, Massachusetts. Retail sausages are $10 for a package of four sausages, available at Chez Pascal's Wurst Kitchen at 960 Hope St. in Providence. 421-4422, chezpascal.com
Stuffed Cornish Game Hens with Roasted Root Vegetables
2 whole Cornish hens for 4 people
The Stuffing and the Birds
2 Cornish game hens (average weight 1 ½ pounds per bird)
3 Tbs blended oil
1 Tbs butter
½ cup minced onion
4 cups mixed mushrooms from RI Mushroom Company
1 Tbs garlic, chopped
1 Tbs fresh thyme, chopped
½ pound pork sausage (perhaps our retail pork and fennel sausage from the Wurst Kitchen)
2 cups cloumage cheese from Shy Brothers Farm
½ cup grated parmesan cheese
2 cups dried bread cut into ¼-inch cubes
In a saute pan, add oil then butter and heat until butter sizzles. Add minced onion and cook until translucent, then add mushrooms. Mushrooms will put out a lot of moisture but continue to cook until moisture has reduced. Add garlic until cooked, then mix together with chopped herbs and remove from heat. Transfer mixture to a large mixing bowl, and allow to cool for about 20 minutes. Remove casings from sausage. Flatten meat like a pancake. In saute pan, add oil and cook meat on one side until brown, flip over and cook other side until brown. Meat should be cooked through. Remove from heat and crumble meat into a bowl and allow to cool. Add meat mixture to herb and mushroom mixture and then add cloumage, parmesan cheese and bread cubes. Mix everything and allow to sit for an hour for the bread to absorb moisture. Season with salt and pepper then place into the cavities of the birds. Rub the outside of the birds with softened butter, season with salt and pepper and follow the instructions below.
Roasted Root Vegetables
Olive oil to cook
1 cup diced carrot
1 cup diced onion
½ cup diced celery root
½ cup diced rutabaga
6 medium Yukon gold potatoes, cut in half
½ cup chicken stock
Preheat oven to 425 degrees. In a large roasting pan over medium heat, add a touch of olive oil and begin to cook root vegetables. Season lightly with salt and pepper. Cook until brown, as the vegetables will finish cooking in the oven. Place the two stuffed birds on top of the vegetables in the pan. Roast for 20 minutes. Remove pan and add chicken stock, then turn oven down to 350 degrees and place pan back in oven until birds reach an internal temperature of 150 degrees and skin is golden brown.