Considering Custom
There are many exciting choices and decisions to consider when building a custom home, but with expert professionals to guide you, it can be a rewarding experience.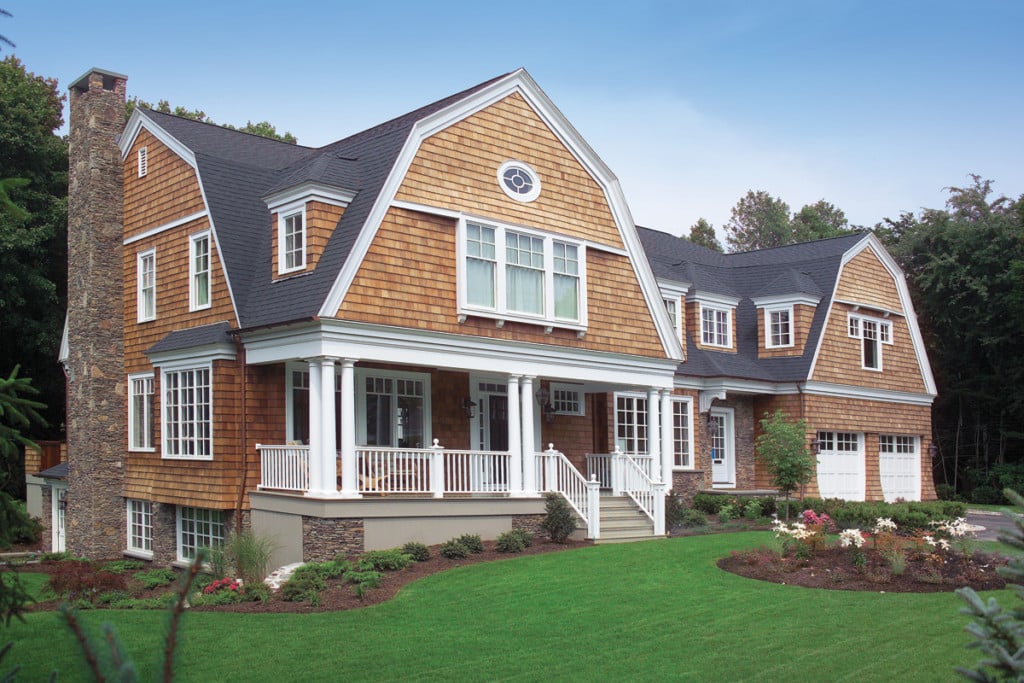 Sponsored Content
Meridian Custom Homes, Inc. is an all-inclusive design/build company that offers all of the home building resources needed through their professional staff and a trusted network of colleagues built over thirty years. "Having that knowledge and information in-house makes it simpler for the client," says Alex Mitchell, co-owner. "We'll help you think through your design intentions to make execution easier and achieve a cohesive design overall."
Find Your Style
Hundreds of homeowners have relied on the Meridian team to help them create the perfect home design. They have experience with a range of approaches: coastal shingle style, traditional New England, farmhouse contemporary and even executive manor. The process starts with thinking about how you like to live. Do you want large open areas? Do you do a lot of entertaining? Or is it all about family time? Your lifestyle impacts every decision, from material choices to floor plans to lighting.
Before building starts, Meridian helps clients take advantage of their view with proper site placement. "We work with clients to understand what it is they appreciate about their lot and view, then work with the engineer to make sure the placement of the house helps achieve their goal," says Mitchell.
Kitchens and baths are key focal points and deserve lots of upfront attention. When designing the kitchen, keep in mind what appliances you want. Any extra plumbing or electrical work needs to be planned out well in advance, before the house is framed.
Fresh Farmhouse
Another popular home style is the rustic farmhouse look with a large open floor plan for easy entertaining. Think about a kitchen with a breakfast nook that flows into the family room and an open dining room. Warm, muted colors in organic tones evoke a sense of nature. Throughout, the wide, white oak floors with custom stain achieve that in-demand white wash effect. The board and batten wall embellishment and tray ceiling in the dining room add a touch of upscale that's right at home with the informal style.
In the bath, the freestanding tub is positioned to take advantage of the natural light and views to make tub time more enjoyable. It's important to plan the tub's location early in the design process so plumbing can be brought up through the floor. Similarly, if you're thinking about extra jets in the shower, plan early to allow for placement of diverter valves and extra plumbing.
Rural Contemporary
When designing for a busy, active family, every nook and cranny is taken into account. "We held many on-site meetings to understand exactly what they were looking for and how we could blend the home with the location they had chosen," Mitchell explains.
Through their integrative and hands-on design process, the Meridian team delivered with an outstanding rural contemporary home that works for a modern lifestyle. Understanding the family's needs led to the perfect mudroom with built-in bench plus storage for boots, bookbags and more.
Clients rely on Meridian to ensure they end up with the right design, material choices and specifications, no matter their style preference. Here, the rustic look was achieved with lots of natural materials including stone and wood. To add the contemporary touch, the team used clean, simple lines on the custom inset cabinets and infused understated elegance with their moulding choice. White oak floors and a palette of muted blue-gray carried throughout the home added to the calm aesthetic.
With a fixed-cost construction approach and complete transparency, Meridian guarantees no financial surprises.
The Meridian Experience
Meridian's philosophy is to partner with their customers in the construction of their dream home, working with them through every phase of the process. Their expert advice on spatial relationships, harmonious design aesthetics and superior construction details helps create a home perfect for your family and your lifestyle.
No matter your preference, Meridian can achieve the style you're looking for.
"We take the guesswork out of building a home and make it an enjoyable, streamlined process from design through completion," Mitchell says.
Design and Construction: Meridian Design Build, 866-455-6806, meridiancustomhomes.com