Conserving Wildlife at RISD
A new exhibit featuring the work of thirty-two artists examines the role of the wildlife trade plays in wiping out species around the world.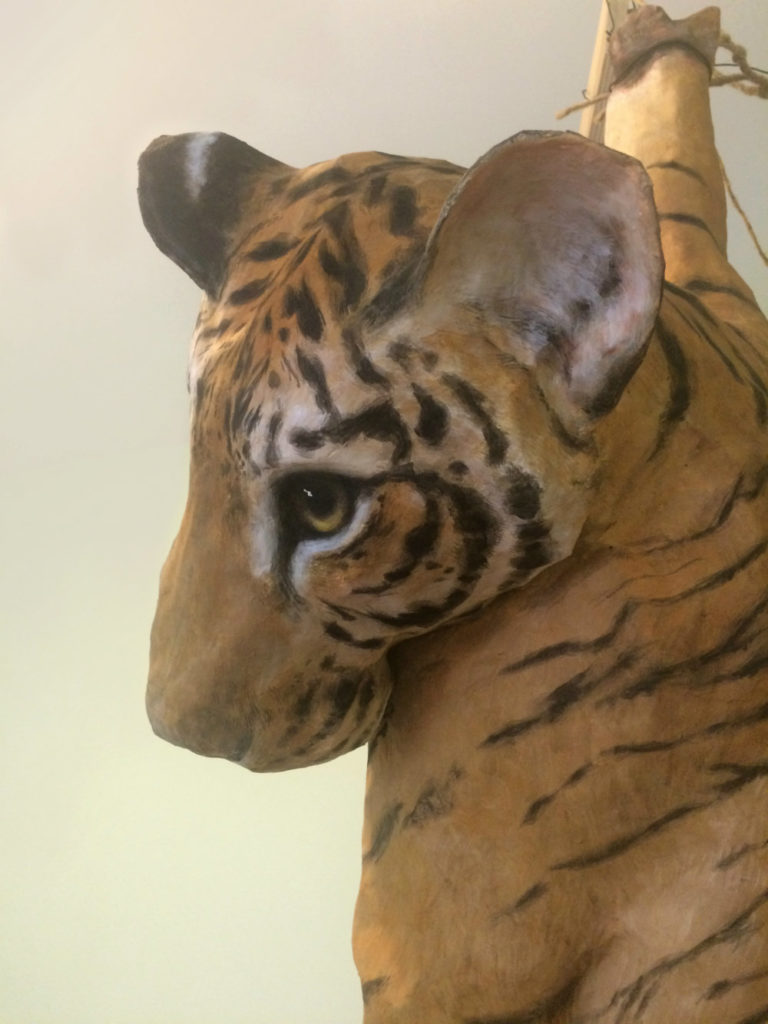 Biologist and veterinarian Dr. Lucy Spelman has cared for endangered species around the world, from mountain gorillas in Rwanda to Asian elephants in Burma to giant pandas in China.
The good news is that she knows people with the expertise to help protect them, whether that be a scientist who can artificially inseminate an Asian elephant or an expert in planning national parks.
"But I just got to this point where I realized that I don't have any medicine for the main thing that's happening to these animals, which is that they're disappearing," says Spelman, who now teaches at RISD. While illness and injuries play a part, the big drivers of extinction are the development of urban areas, the global wildlife trade, climate change and farming, she says.
As intractable as many of these factors might seem, though, Spelman says that some of the problems, such as the wildlife trade, are complicated, but solvable.
"That's what got me into teaching and got me to realize that wow, part of the problem is we really don't have enough people engaged in conservation and understanding what needs to be done," she says.
Spelman looked for a way to make people across the world think about the animals she was caring for up close, and then decide not to order, say sharkfin soup.
"When someone's right there with the animal, it's hard not to be enamored with an animal," she says. "There's so much to learn. But how do we make that happen for everybody? You can't bring everybody behind the scenes when you're doing dentistry on a tiger."
Spelman and other biologists think one of the answers is by combining science and art. In her work, she teaches artists about science so they can then figure out what about the problem — and the solution — they want to focus on.
"That results in work that's much more powerful than if the scientist or expert says, 'well, I need a website that conveys this, or a poster that says this.' I think the trained communicator and the artist has that ability to find the emotional hook," Spelman says, who founded Creature Conserve to promote that collaboration.
You can see the results of some of that collaboration at an exhibit opening tonight called "Wildlife: Trading and Conservation." Featuring the work of thirty-two artists, it focuses on nine different endangered species, from elephants, rhinos and chimps to African grey parrots, and pangolins, an anteater-like animal in Asia that is currently the most trafficked mammal in the world for its meat and scales.
It's sponsored by Creature Conserve, RISD and the International Fund for Animal Welfare (IFAW). To prepare for the exhibit, participating artists interviewed experts on animal welfare, parks and wildlife trade policy and read scientific papers.
Artist Emily Schnall, whose sculpture "Snared Juvenile" is pictured above, wrote in her artist statement:
"On the surface, there is no obvious relationship between the sale of tiger parts for traditional Eastern medicine and the use of tigers in circuses, or between wild tiger poaching and captive breeding. Before doing the research for this piece, this situation seemed a murky tangled web. Now, after talking with scientists and experts at IFAW, and doing my own reading and research, I see how the problems connect."
You can watch Spelman's TEDxProvidence video here:
"Wildlife: Trading and Conservation" starts June 14 with an opening reception and remarks by Spelman and Azzedine Downes from the IFAW. 6-8 p.m. The exhibit runs through August 6. The gallery is open Wednesday through Saturday, noon to 5 p.m. and will be open until 10 p.m. for WaterFire on July 23 and August 6. Free. RISD Gallery 55, RISD Illustration Studies Building, 55 Canal Walk, Providence, risd.edu.