Are We Any Good at Composting?
As the Johnston landfill reaches new heights, the state is finding creative ways to divert all our leftovers from the heap.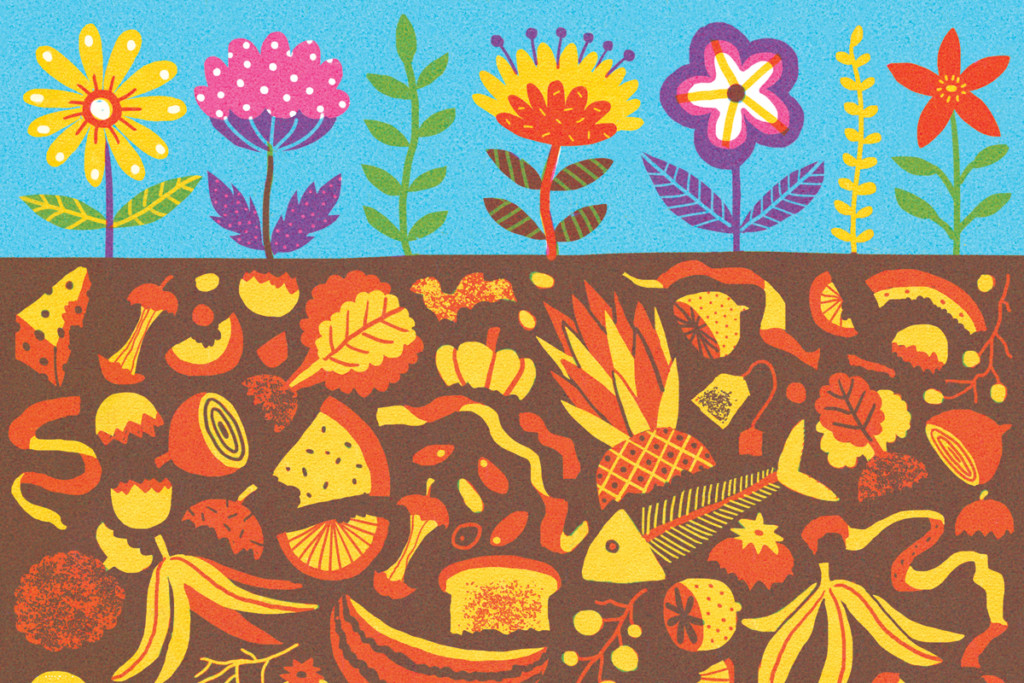 The Ratty, formally known as the Sharpe Refectory, is Brown University's largest dining hall, pumping out enough food in a continuous, twelve-hour buffet to serve 4,500 meals a day. And on the back end of all that producing and consuming are blobs of failed bread dough, potato peels and egg shells.
But one man's broccoli stalk is another man's business. One sunny Sunday morning, Nat Harris blocks off the Thayer Street sidewalk behind the Ratty with a couple of orange cones, while Leo Pollock pops the plastic lids on the yolk-yellow scrap bins stored in a refrigerated room in the kitchen to scan the contents. Pollack wheels the bins to a scale by the back door, where he records the weight on his phone, then out to the small truck parked at the curb. He hooks the lip of the bin to a hydraulic lifter that boosts it up the side of the custom-designed dump body and flips it back to jettison the load. Another 1,200 pounds that never made it to a plate.
Americans waste a staggering amount of food. Federally subsidized commodities make it cheap; we like our apples perfectly red and shiny. The United States Department of Agriculture estimates that between 30 and 40 percent of the food supply ends up in a landfill. Each year, the retail and consumer sectors alone trash 66.5 million tons of food. In contrast, only 1.94 million tons of food waste was composted in 2014.
That year, Pollock, a former program director with the Southside Community Land Trust, and Harris, the founder of Newport Biodiesel, a company that recycles used vegetable oil, formed the Compost Plant, a collection service for food waste. It was a good time to start the company. The General Assembly had amended the disposal law to require any facility generating more than 104 tons of organic waste per year, and located within fifteen miles of an appropriate facility, to separate out its food waste to be composted, anaerobically digested or slated for agricultural use.
As written, the law mostly applied to the University of Rhode Island (URI), a mere nine miles away from Earth Care Farm in Charlestown, the state's sole commercial composting operation. But URI applied for a waiver from the state Department of Environmental Management (DEM), because its private waste hauler, Waste Management, did not offer composting services. And the DEM granted it because there was no place big enough to handle the volume.
"We will enforce the regulations as other facilities come on line and we need more material," says Mark Dennen of the DEM's Waste Management Division. "Right now, there isn't the capacity."
Nonetheless, by the time the law went into effect in January 2016, about fifty restaurants, hospitals, universities and other businesses had hired the duo to collect their scraps.
Seven Stars Bakery, with three retail locations and a baking facility at Hope Artiste Village, used to throw everything away, says owner Lynn Williams.
"It does cost us more — about 25 percent," she says of the decision to forego dumping. "But it's a worthy investment."
Brown University's sustainability manager, Jessica Berry, says the ban was among the university's motivations: "Although we weren't required to comply, we decided that it's part of our sustainability goals and a student push to have composting on campus."
But as entrepreneurs, the Compost Plant's Pollock and Harris also see leftovers as a business opportunity.
"The things we view as waste — how do you turn that into something of value?" Pollock asks. "For a long time it wasn't important, especially if the cost of waste wasn't an issue."
The cost of waste is going up in Rhode Island. Last month, the per-ton municipal tipping fee rose from $32 — where it had lingered for twenty-five years — to $39.50. Next July, it will rise to $47. The hike will pay for a 100-acre addition to the Central Landfill, extending its life to 2038 at current disposal rates.
The state's cities and towns were supremely unhappy that the days of artificially low waste disposal prices were coming to a close. But it may spur an improvement to their diversion numbers; the average recycling rate is 36.8 percent, according to the Rhode Island Resource Recovery Corporation (RIRRC). A RIRRC study from 2015 tallied 100,000 tons of food waste at the Central Landfill from residential (60,000 tons) and commercial (40,000 tons) sources.
"This represents about 17 percent of the mixed solid waste received, or about 10 percent of all types of wastes received," corporation spokeswoman Katherine Hypolite writes in an email.
For the Rhode Island Food Policy Council (RIFPC) and the DEM, recycling unwanted food is an integral part of a recently released statewide food strategy plan. The plan addresses unused food that is safe and edible and could feed hungry people and that which is waste, such as fish processing byproducts and spoiled food.
In the former case, the state is planning to write rules governing safe donations and encouraging organizations to establish a distribution network to route extra food to consumers who need it. As for the latter, the plan points out that the state likewise does not have the infrastructure to handle all of the waste being regulated.
"Is [the food waste ban] perfect? No," says David Dadekian, current chair of RIFPC. "It is a good step forward."
In tandem, the DEM released new composting regulations in May 2016 to allow small, medium and large-scale operations under different permitting rules. Facilities that store no more than twenty-five cubic yards of material at any given time do not have to register with the DEM, for example.