Community Health
Students from Brown University's Warren Alpert Medical School launched the state's first clinic for asylum seekers.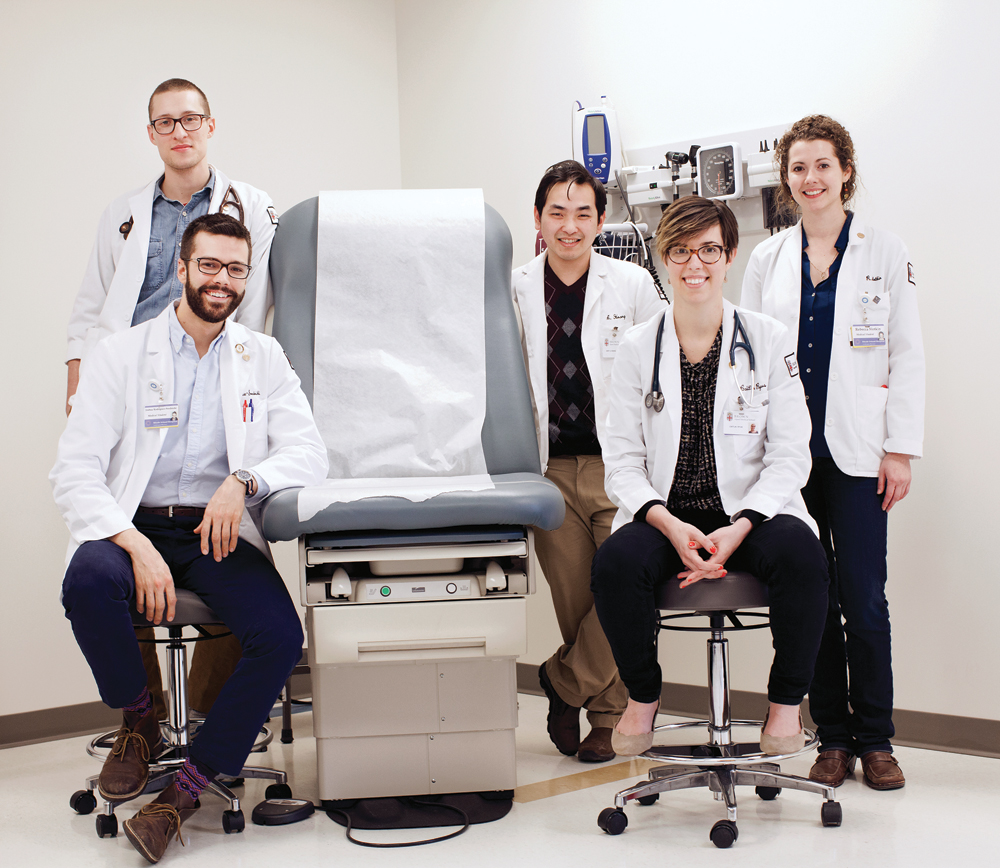 Left to right: William, Josh, Andy, Caitlyn, Rebecca.
Andy Hoang was seven years old when he began his remarkable climb from asylum seeker to asylum clinic co-founder.
"My father was a captain in the South Vietnamese army," twenty-seven-year-old Hoang, a first-year medical student at Brown's Warren Alpert Medical School, explains. "When Vietnam fell, he was imprisoned for five or six years in a reeducation camp. My whole family was considered traitors to the country so we didn't have access to social services and were blackballed from all forms of formal employment. My mother had to work on the streets for a decade; she took care of everybody."
In the 1980s, the Reagan administration launched a program that offered asylum to Vietnamese political prisoners. As a result, Hoang's family moved to the United States in 1993 and resettled in Orange County, California. But growing up, Hoang says he had little connection to his birthplace. "My family felt there was no place to go back to, but I felt that a piece of myself was missing," he says.
Hoang earned a master's in public health from Columbia then worked for Physicians for Human Rights (PHR) and launched his own NGO, which brought him back to Vietnam to help disadvantaged children. "It gave me a rich understanding about what it means to be South Asian," he says, "but I learned that if you want to see tangible change, you need to legitimize yourself as a medical professional."
He returned to the United States and enrolled at Brown's medical school, where he discovered a trove of young people looking to incite change. He teamed up with fellow students Caitlyn Ryus, Rebecca Sloktin, William Berk and Josh Rodriguez-Srednicki, all of whom have global health experience, and brainstormed ways they could help those who — unlike Hoang's family and others welcomed into the country by the U.S. government — must seek asylum on their own.
Similar to Hoang's family, survivors of torture, domestic abuse, trafficking or other forms of persecution want a chance to succeed in America.
"That's what the United States represents," Hoang says. Some asylum seekers reside here already, illegally or on a visa, and have just a year from their first steps on American soil to file for asylum with the government.
The group learned the significance of medical-legal affidavits, evaluations that support an asylum case by documenting physical or mental signs of persecution. Less than 40 percent of asylum seekers are granted asylum, but that statistic increases to 90 percent when they have a medical-legal affidavit documenting abuse.
"We saw there was a big need for an asylum clinic here," Hoang says. "The closest East Coast clinics are in New York and Boston. There are three physicians in Rhode Island who do it, but their practice can only handle so many cases. And, just talking to the Guatemalan consulate here, there are a lot of people who are seeking asylum who don't even know about the affidavits."
Last fall, three of the founding members of Brown's Human Rights Asylum Clinic traveled to Chicago to learn how to conduct forensic medical evaluations for survivors of persecution. "We thought, 'we can really do this,' " Hoang says.
They quickly organized a training clinic of their own at Brown. On a chilly Saturday in February, seventy-two physicians, residents and medical students from Boston to Arizona learned how to diagnose, evaluate and document the effects of severe human rights violations, from genital mutilation to PTSD. "Seeing physicians dedicate ten hours on a weekend and actually commit to do this work — we hope we have the same amount of passion to sustain us as physicians," Hoang says.
The asylum examination and medical-legal affidavit takes an estimated sixteen hours from top to bottom, Hoang explains: first, the medical evaluation, then a post-evaluation recap, the drafting of an affidavit, the redrafting of the affidavit, and finally the filing of the affidavit with the national PHR office. A physician-medical student team work together to complete the examination and affidavit, and Hoang says about ten physicians and thirteen medical students have already signed on to help, all pro-bono. The group has also identified a popup location: Clinica Esperanza, a free, nurse-run clinic in Providence's Olneyville neighborhood.
"Doctors occupy such unique positions in the world, and it's about leveraging that power," Hoang says. "Ideals dissipate so, while we're young, we're trying to do something to sustain that."
To learn more about the Brown Human Rights Asylum Clinic, visit sites.google.com/a/brown.edu/phr/brown.