Communicating Doors at 2nd Story Theatre
A dominatrix and two doomed wives work together to change their fate in this Alan Ayckbourn revival.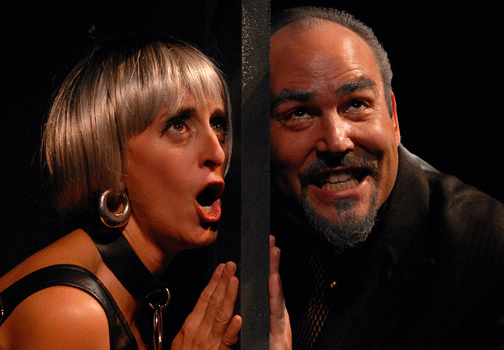 Prior to show-time Sunday night and seated in a surprisingly comfortable director's chair, I sized up the set of Communicating Doors at 2nd Story Theatre. Seeing swanky purple carpets, snow white sofas, a tiled blue bathroom with a bidet, I thought to myself: What kind of passé production am I sitting in on?
But as the lights turned down, I learned I was remarkably wrong in judging a play by its plush carpeting.
Artistic Director Ed Shea deemed the season's kick-off production "Sudoku on-stage," but forgot to mention the game would be led by a leather-clad hooker, ahem, a "Specialist Sexual Consultant" with a playfully foul mouth and near-perfect comedic timing.
A tale about time travel, playwright Alan Ayckbourn thankfully didn't leave much room for confusion. By over-elucidating the time warp concept (a London hotel room's communicating door serves as a time portal, flinging its traveler twenty years into the past, from 2031 to 2011, and 2011 to 1991) the audience can really fall for the play's top two heroines, Lara Hakeem's Poopay ("It's French for doll") and Sharon Carpentier's Ruella.
We're told Ruella is a good woman before we even meet her, and Carpentier sucessfully fuses spunk and innocuous trickery to make her character more than just a frightened bourgeois wife. Unlike Ruella, we need more time with Hakeem's Poopay, and the audience gradually learns that she really is a hooker with a heart. Hakeem steals the spotlight with sassy comebacks and teary-eyed moments of panic (a wimpy dominatrix, who knew?).
Our heroines are connected across time through Reece Welles, a wealthy scoundrel played by Wayne Kneeland who, in the opening scene, has just days to live. In a bout of eleventh-hour remorse, Reece slyly solicits Poopay to witness a confession implicating him and his business partner in the "accidental" drowning of his first wife, Jessica Welles, played by Laura Sorensen.
But their plan takes a turn for the worse. Reece's business partner, Julian, played by a murderous Terrence Shea, discovers the confession and threatens death to Poopay (but never touches Reece, as Julian is unmistakably in love with his ailing friend).
In fear, Poopay slips into the suite's side door and narrowly escapes her predator by time travelling "Dr. Who"-style. Upon exiting the time portal, Poopay enters the very same plushy hotel room she ran from, but twenty years in the past. The room is occupied by Ruella, Reese's second wife, who is just moments from being tossed off her hotel balcony by Julian.
After Poopay and Ruella connect the dots, they begin a time-travelling journey in an attempt to change not only their fates, but also the fate of Reece's first wife, Jessica. As the two women — who cannot complete their life-altering mission alone — get acquainted with one another, their interactions result in the purest form of comedy. ("What's it like being a prostitute?" a prim, night-gowned Ruella asks Poopay, clad in a leather corset and over-the-knee studded boots. "Is it fun?")
While I would strictly define this as a women's play — with heroines undoing the vile work of flat male characters — the men in the audience were often belly-laughing louder than their female companions, especially when bouts of bedroom farce were taken to the highest level of lewd.
Ayckbourn's ending, however tender, is fairly predictable. Although you may sense what's coming, you're still on the edge of your seat, wondering how the characters will get there.
Communicating Doors runs through Oct. 23 at 2nd Story Theatre, 28 Market St., Warren. Tickets are $25 for adults, $20 for students. For ticket information, call 247-4200, e-mail boxoffice@2ndstorytheatre.com, or visit the 2nd Story Theatre website.