Columbus's 'Sparrow Grass' Dark, Ambitious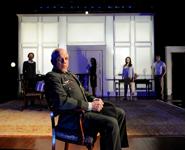 Trinity Rep's Artistic Director Curt Columbus is best-known for his creative interpretations of great works of art: Crime and Punishment, The Dreams of Antigone, and now Racine's Phedre, reworked in his latest production, Sparrow Grass. Columbus pushes Racine's tale of a woman's misdirected love far over the edge of reason, for his modern-day audience to watch spiral downward, crash, and burn.
Paula Pope, played by Phyllis Kay, lives with her teenage daughter, Teddie, in a lavish city apartment, though the family's maid, Izzie, says they have run out of money. Paula is married to a man she refers to as the Colonel, who hasn't been home in three years. But at the start of the play, we learn he's headed home.
The secrets start to unravel when the Pope men arrive. Nate (Tyler Lansing Weaks) shows up first, but unlike his father's homecoming, Nate's visit is unexpected. He's a tornado of tension, and not long into the play, the audience learns why: Paula and Nate, stepmother and stepson, had an affair several years back. While Paula seems to regret it, she still harbors a burning desire for Nate.
The incestual tangle doesn't end there. Eager to get her life back on track with the Colonel, Paula pushes Nate away, and so he threatens to take hold of Teddie. Fascinated by her older stepbrother, Teddie also falls into his trap.
Meanwhile, the Colonel returns home in military dress. He seems unaware of what's going on around him, and discloses to Izzie that he has trouble remembering things. Though it's never really fleshed out, the audience is led to believe that the Colonel was discharged from a contracted position overseas because of his failing mental health.
All of the major developments — the confessions, the incest, the insult — occur within the first two scenes, and the remainder of the play tracks the family's relentless decline. But while the playbill for Sparrow Grass faults Paula's "dark and misdirected passion" for the family's downfall, in truth, Paula is a mere pawn. Nate is the true instigator of all that is wrong with the Pope family, his behavior driven by his desire to deconstruct his father's world.
Nate is an unlikeable character from the very start of the play. When Nate can no longer control Paula, his destructive path leads to Teddie, and then moves to his father. Tyler Lansing Weaks convincingly portrays his character as emotionally unauthentic and a user. Even when he's writhing on the floor in supposed anguish, the audience sees right through it.
While the audience instantly loathes Lansing Weaks's character, it's difficult to connect on a deeper level to Phyllis Kay's Paula. Columbus's script borders on poetic, but Kay's truncated manner of speech — particularly during her monologues at the start and close of the play — deconstructs the poignancy of Columbus's words and feels artificial. Her lines tell us that she's burning for her stepson, but it's tough to feel the heat stage-side.
Jaime Rosenstein as Teddie, on the other hand, breathes song-like spirit into Columbus's lines. Teddie is the only character who progresses emotionally throughout the play, and, in the final scene, transforms convincingly from a naïve teenager into a woman forced to sweep up her crumbling family. Barbara Meek also gives a stand-out performance as Izzie, the family maid. Paula continuously boxes her into an occupational role, but Izzie is the only character fully aware of the goings on in the Pope household. Meek steals the show at several points, adding refreshing bits of comic relief and raw, believable emotion to the stage.
Sparrow Grass is the first of Three by Three in Rep, a theatrical event featuring three world premieres performed in rotating repertory on the Dowling Theater stage. Tickets for Sparrow Grass are available at Trinity Rep's box office at 201 Washington St., by calling 351-4242 and online at trinityrep.com.