Cocktails From Block Island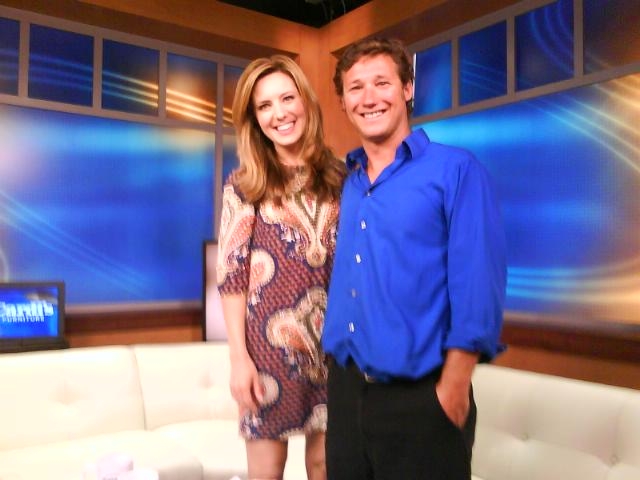 Last Friday afternoon I was feeling pretty damn happy, sipping cocktails at one of the best restaurants on Block Island, the one at Hotel Manisses, where the historic interior woodwork of the bar is offset by the flower-strewn outside patio with waterfall. Not too shabby a start to a perfect July evening. This Monday morning I got to see how they were made when Jerry Riker, bartender at the Manisses, mixed them up on Fox Providence's Rhode Show. (They didn't taste quite so good to me at 8 a.m., although I'm clearly a wimp; Rhode Show staff helped make sure none went to waste.)
Thanks to Jerry, who came off island for the night to do the show this morning, was handsome, composed and good company while we were hanging out in WPRI's backyard set, and supplied these recipes:
BLOCK ISLAND BLACK BERRY
2 ounces grey goose
1 ounce of cointreau
Splash of soda water
Half a fresh lime
Dash of blackberry puree, garnish with orange and lime.
Serve in martini glass.
STRAWBERRY GINGER MOJITO
Half a fresh lime
Small hand full of mint
Tsp of sugar
Tsp of diced ginger
Generous dash of strawberry puree, then muddle.
Add ice then 3 ounces of Bacardi lemon rum and fill to top with soda water and shake before serving. garnish with lime and serve in a pint glass.
SANGRIA MARTINI
Ounce each of:
Merlot wine
Remy Marten VS
Captain Morgans
Cointreau
Orange juice
Pineapple juice
Soda water
Splash grenadine
Garnish with orange serve in red wine glass with sugar rim.
Jerry's expecting his first baby with lovely wife Summer this summer, and also works as a builder on Block Island, as well as finding time to be on the island's Affordable Housing Board (and believe me, it's needed – try living somewhere where the average starter home goes for $650,000!). He's a great guy, and that blue shirt really brought out his baby blues. Plus the drinks are killer. Worth a trip to the island, or at least getting the cocktail shaker out at home.