Cocktail Party
Craft cocktails are all the rage, and Rhode Island's scene is getting bigger as fast as you can say, "Hey bartender!" We imbibed far and wide to find some of the best libations, locally made liquors and bar food. It's five o'clock somewhere!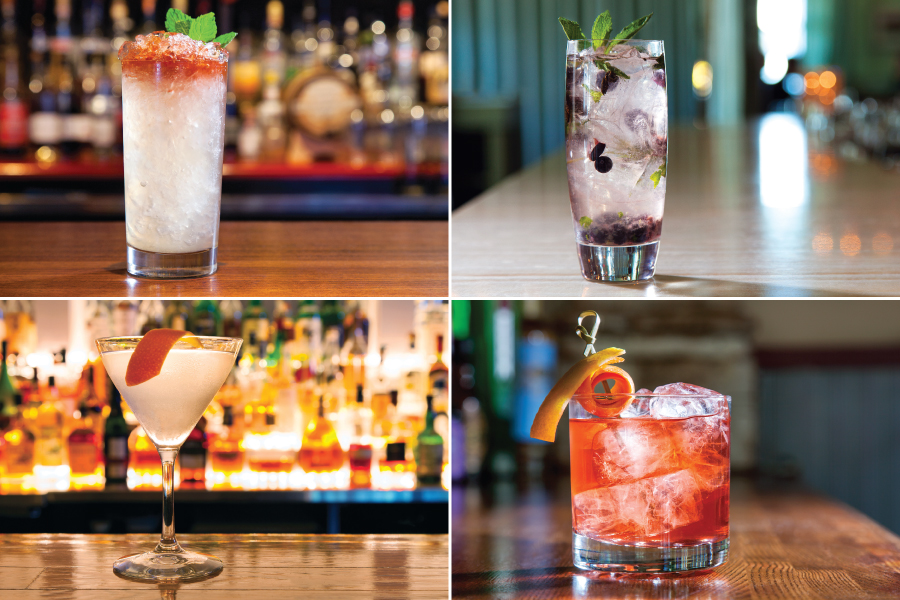 Classic Cocktails
Some things never change, but these variations make a good thing even better.
Vesper
Fluke Wine Bar and Kitchen
41 Bowens Wharf, Newport
849-7778, flukewinebar.com
How It's Made: Who says you can't mix vodka with gin? The mixologists at Fluke prove that you can. They even pour in some Cocchi Americano Bianco for good measure. Be sure to call yourself a cab.
The Scene: Enjoy a Fluke 75 or a glass of sparkling wine while you feast your eyes on a stunning sunset view of the harbor.
Daiquiri Time Out

Cook and Brown
959 Hope St., Providence
273-7275, cookandbrown.com
How It's Made: Combines double rum trouble (Lemon Hart 151 Demerara Rum and Diplomatico) with lime juice, Velvet Falernum and a dash of cinnamon over flawless block cubes, "a labor of love" for the bar.
The Scene: Housemade syrups and bitters are displayed along with unusual liqueurs and tinctures. Rattle off a few ingredients you like and see what turns up with the Bartender's Choice.
French 75

Justine's
11 Olneyville Sq., Providence
454-4440
How It's Made: This artful combination of gin, lemon juice, simple syrup, sparkling wine and a curl of lemon rind stays true to its name: Take a sip, and feel the delicious punch of a seventy-five millimeter to the taste buds.
The Scene: Cozy up in a blue velvet chair and watch hipness happen. Chatty industry workers sip $5 cocktails and nibble charcuterie while couples burrow in half-moon booths and girlfriends shop for fancy underthings at the in-bar lingerie shop.
Jack Rose

Local 121
121 Washington St., Providence
274-2121, local121.com
How It's Made: Travel back to Hemingway's 1920s by sipping Local 121's version that combines applejack and lemon juice with all-natural housemade grenadine. The final touch? A few drops of rosewater.
The Scene: The Taproom hosts deejays several nights a week and the small bar gets packed. On a quieter night, savor your cocktail under the light through the beautiful stained glass windows.
Moscow Mule

Vanity Supper Club
566 S. Main St., Providence
649-4667, vanityri.com
How It's Made: Served in a copper mug and composed of vodka, ginger puree, fresh lime juice, simple syrup and ginger ale, this refreshing cocktail was created in Manhattan — not Russia as its name implies.
The Scene: On weekends, this trendy below-the-sidewalk speakeasy transforms from restaurant to lounge. It's the perfect place to chat up an attractive stranger and dance the night away.
Monteleone

Lili Marlene's
422 Atwells Ave., Providence
751-4996
How It's Made: This New Orleans-inspired cocktail is a refreshing blend of rye whiskey, St. Germain, ginger liqueur, two types of bitters, lemon juice and soda.
The Scene: Disappear into the slinky dimness and indulge in classic drinks concocted by a bartender who makes clear he's no mixologist and is proud there's no cocktail list. Hunker down in a red velvet booth with a shrimp po' boy or just play some pool.
Negroni

The Avery
18 Luongo Sq., Providence
751-5920, averyprovidence.com
How It's Made: All great cocktails revolve around three main ingredients, and the Negroni is no exception. Prepared to perfection by bar manager Kelly Davis, this tipple settles the stomach and enhances the appetite with its judicious use of gin (Davis prefers Damrak), sweet vermouth and Campari.
The Scene: The drink's creator, notorious nobleman, playboy and drinker, Count Camillo Negroni, would feel right at home in the Avery's Art Nouveau secret situation.
Old Fashioned

The Grange
166 Broadway, Providence
831-0600, providencegrange.com
How It's Made: We have Don Draper to thank for bringing the original cocktail back into vogue. The Grange mixes up a dozen variations — Bully Boy whiskey, Pig's Nose scotch or Prichard's rye, among others — stirred with bitters, muddled sugar and ice.
The Scene: Chic vintage finds and swings hanging from the ceiling give off an earth-friendly vibe that translates all the way to the vegetarian menu. Saddle up to the bar for seasonal, classic cocktails with a twist and live music after 9 p.m.
Pear Sidecar

Mill's Tavern
101 North Main St., Providence
272-3331, millstavernrestaurant.com
How It's Made: This drink's secret is in the sauce: The brandy is infused with Bosc pears for five days. The result is a sweet cider-like concoction that's elevated by chai-spiced syrup and fresh lemon juice.
The Scene: With an upscale crowd and plush leather barstools, you'll feel like a big shot as you drink your way through the seasonal cocktail menu.
Pisco Sour

Los Andes
903 Chalkstone Ave., Providence
649-4911, losandesri.com
How It's Made: The signature drink of Peru is a riff on the whiskey sour, first made for an American tourist. White brandy (pisco), fresh-squeezed lime juice, simple syrup and egg white are shaken and served on the rocks with a dash of bitters and lime wedge.
The Scene: Heaping plates of South American fare often served with a side of live Bolivian music. The pisco sour pairs well with the restaurant's famous non-cocktail, the ceviche martini.
Sazerac

The Eddy
95 Eddy St., Providence
831-3339, eddybar.com
How It's Made: The best Sazerac this side of the Big Easy can be found at the wee Eddy. Sugar is muddled into the bottom of a glass, then Old Overholt rye and Peychaud's bitters are stirred with ice and strained into another glass sprayed with absinthe. A lemon peel is squeezed and rubbed around the rim for a flash of citrus while you sip.
The Scene: Watching barman Jay Carr make any drink is a show, even more so if you order the Bartender's Choice. He swiftly stirs, shakes and pours at the horseshoe-shaped bar in the contemporary space with exposed brick walls.
Tom Collins

The American
311 Iron Horse Way, Providence
865-6186, theamericanrestaurantprovidence.com
How It's Made: Think of it as sparkling lemonade with spirits. Lemon juice, sugar and soda water are stirred with Bombay dry gin and served with ice in a tall Collins glass.
The Scene: If Frank Sinatra came back from the dead looking for a nightcap, he'd end up at this high-class hideaway, once home to the Rhode Island Locomotive Works from 1867 to 1906.

Old Favorites
Tried and true cocktails tweaked to perfection.
Bloody Mary

Succotash
373 Richmond St., Providence
228-7222, 
succotashri.com
How It's Made: A checklist begs you to build your own beverages, including choices for spirits (vodka, gin or bourbon), trimmings (bacon, beef jerky, jalapeños, oysters), and spice level (from mild to fire).
The Scene: Where hangovers go to die. If a potent bloody and a heaping plate of waffles Benny can't cure what ails ya, you might as well go back to bed.
Gin and Juice

Farmstead
186 Wayland Ave., Providence
274-7177, 
farmsteadinc.com
How It's Made: Gin and fresh pureed carrot, ginger and lime juices come together for a cocktail that pays tribute to the '90s Snoop Dogg ditty.
The Scene: On the first Sunday of each month, Biggie and Brunch features a deejay spinning Notorious B.I.G., Dr. Dre and '90s rap mash-ups over quirky items like a mortadella pancake sandwich.
Mimosa

Duck and Bunny
312 Wickenden St., Providence
270-3300, theduckandbunny.com
How It's Made: A mimosa can be as simple as slipping a little champs into your O.J., but this snuggery plays it up with Lindeman's Lambic Framboise or Peche (a Belgian style of fruit beer in strawberry or peach flavors) for a more refined reason to imbibe with your breakfast.
The Scene: Like a cozy English tea house where cupcakes will always trump crumpets.
Mudslide

Trader Vic's
Champlin's Marina, 
80 West Side Rd., Block Island
466-7777, champlinsresort.com
How It's Made: Equal parts Kahlua, Bailey's and vodka, per usual, but this bar takes the frozen treat to the next level. Ask for a blended-in banana and get a taste of island paradise.
The Scene: Throw on your Sperry's — or a Mount Gay Rum Race Week hat, for good measure — and mingle with the boat folk at this harbor-side tiki bar. Sail in on Labor Day weekend for mock Halloween, Christmas and New Year's parties on the dock.
Painkiller

north
3 Luongo Sq., Providence
421-1100, foodbynorth.com
How It's Made: Pusser's Navy rum, coconut milk, palm sugar, fresh-blended pineapple juice, orange juice, crushed ice and nutmeg swirl together to form an adult slurpee that lives up to its name.
The Scene: Intimate, quirky and fun; like hanging out with your coolest friend from college — the one who traveled to Asia and South America and developed a penchant for hot peppers and potent cocktails.
St. Germain Cosmo

Loie Fuller's
1455 Westminster St., Providence
273-4375, loiefullers.com
How It's Made: The thirsty flock for "the pink drink," a mix of St. Germain, a French liqueur made from elderflower, Absolut Ruby Red vodka, and "magic juice," also known as ruby red grapefruit juice plus lemon juice.
The Scene: The beautiful murals, soft lighting and one-of-a-kind woodwork evoke the Parisian years of the restaurant's namesake. Wander into the cozy bar and the regulars might strike up conversation.
The Experts
Jen Ferreira
Bringing national attention to our local cocktail scene, one drink at a time.
Career: East Coast brand ambassador for Lucas Bols. Previously worked at Cook and Brown Public House as bar manager for two years. I also got the chance to go to the Tales of the Cocktail conference.
How did you get into bartending? I started back when I was eighteen at Club Hell in Providence. I worked three jobs through college. I went to school for art history, and I started thinking, "What am I going to do with that?" At the time, I was killing it with bartending. I had to have that conversation with my mom. "Mom, I am going to drop out of school and become a bartender full-time." She was actually cool with it.
What does your job involve? Lucas Bols is a brand based out of Amsterdam. We are the oldest distillery in Europe: 1575 is when it started. When I decided to be a brand ambassador, I wanted to make sure it was for a brand I believe in. I travel the East Coast, focusing on education and teaching bartenders about our products and getting them to believe in them as much as I do.
How did you react to the 2013 Cook and Brown nomination for a James Beard Award [for Outstanding Bar Program]? I cried. I was blown away that finally the James Beard Foundation, which has always been known for food, is now considering cocktails as part of the culinary world.
Bartender or mixologist? I prefer bartender. A mixologist is the one who is coming up with drinks. A bartender is a job where you are coming up with drinks and tending to guests. It's a whole social thing. Mixologists don't know how to talk to guests. They don't remember that you have a High Life every time you come in. That you drink three and then you leave. You miss out on the human connection, where you are there to take care of guests. You are there to make whatever they want. If they come in and want a Sex on the Beach, as long as I have peach schnapps, I'll make it.
What she's drinking: The Martinez, the precursor to the martini. It dates back to the mid-1800s. I like to use Bols Genever, sweet vermouth, maraschino liqueur and orange bitters.
Favorite ingredient: Sea salts. It brings out flavors that weren't there. You can make a saline solution and add a few drops and it opens up the drink.
Favorite place off the clock: The Eddy. I live across the street. I am always there.
Craziest on the job story: You don't even want to know. Things that shouldn't be put in print. I used to work fetish night at Club Hell. Knocking on the bathroom door because you think someone is throwing up and then whoa!
Favorite cocktail book: The Bon-Vivant's Companion by Jerry Thomas. It was the first cocktail book, written in 1862. That was when drinks were being invented. It's nice to look back to see where it started and where it is now.
Why do you love your job? I have the best job in the world. You have a weird schedule but you get to look at the world in a different way. My nine-to-five is three-to-two. When you get out of work, you don't go right to bed. You need to unwind, watch a movie and have a sandwich. Everyone's in bed, and you have the place to yourself. You own the world for a bit.
Hangover cure: Fresh fruit. Fruit smoothies. Or a shot of Genever, of course. –Jamie Coelho

Willa Van Nostrand
Unusual ingredients inspire Little Bitte's palate-pleasing drinks.
She's usually decked out like a 1950s housewife with her hair up in a strategically placed high-top bun, poppy red lipstick and a kitschy apron preserving her latest vintage frock. But tonight, Willa Van Nostrand's strawberry blond locks fall freely on her shoulders and she's dressed in black skinny jeans and a cozy T-shirt.
We settle up to the u-shaped counter at birch in downtown Providence, where bartender Tessa Calderon is mixing drinks. Van Nostrand owns Little Bitte [Little Bitt-ah], an artisanal cocktail business that serves signature beverages at weddings and private parties. She used to work with birch owner Heidi Sukle at Cook and Brown years ago. "I am a big fan of Heidi and Ben Sukle," she says, and that's why we're here.
We order the Goodwin, made with grapefruit-infused vodka, charred grapefruit and Aperol and served in a coupe glass, developed by Heidi. "Charred anything and I'm sold," says Van Nostrand.

"I grill half of it until it's blackened around the pith, then I juice it and double strain it," says Calderon. The drink is the color of the fruit's flesh, it's sweet and acidic, and it goes down easy with some surprise hush puppies that appear in front of us. They're not on the menu tonight, but chef Ben Sukle hooks us up.
We order his trademark pierogis, raw Rhode Island fluke and heirloom lettuce to go with our drinks. The fluke arrives topped with flower petals. "Is that marigold on there? Wow!" says Van Nostrand. She's into edible blossoms because she grew up on a farm in Rehoboth, Massachusetts, and her mother is a herbalist. Her father bartends at E and O Tap and working with fresh herbs and plants is in her blood. "My green thumb influences my cocktail life," she says.
The most memorable infusion she made included the flower of the medicinal spilanthes plant. The button-like red and yellow blossom was used for a cocktail collaboration with Mission Chinese Food in New York. "It's known as the herbalist's dental drug, so if you put it on your gums, you'll lose feeling," Van Nostrand says. "I was looking for ingredients to entice different senses. It was weird but really cool."
It's time for another beverage. This time it's the Goosefoot, a herbal sweet drink made with vodka, sorrel and lemon balm. Calderon explains that fresh sorrel is pureed in a blender with simple syrup, which gives the drink its delightful green color.
"It looks like the inside of a kiwi," Van Nostrand says. That's how you know there's a chef behind the cocktails. There's as much attention to detail paid to every drink as there is with each plate.
In addition to running her business, Van Nostrand's writing a cocktail recipe book, and she's been tapped for a pilot for a vintage culture reality television show (details are hush, hush).
Frequent trips to Newport and New York for events mean she's a very busy gal, but not too busy to run a cocktail program at Machines with Magnets. She also bartends every other Friday at E and O with her dad.
Van Nostrand explores the local cocktail scene at Justine's, Loie Fuller's and El Rancho Grande. "Honestly, my friends and I order a pitcher of margaritas and we're set," she says.
It turns out, the lady who creates some of the most innovative cocktails in the state also has a thing for margaritas and beer. "When I am not drinking a cocktail, I'm drinking a High Life or a Bud Light," she says.
It's all a part of what makes a good bartender. Or mixologist? "Both, because I'm both," she says. "Bartender signifies that you can make a good drink and pour the perfect draft with a half-inch of head. I think mixologist means you delved into the history of cocktails and find inspiration in the classics." Yep, she's both. –J.C.
Frank Martucci
A Twin River Casino bartender educates the next generation on cocktail culture.
Career: General manager of beverage operations at Twin River Casino; national vice president of the United States Bartenders Guild.
Where we met: The Dorrance
What he's drinking: Blood and Sand, a Prohibition-era cocktail that includes scotch, orange juice, cherry liqueur and sweet vermouth. "It has a smokiness with chocolate notes, but the smokiness can vary depending on the scotch used."
What does your job involve? I oversee beverage operations throughout the facility, including menu development and sourcing with distributors, as well as the hiring, training, educating and managing of staff.
Why do you love your job? Every time you pick up a bottle, there's a story behind it. It doesn't matter if it's vodka, whiskey or gin; there's someone with passion who created that bottle.
Signature drink at Twin River: The Wink. It's my homage back to Rhode Island's rum industry. It includes Thomas Tew rum, orgeat, Creole Shrubb, John D. Taylor Velvet Falernum and pineapple bitters.
Do you make anything at home? Pineapple bitters, but not the ones we use at the casino.
Craziest on the job story: While I was working the bar, I once saved a friend of mine who was choking on prime rib.
Strangest thing you've seen from behind the bar? I've seen proposals, I've seen people die, I've seen people having s….
Why is being a bartender a tough job? What is a bartender? You're part psychologist; you're part banker because you're handling money; and you're part doctor, because you're prescribing alcohol. You also have to play part cop, when you have to tell someone they've had enough. Responsible serving of alcohol is such a huge part of it.
What's the purpose of USBG? It's all about education. We network with bartenders in the state and the nation who are passionate in the industry.
Favorite cocktail book: Imbibe by David Wondrich.
Proudest accomplishment: Sharing my passion for the business as the United States representative for the World Cocktail Championship in Prague. Also, working with industry colleagues and friends for Project Broken Wheel. We collect bikes, fix them up and donate them to children in need. –J.C.
Jonathan Pogash
The Cocktail Guru dreams up signature drinks for any occasion.
Mason jars filled with vanilla beans, hibiscus petals and green tea and bottles of housemade flavored simple syrups and grenadine line the bar at Diego's in Newport. A wall of glassware and tiki mugs stands behind it. The Cocktail Guru, Jonathan Pogash, loves this spot for its ingredients and he identifies each one by sight. "It's a cornucopia of fresh fruits and homemade syrups," he says, sipping the Inglorious Bastard, a drink made with mezcal, brandy, simple syrup, citrus and bitters with a rosemary salt rim.
Pogash knows a good bar when he sees one. As the Cocktail Guru, he creates drinks, designs bar layouts and menus and hires and trains staff for a living (but not at Diego's; he just likes what the bartenders do here). He's also the Northeast regional vice president for the United States Bartenders Guild, and he edited the Mr. Boston Official Bartender's Guide: Seventy-Fifth Anniversary Edition. "That's an iconic bar book. We tore it apart and made it relevant for today's bartenders," he says. "I tested recipes and edited 300 to make them work and credited recipes to some of the creators, which had never been done before. It was a huge honor."
The Cocktail Guru makes TV appearances, travels to events across the country and works with liquor companies to develop recipes. He once served a cocktail made with edible silver leaf at the Newport Mansions Food and Wine Festival. "Those were the opulent years," he says.
Pogash originally moved to New York City to become an actor (he starred in a Verizon Wireless commercial that featured the first camera phone), but his father encouraged him to get a bar job to supplement his income. Pogash grew up in the business. His dad worked for Moët Hennessy USA. While bartending at the Russian Tea Room and Town in New York City, Pogash realized he could make a career out of crafting cocktails. So in 2006, he bought the domain thecocktail guru.com, and got to work.
Now his father works alongside him. "I wouldn't be here without my father in more ways than one," he says.
After marriage, Pogash moved with his wife to Dartmouth, Massachusetts, her hometown, where they raise their two children, Benjamin, three, and Juniper, almost one. "Juniper is an obvious reference to gin and my work," he says.
He's working on opening a bar on Martha's Vineyard in May called Beetlebung, but he continues to spend time in New York to advance his business nationally. A recent appearance on the "Today" show had him serving up drinks for February's big game, and he has a monthly cocktail segment on "The Rhode Show."
He also designs signature cocktails for weddings, many in Newport (weddingcocktaildesign.com). The most memorable one was made for a nurse who delivers babies and the funeral director she met at her grandmother's funeral. The drink? "The Improbable Meeting." –J.C.
Finger Food
Bar bites beyond popcorn and nuts.

Malt
150 Broadway, Newport, 619-1667
An encyclopedic selection of bourbons and whiskeys for brown liquor-lovers with plenty of tapas for noshing.
The Snack: Thai shrimp nachos on wontons heaping with leeks, sweet red peppers, Thai basil and red coconut curry sauce.
The Drink: If not bourbon, then the Mona Lisa, made with ginger vodka, lavender and lemon juice to balance Thai curry flavors.

Chomp
440 Child St., Warren, 289-2324, chompri.com
This spot used to be an A and W root beer stand but now it's serving playful po' boys and burgers.
The Snack: Maple bourbon and bacon wings blend sweet and smoky flavors.
The Drink: The Kentucky Coffee Milk takes a Southern spin on a Rhody favorite with Kahlua, cream and house-infused coffee bourbon made with Pawtucket's New Harvest beans.

The Eddy
95 Eddy St., Providence, 831-3339, eddybar.com
Sure they make some of the best cocktails around, but neglecting to taste the bar food is like going to a jazz club with earmuffs.
The Snack: Bavarian soft pretzels with maple butter to soak up that strong libation.
The Drink: An Old Fashioned or one of the seasonal revelations, like the Orange Julius Caesar.



Perks and Corks
62 High St., Westerly, 596-1260, perksandcorks.com
Live music begins beyond dinner time, and by now you're hankering for a bite to eat.
The Snack: Crispy, buttery bread and gooey cheese? Yes, please! We like the Davis (mozzarella, tomato, prosciutto).
The Drink: Known for its housemade limoncello and martini list, opt for the Apricottini made with citrus vodka, apricot schnapps and brandy-soaked apricots.
–Jamie Coelho
Signature Sensation
Inventive libations for the daring drinker.
Capernoited

Ella's
2 Tower St., Westerly
315-0606, ellasfinefoodanddrink.com
How It's Made: It's a classy word for tipsy, and that you will be after sipping this elixir served straight up with Fernet Branca, Luxardo Maraschino liqueur, freshly ground ginger juice, and housemade Buddha-spiced and lavender infusions.
The Scene: Ella's isn't strictly fine dining domain. In fact, they have a more casual lounge and bar where on Tuesdays, you can enjoy $3 fancy tacos (or four for $10) and two-for-one Wagyu burgers on Thursdays (during the off-season) with year-round $5 well margaritas and more.
Controversy

New Harvest Coffee and Spirits
130 Westminster St., Providence
272-4604, newharvestcoffee.com
How It's Made: Gin and cold-brewed coffee, sweetened up with blackberries and orange. Like the Prince song that inspired it, the drink takes a "no rules" approach to mixology.
The Scene: A slice of Brooklyn in downtown Providence, where artisan caffeine, a great whiskey selection and craft cocktails share bar space with Seven Stars pastries and soft pretzels from Foremost.
Del's Delini

Circe
50 Weybosset St., Providence
437-8991,
circerestaurantbar.com
How It's Made: An innocent childhood memory gone wild with Absolut Citron vodka, lemonade, housemade simple syrup, limoncello and diced lemons over crushed ice.
The Scene: Where the grown-ups go to party. The upscale restaurant turns into a pickup haven with red carpet-worthy patrons and off-the-clock Patriots players.
Harbor Cask

The Boat House
227 Schooner Dr., Tiverton
624-6300, boathousetiverton.com
How It's Made: Warming rum from Newport's Thomas Tew distillery mixed with orange liqueur, sweet vermouth and bitters. The blend is then oak barrel-aged in-house and served chilled with a cherry and orange peel. The Scene: Elegant and comfortable, with gorgeous views of Narragansett Bay serving as a backdrop for a stylish dinner of fishermen's stew or a hearty steak.
Indian Summer

XO Cafe
125 North Main St., Providence
273-9090, xocafe.com
How It's Made: Just like an Indian summer, this cocktail brings a lot of unexpected heat. Based on the mango lassi, it combines gin, habanero-infused syrup, muddled cucumber, lemon, apple, orange and mango juices with vanilla yogurt.
The Scene: It's a great spot for everything from a first date to girlfriends' night out. Check out ladies nights on Wednesdays, when women enjoy a complimentary three-course tasting menu with the purchase of a cocktail at the bar.
Not Your Kids Root Beer

Midtown Oyster Bar
345 Thames St., Newport
619-4100, midtownoyster.com
How It's Made: Bottled Stewart's root beer is on the menu for the little ones, but the kicked-up version of the kids' favorite is made with ginger beer, Captain Morgan, lime juice, maple syrup and Art in the Ages root liqueur.
The Scene: Choose between the lively bar area or friendly dining room where groups and families share raw bar delicacies, fish and chips and lobster rolls. It's New England fare done justice.
Pear Flower

Eleven Forty Nine
1149 Division St., Warwick
884-1149, restaurant.elevenfortynine.com
How It's Made: Cool and refreshing as a spring breeze, with pear vodka, ruby red grapefruit juice, simple syrup, crushed ice and St. Germain, a French liqueur concocted from elderflower blossoms.
The Scene: Lots of weekend action in the bar, which comes alive about 6 p.m., but also popular with couples and girls doing a night out on the town.
Pine Away

The Dorrance
60 Dorrance St., Providence
521-6000, thedorrance.com
How It's Made: Based on the Noble Hawaiian from the Trader Vic's cocktail book, bartender Jonathan Szpila subbed in pisco for gin and lemon juice, and added pineapple juice, orgeat syrup, fresh lime juice and grated nutmeg. "I thought once you had this drink you would be pining for another," he says.
The Scene: Where all the cocktail geeks go to wax poetic about drinks. Sit at the bar and watch the barkeeps perfect their craft using the finest spirits, liqueurs and bitters in the business.
Tamarind Margarita

Rasa
149 Main St., East Greenwich
398-2822, indianrestaurantsri.com
Rasoi
727 East Ave., Pawtucket
728-5500, indianrestaurantsri.com
How It's Made: The sweet tamarind fruit is the star of the show, blended with tangy masala, tequila, mango juice, lemon juice and a salted or sugared rim.
The Scene: Rasa's Indian menu is a welcome break from Main Street's diners and Italian eateries in East Greenwich. Sit at the bar and sample cocktails over naan and dosa. Or head to weekend brunch at Pawtucket's Rasoi, where you can enjoy a buffet of vegan and gluten-free treats over fun brunch cocktails.