Closing the Gap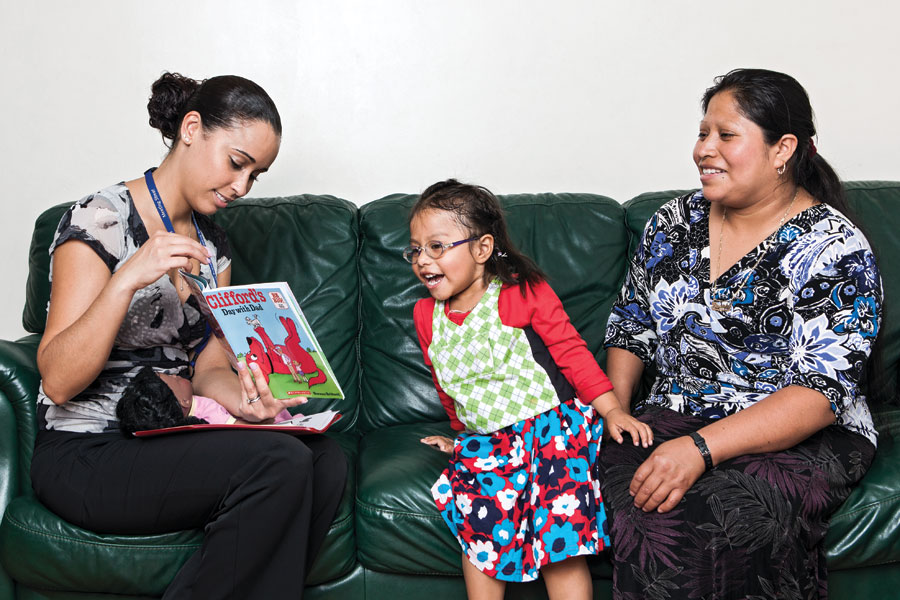 Rosario Ramos noticed last year that her toddler, Evelyn, wasn't talking a lot. A dark-haired girl with big brown eyes, Evelyn also didn't like to share with her two older sisters. And Ramos had additional reason to be concerned: Evelyn wasn't her only child who was reluctant to speak. Ramos's middle daughter, Tomasa, who was in kindergarten, was working with a speech therapist. And her oldest daughter, Guadalupe, didn't really start talking until she was six.
When Ramos was recruited for a pilot program called Providence Talks last fall, she was initially undecided about it. The innovative program asks parents to use a special recorder to count the words they speak to their children over the course of a day. It also measures how often they engage in conversation in return.
Targeted to low-income families with children ranging from two to thirty months old, parents who volunteer to participate in the program agree to meet regularly over the course of a year with a home visitor who coaches them on how to better converse with their children.
The program is intended to reduce what is commonly known as the word gap. Research that dates back to the 1990s shows that children who grow up in low-income households hear about thirty million fewer words by age three than kids from wealthier homes.
"By the time they are three years old, they are already at such a huge deficit that we would have to make a tremendous amount of commitment and investment in order to reverse this trend," says Kenneth Wong, chair of Brown University's education department, who is part of a multidisciplinary team working on the project.
Part of the fallout from the word gap is that by the time those children reach kindergarten, many of them aren't ready for school. In Providence, two-thirds of kids arrive at kindergarten unprepared to learn.
But last year, the city got the opportunity to try a new approach to shrinking the word gap when it won a $5 million grant over three years from Bloomberg Philanthropies to implement Providence Talks. Policy makers around the United States are working to increase the number of words young children hear: Hillary Clinton, for example, recently cofounded a nonprofit called Too Small to Fail that uses media to emphasize the importance of reading to Latino children.
But Providence is the first city addressing the word gap as a municipal problem. The city beat out more than 300 other cities in the Bloomberg competition. Providence Talks has received international attention.
The program pairs up community service providers in Providence who are already working with families with Brown researchers and the LENA Research Foundation in Colorado, which provides the technology and analyzes the number of words the parents speak to their children and their responses.
Providence Talks enrolled about fifty families initially, but they hope to expand the program to serve 500 in Providence by this fall and within three years work with 2,500 families. Once the children age out of the program, they plan to continue to track them through other early childhood programs and test them to see if they are ready when they reach kindergarten.
If Providence Talks works, it could be scaled and replicated around Rhode Island and the United States.
"I hope that this will be very successful and will help transform the way that we educate kids around the country," says Providence Mayor Angel Taveras.
Despite Ramos's initial reluctance, she attended a meeting last fall for Providence Talks. Andrea Riquetti, who runs the program and recruited her, showed her the digital language processor (DLP), which essentially works as a word pedometer, and a specially designed vest with a pocket for the DLP that each child wears during recording. She also explained the charts that Ramos would receive documenting her progress each time she met with a home visitor.
With all three of her daughters on her mind, Ramos decided to participate. And if the thinking behind the program pans out, Evelyn's future gets brighter each time her mother helps her put on the program's green-checked vest, slips the recorder into the vest pocket and opens a book.
It's not hard for a teacher to pick out the kids who arrive at kindergarten unprepared. They might cry the first few weeks of school or not be able to sit still or follow directions. Sometimes they can't use scissors or don't know how to hold a pencil.
So some teachers find themselves playing catch up to try and build the kids' vocabularies, drawing pictures and labeling items — basically spending a lot of time teaching kids things they should already know.
With Common Core and other new standards, however, kids are supposed to know how to read by the time they leave kindergarten. "But if they're still building vocabulary half the time, then it's really hard to get to that point," says Riquetti, who is also a former kindergarten teacher.
The idea that the number of words children hear from an early age can affect their development is not new. University of Kansas researchers Betty Hart and Todd Ridley performed a nearly decade-long study of forty-two families, recording a full hour of conversation between the children and their parents every day for three years and then analyzing the data.
Their findings, released in 1995, showed that there was "a very tight link between the academic success of a child and the number of words the child's parents spoke to the child to age three."
In the first three to six months of a child's life, the word gap between children from different socioeconomic backgrounds isn't that big, Wong says. But after six months, when some parents talk to their children consistently and others don't, a cumulative effect begins to grow.
"And by the time they are two-and-a-half to three years old, that deficit could be as wide as twenty-five million to thirty million words," he says.
That gap profoundly affected kids' IQ and language skills, Hart and Ridley found. A three-year-old who heard an average of 7,430 words per day had an IQ of seventy-nine; one who heard 12,810 words had an IQ of 107, while a third who heard 21,105 words had an IQ of 117, their results showed.
The effect is almost irreversible by the time the child reaches four, they found. But a child's academic success by the time they get to be nine or ten is directly related to how much they are spoken to and converse with their parents during their first years.
It was the link between elementary school success and the number of words children hear during their first few years that led Mayor Taveras to his interest in early childhood education and the eventual establishment of Providence Talks.
"If kids are reading at grade level by third grade, they're much more likely to graduate," he says. "If not, they're much more likely to drop out." Or become part of the criminal justice system.
Early on, Taveras and his administration had made third-grade reading a priority. Research shows there are three components to making it happen: reducing chronic absenteeism, making sure kids have access to high-quality learning in the summertime and preparing them for kindergarten, he says.
Providence has made progress getting kids to school and providing summer learning opportunities, Taveras says. So they decided to work on kindergarten readiness.
But paving the path to success for children starts long before they first start school; it begins when a child is an infant. Eighty percent of the white matter of the brain is developed within the first three years of life, Taveras learned at a conference in 2011.
The mayor, who was expecting his first child at the time, was fascinated.
"I've always known about reading, but I didn't know how important it was to just engage children in conversation, to talk to them, how it can have such a huge impact in terms of growing their vocabulary and in terms of their brain development and really making sure they start school ready to learn," he says.
Taveras's own life experience also led to his interest in early childhood education. Growing up in Providence, he wasn't really read to as a child. But he went through the Head Start program and later graduated from Harvard.
What has changed since the University of Kansas researchers came out with their findings in the 1990s is technology. The LENA Research Foundation developed the digital language processor, the world's first automatic tool to collect and analyze words. It's now used around the world with populations ranging from preemies to people with autism and Down syndrome and with cochlear implants.
Over a ten- to sixteen-hour period, the recorder measures the number of words adults say to a child, which can be conversation or reading. The DLP also records the interactions between adults and children, be it parents responding to an infant's cooing or full-blown conversations with a child who is thirty months old. The analysis shows an hourly breakdown, so parents can identify times of day when they might be talking to their children more or less. And it measures how much time the child has spent with electronics such as the TV.
Once the recording is complete, the home visitor working with Providence Talks from one of the participating community service providers plugs it into a computer and uploads the data. Conversations between parents and their kids are translated into zeros and ones that correspond to word count. The information is then sent to LENA for analysis. No one can hear the recordings and they are deleted.
The results are then translated into simple charts and graphs that home visitors in the program discuss with the parents when they meet again.
Home visitor Stephanie Taveras shows a book to Evelyn Chic and her mom, Rosario Ramos. Taveras with Providence Talks director Andrea Riquetti. Children in the program wear the vest for ten to sixteen hours a day during recording.

Mayor Taveras has experienced firsthand how the program is working. Though his family does not fit the low-income profile, they are also participating in the program with their two-year-old daughter, Farah.
It's a warm Tuesday in early June when Stephanie Taveras pulls up to Ramos's home on the West Side of Providence. A home visitor from Meeting Street, she's been working with Ramos and Evelyn several months, and they are about to make the transition to monthly visits.
They're one of more than thirty families Taveras is working with. Home visitors bring a new book for the child each time if the family has completed their recording.
The walls in Ramos's front room are lined with pictures of her daughters and certificates of achievement from their school and Head Start. Evelyn, who is about to turn three, runs out of the room into the kitchen. Taveras and Ramos sit down at a children's table stacked with books in English and Spanish such as If You Give a Mouse a Cookie, From Head to Toe and The Very Hungry Caterpillar.
"She's going to be shy today," says Taveras, who is no relation to the mayor. "Evelyn, come play with me!"
Taveras pulls up Ramos's and Evelyn's results from their most recent recording on May 28 on her iPhone and discusses them with Ramos in Spanish. Ramos is originally from Guatemala and her first language is K'iche. She also speaks Spanish and is learning English.
Taveras tells Ramos they did very well.
"It went up from the last time, from sixty-four to ninety-five for adult word count," Taveras says of the percentile Ramos or her husband spoke to Evelyn during the recording day. For that session, it totaled more than 19,000 words. The goal for the program is between 15,000 and 20,000 words per day.
"And then it went from eighty-eight to ninety-two for conversational turns," Taveras says. That day, Evelyn responded to or conversed with her mother or father 932 times.
They've made significant progress since their first recording on November 11, 2013. Ramos started out in the fifth percentile for the number of words she spoke to Evelyn over the course of the day, Taveras says. With the May 28 recording, she progressed into the ninety-fifth percentile.
As for Evelyn, her responses to her mother or father started out in the twenty-sixth percentile. As of the May 28 recording, Evelyn had moved into the ninety-second percentile. (Families participating in Providence Talks are compared with families in LENA's database.)
Evelyn scampers back into the living room, carrying a stuffed purple monkey and brown dog and climbs onto her mother's lap.
"Evelyn, you want to make a book with me?" Taveras asks.
"Quieres hacer un libro con Stephanie?" her mom asks her in Spanish.
"No, not today?" Taveras asks Evelyn and pulls out some cutout pictures. "I brought a book that we can make with some of your favorite toys. There's a doll, that's sisters, because you like to play with your sisters, right?"
"Look what I have," Taveras continues, holding up a picture of a little girl feeding chickens, which the family keeps in their backyard. "Where's the chickens? Did you feed them today? You didn't feed them? Did they lay any eggs today? No eggs today?"
Taveras asks Ramos if their chicken laid any eggs that day. She replies that Evelyn was asleep when she collected them.
Evelyn begins to play with her tea party set and Taveras launches into that day's curriculum with her mom. She explains to Ramos that they will be talking about the importance of play in the development of children.
It's one of the sixteen lessons in Providence Talk's curriculum. Others include describing feelings and emotions, reading to your child every day, repeating and expanding on what your child is saying and the importance of daily routines.
Taveras tells Ramos that play helps children develop self-esteem and feel good about themselves. It also helps them deal with tragedies or problems. Play can also help children learn control and develop better relationships with other children.
"Have you noticed that sometimes she picks up the baby and she holds her and feeds her?" Taveras asks Ramos about one of Evelyn's dolls.
"Yes," Ramos responds.
"So through play, she understands how to take care of others, the same way that you take care of her," Taveras says.
Play also helps kids develop creativity and imagination, as well as physical coordination, Taveras says. "She plays outside with her sisters, right?" Taveras asks.
"Yes," Ramos replies.
Taveras adds that children love when their parents play with them. It's important to take some time and just play with your child and follow their lead with things that they like to do.
"Playing should be fun for both of you, or in your case, for all four of you," Taveras says. It also helps a parent learn about a child's personality and how they will react to different situations in life.
She recommends some good toys for kids Evelyn's age, like puzzles and blocks, which can be made out of anything stackable.
Then they move on to making a book out of the pictures and red construction paper Taveras has brought. Ramos pulls Evelyn onto her lap and again, Taveras shows Evelyn and Ramos the pictures: a baby doll, a car, two chickens and images of a little girl drinking from a sippy cup, coloring, playing with her sisters — all things Evelyn enjoys.
"You want to glue, Evelyn? You've got to put your doggie down," Taveras says. "You have to glue a picture right up here. Leave a space for mom to write a sentence."
Evelyn rubs the glue stick on the construction paper, presses one of the pictures on the page and smiles.
"Nice," Taveras says. "Ready for another one?" She picks up a picture of a little girl with a doll and Evelyn uses the glue stick again. "Nice job, good circle."
Taveras turns back to Ramos and reminds her of the importance of talking during play.

"Okay good," Taveras says. "We have three more pictures. You're doing a nice job making a book."
In English, Evelyn says her sister is going to say "wow" to her pictures.
"One more. Last one, then you and mom are going to write your sentences," Taveras says. "Very good, nice job."
"It's all done," Ramos says after Evelyn glues the last photo.

"Do you want to help staple your pages?" Taveras asks. She puts her hand over Evelyn's and helps her use the stapler to attach the pages.

"Can you push? Push? Very good. We need two more. Push! Very good. One more.…" Taveras says.
"Should we write something in it?" Taveras asks.
"No!" Evelyn says.
"She knows we do not write in books!" Taveras says with a laugh. "Should we write about your pictures? What do you think? What's that?"
Taveras reminds Ramos how they talked at the last visit about the importance of asking open-ended questions.
"It could be that she's a little bit shy right now, but later, you have the opportunity to ask her again and you can write down what she says," Taveras says.
Taveras points to a picture of a doll in the book and asks Evelyn what the baby is doing.
"Milk," replies Evelyn.
"Is she drinking the milk?" Evelyn nods. "Very nice, she is drinking her milk," Taveras says. "Should we write that down?
Should we write baby is drinking her milk?"
Taveras points out to Ramos that Evelyn is already taking turns in conversation, which is a great skill for her to have.
Brown researchers are working to assess how effective the program has been, but early results have been promising: Providence Talks has seen increases of between 50 and 60 percent in word count and conversations in families that had been in the program for three months.
Meanwhile, Ramos says she's already seen results. Since Evelyn started the program, her daughter's behavior has changed.
She shares now, her language has improved and it's made her a lot more outgoing. And she talks a lot more with her older sisters.
Sometimes when Evelyn's older sister Guadalupe is doing her homework, she will ask her mom for help, and Evelyn sometimes comes up with the answers, Ramos says with a laugh. Every once in a while, though, Evelyn will tell her mother that she has to talk to her more, because she's little.
Now Evelyn will ask her mother to read a book to her. And after she's done, she turns to Guadalupe and tells her that it's her turn to read it, because she wants to hear it over and over again.