Clean Slate
When Dean Esserman became chief of the Providence police, he inherited a corrupt department and a soaring crime rate. But this new-style cop who never walked the beat has cleaned up both.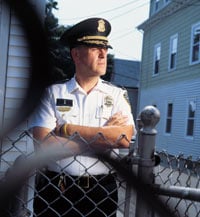 On a warm spring afternoon, Providence's Ivy League-educated police chief, Colonel Dean Esserman, prepares for another in a series of lectures. His thick, black- framed reading glasses perch on the end of his nose, and he looks every bit the college professor ready to impart the knowledge he's acquired from his student years at Dartmouth and then at New York University, and from the time he's spent as a law enforcement leader.
His audience sits mesmerized as they listen to him read. His speech is measured and precise, the voice of a lawyer.
The book is Nothing Ever Happens on 90th Street, and his students are a group of fourth graders cross-legged on the floor at the Vartan Gregorian elementary school in the city's Fox Point section.
This is Dean Esserman, a driven, passionate man with a big ego, a new-style, highly educated technocrat trying to build trust in a mixed-income neighborhood by reading to its kids. He lives and breathes his job, and he's on a campaign to empower the men and women in blue to become the best they can while at the same time engaging local residents in innovative ways to fight crime.
"You see how good these people are. They just weren't allowed," the chief says, as he alludes to his department and the dark cloud of political influence that hung over it before his tenure.
Community policing is something Esserman believes in. He preaches it, he teaches it and he demands every officer, from commanders on down, to buy into that philosophy.
When Esserman arrived in Providence as its police chief in 2003, he found a dysfunctional department, riddled with corruption, without an organizational chart, where no one knew what anyone else was doing. Not long after he took over, he had to go to the payroll department to find out where his officers were. "We couldn't find anybody," he told a New York Times reporter.
Esserman's weekly readings to school children put him in the community. So does riding along with his patrolmen on all shifts, making his own arrests, walking with the beat cops and, for the first time in the history of the Providence P.D., inviting social service agencies, out-of-town law enforcement experts, and even reporters into the inner sanctum of his weekly command staff meetings where his leadership style –– a sometimes combustible mixture of Donald Trump's candor and the probing questions of Socrates –– is on full display.
"I think you'll find unlimited respect and people who fear him," says Commander Paul Kennedy, Esserman's number two man in the department. "He starts with integrity and demands it from all his people."
The fifty-year-old New York City native has not only made his mark in Providence. He sits on some of the most prestigious law enforcement boards in the country, including the Police Executive Research Forum in Washington, D.C., whose rock star members include Chief John Timoney of Miami, the chiefs of Detroit and San Diego and, oh, yes, the Commissioner of the London Metropolitan Police Department.
Esserman has taken a once demoralized, politically influenced police department under the corrupt administration of former Providence mayor, Vincent "Buddy" Cianci — who was convicted of racketeering conspiracy, and where bribes were paid to get onto the force — and turned it into a professional law enforcement agency. Police chiefs from Boston to New Bedford to New Haven have sat in on the Tuesday staff meetings to see how Esserman gets things done.
"I think Dean Esserman is a great police chief," says Federal Bureau of Investigation agent Dennis Aiken, who led the Plunder Dome corruption investigation that landed Cianci, his top lieutenant and a number of city officials in prison.
In years past, top commanders in the police department talked about how well-connected the chief was with the pols downtown. Now they talk about how well-read their chief is and how calling a politician in the hopes of influencing a possible promotion is considered a kiss of death.
In Providence, the position of police chief is a mayoral appointment, and chiefs have come up through the ranks before donning the shiny number "1" on their lapels.
Esserman is different. He's never been a street cop. He was born and raised in New York City. His mother was a social worker and his father a well-known and highly respected doctor, a man he calls his hero. He began his undergraduate studies at Dartmouth intending to follow in his fa-ther's footsteps and become a doctor. But an internship with the New York City Tran-sit Police the summer after his freshman year convinced him he wanted to be a cop. In his first month as an intern he helped an officer deliver a baby, and discovered that the police become involved in people's lives in all kinds of intimate ways, particularly in lower-income neighborhoods. They help residents deal with landlords, find lost kids, resolve local disputes.
It was a different career path from his fellow Dartmouth alums, who more typically might opt for big money on Wall Street, for example, but Esserman chose law enforcement because he saw how he could make a difference as a force for social justice. "A lot of things will catch your eye, but few will catch your heart," he told the Dartmouth community in an alumni publication. "I'm glad I was en-couraged to follow those."
He puts in twelve-hour days and turns up for the midnight shift roughly once a week to show that he's accessible to his staff. When there's a shooting, he'll visit the victim in the hospital. He expects his command officers to work as many hours as needed to get the job done even if that means working nights and weekends. He tells his officers, "You need to make this police department your mistress."
"He wants results," says Lieutenant Thomas Verdi, a department veteran who heads up the organized crime and narcotics division.
Verdi, a dapper dresser and organized crime expert with a Don Johnson-"Miami Vice" appearance, says his biggest disagreement with Esserman involves politics. "I'm a conservative and he's a liberal. We argue about George Bush all the time," he says.
After giving up on a career in medicine –– "my real passion was history and philosophy," Esserman says –– he went to NYU law school, got his J.D. and began his law enforcement career as an assistant district attorney in Brooklyn. He handled everything from prostitution cases to homicides. One of his fellow prosecutors was Kevin Bristow, who later convicted embezzler Joseph Mollicone and who is now a prominent Rhode Island criminal defense lawyer.
"Dean is an extraordinarily intelligent person," Bristow says. "He truly has the interests of law enforcement at heart."
While the workload at the Brooklyn D.A.'s office was crazy, he says, Esserman remembers how Bristow rescued him from a personal dilemma that had nothing to do with throwing criminals in jail. Bristow gave him a helping hand and his pick-up truck when Esserman's college sweetheart dumped him, leaving him without an apartment. Esserman's clothes were in boxes on the street in front of his apartment, waiting to be moved, when someone stole all of his neckties.
"We took up a collection of all of our worst ties, and the next day when Dean came into the office, the ties were hung all over the place. He thought it was great," Bristow recalls with a laugh.
After leaving the District Attorney's of-fice, Esserman became general counsel to the New York Transit Police, headed at the time by William Bratton, who later became police chief, first in New York City and then in Los Angeles. Esserman considers Bratton one of his mentors, and their friendship (Bratton was at his wedding) and the fact he was Bratton's general counsel gave him the entree to meetings of police ex-ecutives from around the nation. It was during these sessions that the city chiefs wrestled with the recognition that patrol cars and a lock 'em up mentality wasn't curbing the rocketing crime numbers.
"That's where it was decided that something in policing was not working. We needed to do something differently, and community policing was born," Esserman says.
Esserman left the Transit Police to be-come assistant police chief in New Haven, Connecticut. Even though he had never been a patrolman, he says, city officials were willing to waive the requirement for actual police experience.
"But I said no, don't do that," says Esserman who voluntarily enrolled in the New Haven police academy and successfully completed the training, just as any other aspiring cop would. His framed certificate as a New Haven police officer hangs on a wall in his office next to his college degrees.
Esserman instituted community policing in New Haven, something he believes in deeply as a way to prevent crime, then left New Haven to take his first chief's job as head of the M.T.A. Metro North police department in New York City. He led a multi-million-dollar security upgrade at Grand Central Station, then moved on to become police chief in Stamford, Connecticut. It was a controversial move for some on the city's board of representatives. Esserman was not an insider, and he'd only been in police work for about six years. But other city officials said that they had interviewed Esserman for more than two hours, and, according to the meeting's minutes, they noted, "he answered questions as honestly as anyone they had ever heard."
Esserman himself acknowledges that even today, after two decades of executive police work and an impressive track record of reducing crime rates no matter where he goes, his lack of beat cop experience doesn't sit well with some of the rank and file.
"Sure, I know some of the officers feel that way," he says in a dismissive manner. "I understand that."
Commander Paul Kennedy says this about Esserman's lack of beat cop experience: "I don't think the skill set needed to be chief today necessitates being the best beat cop in the world. He's educated himself with what makes a cop, to be an ad-ministrator and a leader. He gets it."
Still, the chief's lack of street work in a police uniform seems to be an issue.
"I hear that complaint all the time," says former chief Urbano Prignano, who re-signed after admitting he helped certain officers cheat on promotional exams.
While many agree that Esserman, under the administration of Mayor David Cicilline, has cleaned out the rot of corruption and political influence in the department, Prignano claims that the influence of Buddy Cianci is exaggerated.
"I would always tell him [Cianci] who I wanted to promote," Prignano says. "He never said to me, 'Colonel, I want this other guy to get the promotion.' "
But other officers say political influence from city hall was the norm, rather than the exception.
"They were nothing but a bunch of thieves," rants Sergeant William Merandi, a longtime officer. "I never had the opportunity to get promoted because I didn't play the game." Merandi says Esserman is a reformer who demands accountability from everyone.
Many of Esserman's believers, and there are many, say his best attribute is allowing the professionals on the department to be just that, professionals. Out on the street, patrolmen and women are confident that if they want to get promoted, they will have a fair shot at it without worrying about paying political homage to anyone in city hall.
"I know I will have a fair chance," says Sergeant William Dwyer on his beat in South Providence. Another South Providence officer, Patrolman Michael Gammino, has been on the force for three years. Has Esserman's lack of street cop experience been a problem for the rank and file? He hesitates momentarily. "Not really," he says. "He knows a lot."
Commander Kennedy echoes that sentiment. "He has educated himself with what makes a cop, to be a leader and administrator."
But Providence City Councilman John Lombardi, an outspoken critic of the Cicilline administration and the police chief, does not mince words when asked about Dean Esserman.
"I'm not quite sure he knows enough about running the police department," Lombardi says. "He's more about fluff and running to the television cameras. I give him an A for politics. Esserman thinks that anybody who was working in the city prior to his arrival is evil."
Esserman openly rejects anyone, politicians and others, who tries to interfere with his department. He had misgivings about taking the job –– he'd promised his wife they'd never leave New York City again –– and he told Cicilline during his job interview that he wouldn't consider the position if he didn't have the mayor's guarantee of a hands-off policy from city hall. Cicilline convinced him to make the move. "He made it clear he'd give the police department back to the people after it had been a king's army for a generation," Esserman says. He's kept his word, Esserman adds.
But even after the Plunder Dome trials, where tow truck company operator Richard Autiello was convicted of trying to bribe a city official to get a friend on the police department, Esserman says he still gets calls from other pols looking for favors.
"I'm amazed at some of the calls I get," he says. "Most are from local and state legislators looking to get someone a job." He says he listens, but will only tell the caller what is public record. And if a politician calls on behalf of one of his officers looking for a promotion?
"Any phone call made on their behalf is their death knell," he says. "That's a career stopper."
Community policing is Esserman's modus operandi for keeping Providence safe. After becoming chief, he divided the city into nine districts, reflecting the city's nine neighborhoods. Now, every Tuesday morning, at 8:30 sharp, he holds a weekly staff meeting, something that didn't happen under his predecessors. His nine district commanders, along with his command staff, sit around a long table in a conference room outside of the chief's office. But what's even more interesting is who else is present. A representative from the state's probation department, two wo-men from a family service agency, chiefs of police visiting from other New England cities, members of the clergy, reporters and others are invited to attend.
Everything is on the record.
Esserman's Socratic style of leading or teaching, really, is on display during these meetings, and he runs a tight ship. His pleasant smile can turn steely when an un-prepared supervisor offers an excuse rather than a solution to a problem. He'll engage his commanders about a pressing issue, and encourage them to seek a solution by thinking and talking it through with him as challenger and listener. His self-deprecating humor is balanced with a self-assuredness.
"It's like working for a teacher," says Major Stephen Campbell, chief of investigations. "He doesn't want you to be pro-vincial. He wants you to travel to other police departments around the country. See what they do good, see what they do not so good."
The CEO of Family Service of Rhode Island says for years she tried to get the po-lice department involved with her agency and to listen to her constituents' concerns, so when Esserman was appointed police chief, she wrote him a letter, suggesting that they meet.
"The next day, I get a call from Dean Esserman," says Margaret Holland Mc-Duff. "He said 'I want to talk with you in my office tomorrow.' "
McDuff sends a representative to each Tuesday's staff meeting. But more importantly, her staffers ride the 3 to 11 shift with patrol officers, and they respond on a twen-ty-four-seven basis to crimes where children are witnesses.
"Chief Esserman's community policing inclusiveness has changed the perception of so many in the community. They no lon-ger feel the police are out to get people," says McDuff. She says she sees a decline in violence on the streets, and credits Esserman's leadership for the results.
In fact, since Esserman was sworn in, in 2003, violent crime in the capital city has dropped dramatically in all categories. In 2002, there were thirty homicides. Last year: eleven.
Even the workaholic Esserman spends time on the weekend with his wife, Gilda, and their two younger children, ten-year-old Sammy and fourteen-year-old daughter, Nellie. (Rolando is away at college.) Every morning, including Saturday and Sunday, he gets up at 6 a.m. and hoofs it to the Starbucks near their home on the East Side to pick up coffee for his wife. "I don't drink the stuff," he admits. "I've got chores to do," he says, sounding like a dutiful husband. "I do the laundry, the grocery shopping and things around the house."
A good day is bike riding with his kids or tending his tomato plants. He also likes to read, particularly history (he says he's read every book by David McCullough) and novels. On his nightstand is A Thousand Splendid Suns, the new bestseller by Khaled Hosseini, author of The Kite Runner.
His third-floor office at police headquarters is crammed with glimpses of his personal life –– he calls his family his other passion –– as well as memorabilia from his days in New York City law enforcement. He proudly points to a personally autographed picture from blues legend B.B. King. "He's my man," Esserman says, noting that he's met the guitarist on several occasions.
In the fall of 2005, Esserman was diagnosed with colon cancer. He says he was lucky it was caught at an early stage, and today he is cancer free. He seems reluctant to talk about the topic, only to say that "I get butterflies" the night before a check-up, fearing the worst. Was the cancer diagnosis the biggest scare in his life? Without hesitation he answers,
"No."
That's reserved for an evening in 1997, in a New York hospital when Sammy was about to be born. The doctor was examining his wife, then suddenly announced that the baby's umbilical cord was wrapped around his throat and that his heartbeat was slowing down. Gilda was rushed to an emergency birthing room to undergo a Cesarean section, and Esserman ran in with her, grabbed a set of medical tools with a scalpel and was ready to perform the operation himself. (He says he's delivered eight babies during his career.) When the doctor saw what he was doing, she threw him out of the operating room.
"Everything turned out fine, but that was the biggest scare of my life," he says. "I thought we had lost Sammy."
After showing off his college degrees and numerous other framed awards and citations, he stops at one framed letter that sits on the right hand side of his desk.
It says, in a child's print, "My daddy makes me happy." He smiles as he looks at the letter from his daughter.
"That's what it's all about," he says