Clamming 101 in Point Judith
Learn the basics in this three-hour course.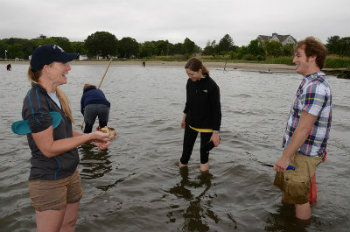 The July issue of Rhode Island Monthly, which is all about seafood, arrives on newsstands on June 30. It could inspire you to catch some of your own. Rhode Island Sea Grant can help you out. They're hosting two more classes of Clamming 101 this summer.
As part of the Shore Digging at Point Judith Pond in Narragansett, shell fisherman Jody King will teach you:
Where you can and can't fish
How to catch shellfish and how much you are allowed to keep
How to safely handle shellfish in the heat
How to prepare shellfish, complete with recipes
The one-time classes are offered July 11 from 1 to 4 p.m. and August 12 from 2 to 5 p.m. The cost is $20. To register, contact smp@etal.uri.edu or call 540-874-6106.