The Circle of Plant Life on the East Side
One home gardener has transformed his home composting project into a business.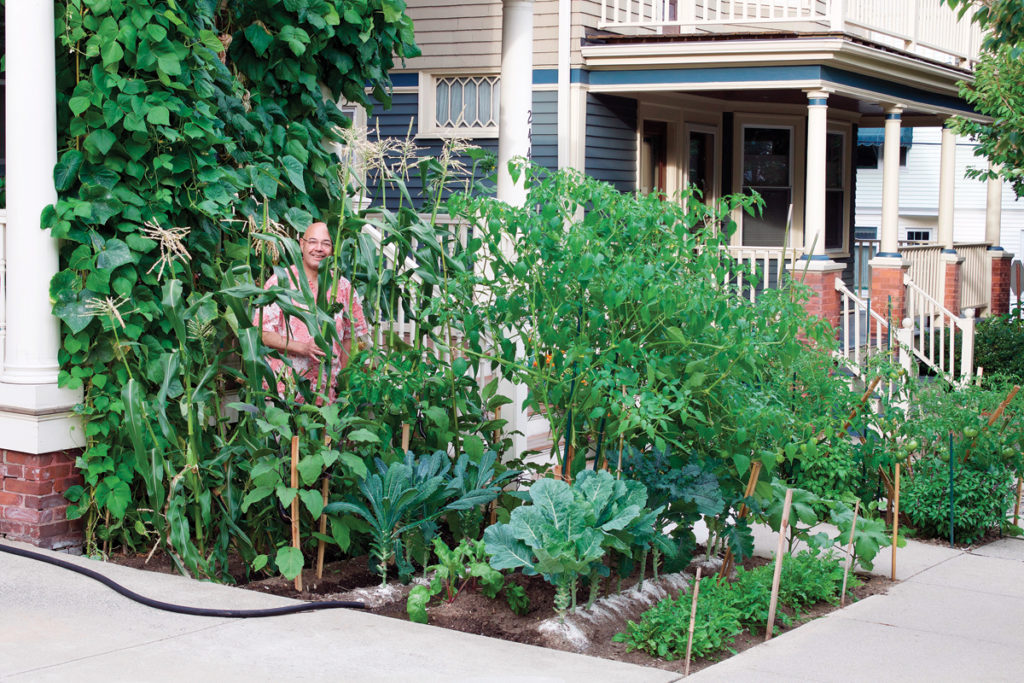 An avid gardener, composter and cook, Stewart Martin recently founded Providence GardenWorks, a home composting and gardening business. His dream is to help Rhode Islanders discover the satisfaction of tasty, healthy, homegrown vegetables and reduce kitchen refuse — all while lowering the amount of food scraps in our local waste streams.
Starting in the early spring, you'll find this sixty-something urban farmer readying the stamp-size patches of earth in front of his two-family home on the East Side. Clad in overalls and muck boots, earbuds in place and his iPod on shuffle, he'll dig troughs for irrigation, rig string for climbers and mix his own compost into the soil. Over the next several months, he will plant and tend to the dozen or so crops he's dreamed up over the winter, harvesting the last of the kale and squash well into fall. During the summer, each passerby who stops to marvel at Martin's lush garden may be sent home with a bouquet of lovage or daintily curved Japanese eggplants, along with suggestions for preparing them.
"Yard and food waste make up about 30 percent of landfill debris in the United States. Two hundred and thirty pounds per person of yard waste alone is generated each year," Martin says. "Multiply that by the number of people in a household, and it's easy to see the difference composting can make."
Martin is fluent in the environmental benefits of composting (nutritious soil, improved water retention, reduced landfill waste), educational opportunities (it's a great way for kids to learn about botany and chemistry), and health benefits (gardening has been scientifically shown to be good for both body and soul). But nothing supports the argument more than the fruits — or vegetables — of the garden itself, proof that improving our planet and our health really begins at home. providencegardenworks.com
---
Waste Not
Composting is easy to do, whether your garden is a terracotta pot or a half-acre plot.
1. Use a kitchen pail to collect food waste, such as vegetable and fruit scraps, eggshells, coffee grinds and filters and tea bags. (Leave the meat and dairy products to advanced composters.)
2. Start with a base of "brown" material like leaves, grass clippings, straw and sawdust and add them to the composter or a covered barrel.
3. Add your food waste and use an aerator to turn your pile about once a week.
4. Let heat and time work their magic and voila: In nine to twelve months you'll have your very own eco-friendly soil enricher.